Captain Sal wheels to life across the Glenelg Shire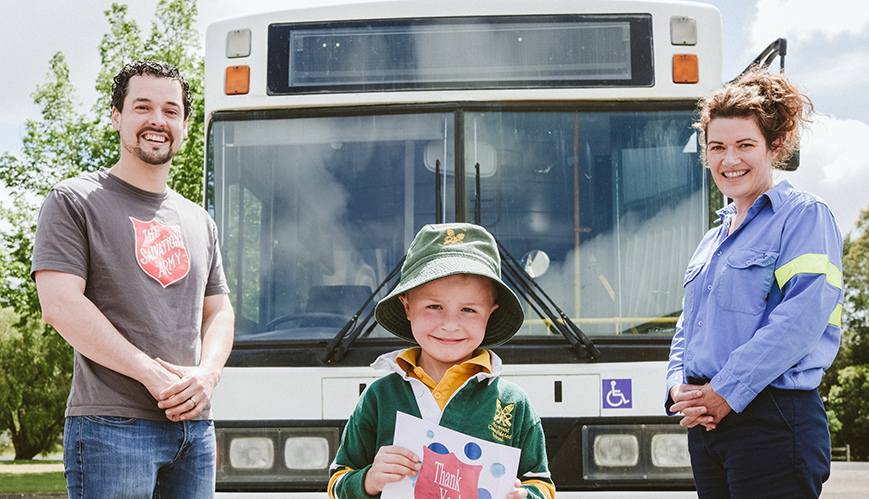 Captain Sal wheels to life across the Glenelg Shire
15 July 2021
William Kinsella (centre) was thrilled when he became the first official passenger on 'Captain Sal' after winning the naming contest for the Regional Support Vehicle. He is pictured here with Corps Officer Lieutenant Peter Stamp (left) and Anna Impey from Portland Aluminium.
By Jessica Morris
What is 12 metres long, has four wheels and is a rolling beacon of hope in Portland? Captain Sal the bus, of course!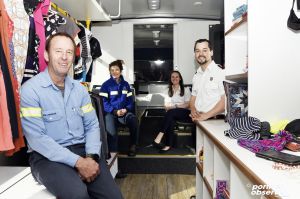 There is plenty of room to do mission and ministry in Captain Sal! (From left) Ron Jorgenson and Anna Impey from Portland Aluminium celebrate with Portland Corps Officers Lieutenants Heather and Peter Stamp. Photo by Karen Hodge, courtesy Portland Observer.
The new Regional Support Vehicle, affectionally known as 'Captain Sal', has expanded the services of The Salvation Army in Portland. Now, Lieutenants Heather and Peter Stamp and the team can reach communities across the Glenelg Shire, as far east as Nelson, near the South Australian border, and 105km inland to Casterton, 105km northeast of the coastal town.
"COVID-19 has seen devastating impacts across the community, and those in remote areas have been particularly hard hit. Access to support services has been difficult, with some people unable to travel to receive vital support," said Peter.
"The vehicle meets a significant need in the Glenelg Shire, as it offers a range of support services that aren't readily available to smaller communities."
Named 'Captain Sal' by six-year-old William Kinsella of Heywood Consolidated School, the now-iconic name was selected from 140 entries – and William and his classmates even received a special visit from Captain Sal to celebrate. Naturally, William was also the first passenger after cutting the ribbon.
"With so many wonderful and creative submissions, it was a real challenge to narrow down the finalist," said Major Bruce Harmer, Head of Public Relations. "We felt 'Captain Sal' would add persona to the bus and resonate with local community members, reminding them that the Salvos are here to help."
An old commuter bus has been transformed into Captain Sal – the new Regional Support Vehicle for Portland Salvation Army and the Glenelg Shire.
The vehicle has been in the works since August 2020 and was funded when Portland Aluminium secured more than $70,000 from the Alcoa Foundation, the global charitable arm of Portland's parent company Alcoa. It was also made possible by donations in kind from local supporting businesses, and the work of many volunteers. 
The front of Captain Sal has been converted into a walk-through thrift shop for free and affordable clothing, and the rear has been converted into an interview room, allowing for Doorways appointments and other support services to operate from. The project has partnered with several local support and healthcare providers to extend the range of services that Captain Sal can deliver.
"It's not about what we as The Salvation Army can provide, but how we can all join together to best meet the needs of the Glenelg Shire," said Peter.
"The vision of The Salvation Army is at the heart of this project. Captain Sal allows us to meet people where the need is, enabling us to live, love and fight, alongside others, to bring hope where it's needed most."