Salvos Superstore a super miracle in Mandurah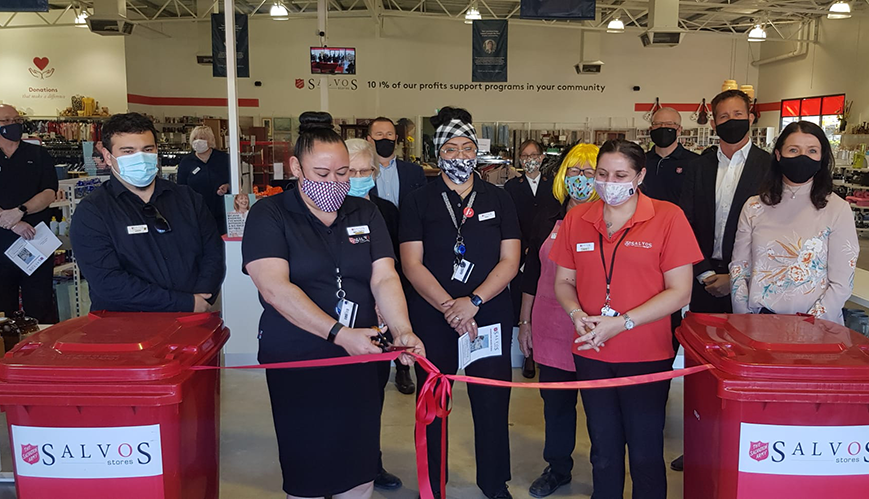 Salvos Superstore a super miracle in Mandurah
19 July 2021
The opening of the Mandurah Salvos Superstore was nothing short of miraculous when you consider the team of staff and volunteers managed to relocate and set up in the middle of Western Australia's lockdown in April!
By Jessica Morris
When the biggest Salvos Superstore in Western Australia opened in Mandurah in April, it was an immediate hit with the public, hauling in $23,000 over the opening weekend. And when you consider that it all came to pass during the state's COVID-19 lockdown, it's almost miraculous.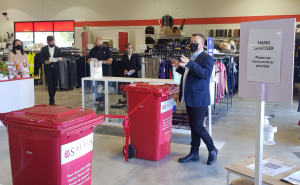 Mayor Rhys Williams (right) attended the COVID-safe opening of the new Mandurah Salvos Superstore and thanked volunteers for their contribution.
"The Salvos Superstore has been in the planning for several years now. It was a big project – one of the biggest I've been involved in," shares Kelly Morrison, Area Manager for Salvos Stores in Southern WA. "Within a week, we closed two stores, completely vacated them, moved into a larger site and set up ... right in the middle of Western Australia's three-day lockdown!"
At 12,000 square metres, the Salvos Superstore on Shepherd Road is the Peel community's new hub for quality goods, second-hand items and a chat. It also represents the legacy of two former Salvos Stores in Mandurah, which had collectively served the town for 47 years. Changes in infrastructure and the business landscape of Mandurah made a Superstore much more viable, but it wasn't without its challenges.
"It was a huge project for us, and the team was incredible and so organised," said Kelly. "We [expected] the lockdown was happening, and months before, we were collecting amazing stock so we could open straight after lockdown, with masks on."
Staff and volunteers from both former Salvos Stores came together to make the Superstore possible, some of whom have been volunteering for 23 years. Thankfully, they managed to fit out the store before lockdown started. Three days later, the team was rewarded with a suitably distanced, masked-up opening ceremony featuring a visit from Mandurah Mayor Rhys Williams. Corps Officers Captains Leah and Scott Ellery were also on board to bless the opening ceremony.
The Superstore already actively partners with the welfare arm of The Salvation Army in Mandurah, assisting with clothing and household goods. Scott says the Superstore enables The Salvation Army to live out its mission in a tangible way, giving people a place to connect and access other services when required.
"I love having the Salvo Stores in our community because we can work together to support those experiencing hardship," said Scott. "Often, the Salvo Stores are the face of The Salvation Army, and many people go through their doors each day, and a few ask for welfare assistance. By working together, we can engage more people and respond more effectively to those in need."