You are here:
Home › News › 2021 › 07 › 21 › Fundraiser Shows Fashion A Niche For Pre Loved Clothing
Fundraiser shows fashion a niche for pre-loved clothing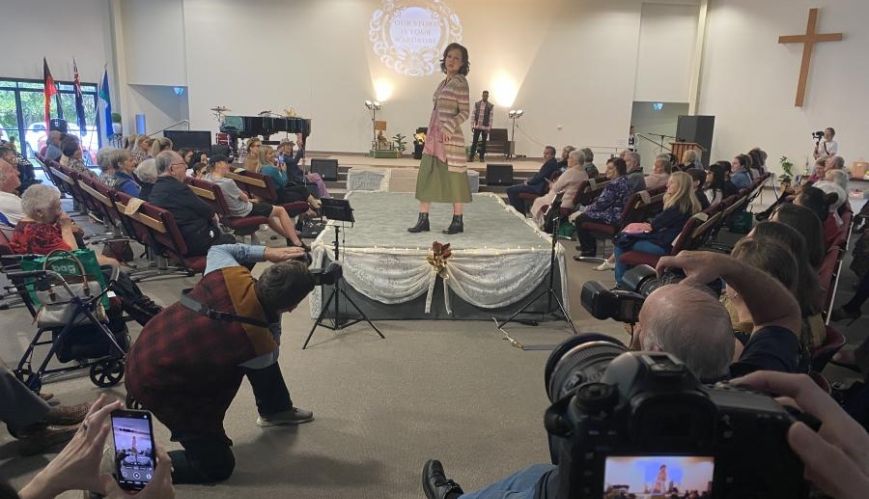 Fundraiser shows fashion a niche for pre-loved clothing
21 July 2021
Brisbane's Stafford Corps was transformed into an epicentre of recycled, reused and reinvented fashion in its Hayward Street Fashion Showcase of clothing from its family store and beyond. Photo: Darryl Whitecross
By Darryl Whitecross
Forget about the catwalks of Milan, Paris, London and New York ... Stafford is now on the map!
In two two-hour shows, all done with the help of TAFE Queensland and Salvation Army family store volunteers, a 30-strong team of diverse and culturally inclusive models recently took to the catwalk in the inaugural Hayward Street Style Showcase [Stafford Corps is in Hayward Street, Stafford].
All the volunteer models dressed in clothing straight from Stafford Corps Family Store or made from recycled clothing or materials.
(From left) Hayward Street Fashion Showcase co-organiser Sandi Unnasch from Diygirl.shedshop, presenter Jacqui Lewis, model Lisa Cox and fashion stylist Amy Grant at the fashion show.
Stafford Family Store manager Mark Andrews said $5000 raised from the carefully choreographed showcase would go to the 'Making it Happen' project to support The Salvation Army Waterhole community centre in Alice Springs.
He said many of the pieces not directly available in his store were the creations of "the next generation of Australian designers" – the Fashion Precinct degree students from Mt Gravatt TAFE. Students from the University of Canberra provided the outfit for a special "showstopper" segment.
Other organisations to have designs presented were from Restitched Community, which repurposes men's business shirts into dresses, and Nest Community, which presented a show-highlight wedding dress made from 70 crocheted doilies, tablecloths, some denim and fabric scraps – a three-piece ensemble created for less than $150.
All the modern buzzwords and phrases were part of the showcase – upcycling, recycling, pre-loved, sustainable fashion, on-trend, circular fashion.
The sub-theme for the shows, which Jacqui Lewis presented, was "our store is your wardrobe". Jacqui said the showcase presented quality items that were "worn for generations" and would "never enter landfill" – pre-loved outfits given "a second lease on life".
Along with Milan, New York, Paris and others that have models gracing the catwalk with wheelchairs, prosthetic limbs or other visual differences, Stafford's event was able to have author, speaker and consultant Lisa Cox, who recently appeared at Australian Fashion Week, as one of the models in her wheelchair.
Lisa is a champion for the cause of having models with "visual disabilities" on the catwalks: "It's the only way of truly identifying a disability in a single glance. I know my invisible disabilities are much easier to conceal than my wheelchair," Lisa recently posted on her blog.
Nest Community's wedding dress made from more than 70 crocheted doilies and a tablecloth. The model was Nest's resident volunteer grant writer Louise Patterson. Picture: Jocelyn Searle, The Enchanted Rose Photography.
Jimmy Sullivan, Member for Stafford, attended and presented prize hampers donated by businesses in the area to members of the audience.
More than 160 people attended each event – at 10.30am and at 6.30pm on Thursday 24 June – which adhered to COVID-19 social-distancing guidelines and capped crowd numbers. Some people said they "enjoyed the first show so much" that they returned for the second show, including Stafford electorate officer Janet Hackwood, who had officially accompanied Jimmy for the morning show.
The showcase presented vintage and retro-inspired pieces with lots of colour, boho creations, casualwear, after-five, formal and evening wear, most costing under $40. There were designs worn by children, young people, adults, the more mature and wheelchair models, along with a purpose-built catwalk extending from the corps worship facility platform.
Mark said many garments had been "reinvented" to look completely different to their original design, having been "reshaped, decorated and added to very imaginatively".
The theme of 'reduce, reuse and recycle' continued in the foyer, which was turned into a marketplace of haberdashery, accessories, jewellery and more clothes. A corps-run stall of homemade treats raised about $800.
Corps Officer Major Ian Channell said the events were fun and gave the community a closer look at what could be done with clothes that would otherwise be thrown away. He also praised organisers for raising valuable funds to help the Army continue its work among indigenous people in Australia's Red Centre.