You are here:
Home › News › 2021 › 07 › 22 › Silver Lining For Chip Packet Blankets When Weather Turns Crisp
Silver lining for chip-packet blankets when weather turns crisp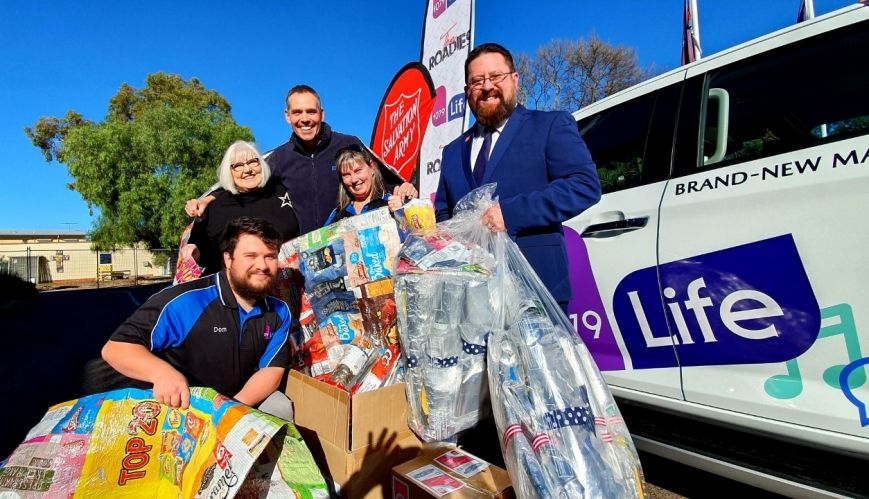 Silver lining for chip-packet blankets when weather turns crisp
22 July 2021
Blanket coverage: Chip Packet Project Adelaide's Helen Williams (back left), Channel 9 News Adelaide's Brenton Raglass, 1079 Life's Jodie Falco, The Salvation Army's Duan Kereru and The Roadies' Domenic 'Disk Brake Dom' Fantasia (kneeling), with some of the blankets that are to be given to people experiencing homelessness in Adelaide.
By Darryl Whitecross
Clever people continue to come up with clever ideas about what can be recycled and how it can be recycled.
One of the more recent innovations is turning everyday potato chip packets into blankets for the homeless. Yes, warm, waterproof, long-lasting blankets.
Leading the charge in Australia is Adelaide mother-of-two Helen Williams, who brought the idea to Australia about 12 months ago after seeing it done by a charity in England.
Helen said once opened out, washed and ironed, any packet with a silver-foil lining can be turned into such a blanket. The silver-foil lining reflects body heat onto the body.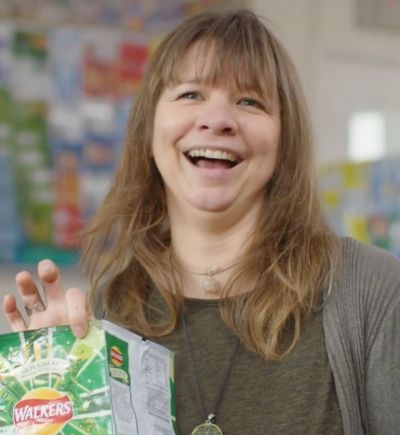 Crisp Packet Project founder Pen Huston.
Helen sought permission from the United Kingdom parent Crisp Packet Project and launched the Chip Packet Project Adelaide SA – after founder Pen Huston allowed the name change. Helen said she told Pen that Australians called the crunchy savoury favourite a chip, not a crisp. Since then, Helen has been collecting the chip packets for turning into blankets.
On 21 June, Christian community FM radio station 1079 Life presented 50 blankets to The Salvation Army for distribution across the South Australian capital this winter.
The station had been running a campaign to receive chip-packet donations to be made into the blankets. The presentation event at South Australia/Northern Territory Divisional Headquarters in suburban Fullarton was the culmination.
Duan Kereru, divisional Public Relations Department Community Fundraising Relationship Manager, was on hand to accept the blankets.
Duan said some of the blankets would be distributed by Unley Corps through its Tree of Hope program – a Junior Soldier project launched on 30 May – but most would be given out through Adelaide Congress Hall's Sunday night ministry with rough sleepers. "These blankets are such a creative and practical solution to an ever-increasing issue [of people experiencing homelessness] here in Adelaide," Duan said.
Noarlunga Corps Thrift Shop, south of Adelaide, set itself up as a collection point for chip packets, and the junior soldiers at Unley Corps collected them and donated them to the station campaign.
The blanket process
Helen said the blankets not only would benefit people rough sleeping on the streets but the hidden numbers of people experiencing homelessness who slept in cars or 'couch surfed'; even the people who struggled to meet their home heating bills. Sleeping bags and blankets for pets could also be made.
"These single-use chip packets have been repurposed and made into a thermal survival blanket," she said, adding that there was "quite a lot of work" in the blankets and could take several hours to complete.
Depending on the size of the packet, Helen said one blanket required 75 regular-sized packets to make a 1m x 2m blanket.
The packets are slightly overlapped and, when ironed, fuse together – baking paper is put between the iron and the packet to prevent damage. There is no glueing or sticking required. A plastic 'suit' bag is used to cover the chip-packet blanket to make it more weatherproof and extend its life.
Helen said she put used unwashed packets into a pillowcase and put them in a washing machine for cleaning. "They [the finished blankets] roll up easily and are really light and portable," Helen said.
Several schools and scout groups have helped Helen make blankets.
Message of life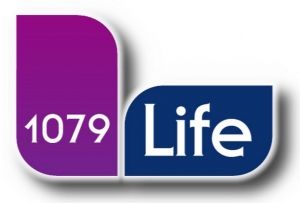 Jodie Falco, 1079 Life weekend presenter, said she was part of the station's street team duo, known as 'The Roadies', which presented the blankets to the Army. She said she was on the streets each Monday with co-host Peter 'Pomfus' Scriven, "connecting with the community".
Jodie said once a month, The Roadies recognised and rewarded groups of volunteers "doing amazing work" with a 'Heart for Adelaide Award'. Helen was recently recognised with the award for having begun the Chip Packet Project Adelaide SA.
Jodie said The Roadies had been collecting the chip packets each Monday since April and had invited listeners to take their packets to the station to help Helen convert them into the blankets.
"The response has been quite overwhelming. Lots of schools and community groups have got involved. Some have asked for instructions to make their own as a project," Jodie said.
The blankets given to the Army each contain a hand-written Bible message as well as a "Keep Safe – from 1079 Life" or "Made with love from 1079 Life" message on the back to give hope to those in need.