IN BRIEF: Snapshots from around the territory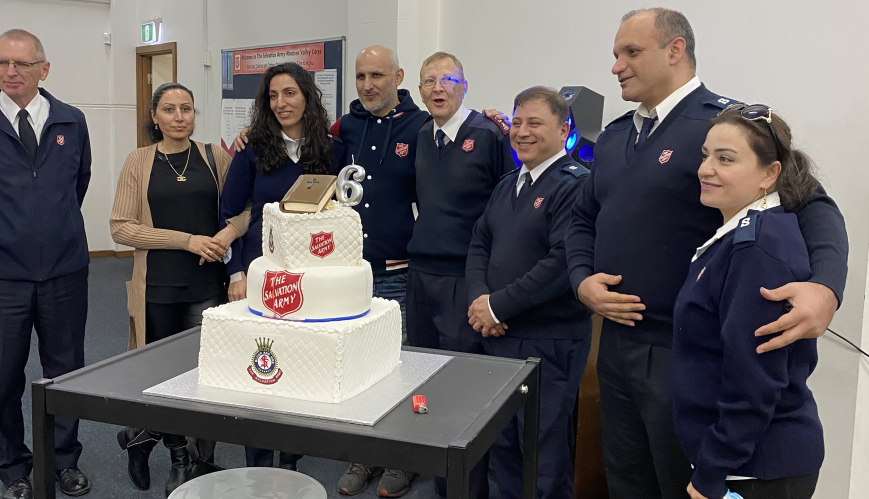 IN BRIEF: Snapshots from around the territory
23 July 2021
Divisional Commander Lieut-Colonel David Godkin joined the Brunswick Farsi Fellowship last week as members celebrated their sixth anniversary with a cake. (From left) Lieut-Colonel Godkin, Mary Doostani, Maria Senobari, Jafar Ahmadian, Major Colin Elkington, Ministry Assistant Kevin Amiri, Ryan Heidari and Maryam Joorsara, who made the cake. (Photo taken before latest lockdown in Victoria).
By Faye Michelson, Darryl Whitecross and Jessica Morris
A day of celebration for Farsi Fellowship
Daniel Heydari holds the Moonee Valley flag, while Mohsen Samadi Noduzaghi and Esmail Mahdavi become adherents with the Brunswick Farsi Fellowship. (Photo taken before latest lockdown in Victoria).
Adherents, an anniversary and people making decisions to follow Jesus – it was a day for celebration at Moonee Valley Salvos when the Brunswick Farsi Fellowship celebrated its sixth birthday on 10 July.
Started by Major Colin Elkington in 2015, more than 50 people attended the bilingual celebration service, with input from Victorian Divisional Commander Lieut-Colonel David Godkin. Not only did he pray for the corps' latest adherents, but he was also on hand to welcome five newcomers into the Kingdom of God after they finished their Christianity Explained course.
It was a memorable day for the Iranian community, the celebration ending in a pizza party and more cake than you could imagine. Congratulations, Farsi Fellowship!
---
Women's refuge funding boost in Karratha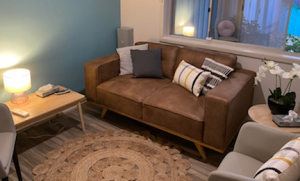 A redesigned consulting room in the Karratha women's refuge.
Women and children fleeing domestic violence in the remote Pilbara region of Western Australia have more access to housing after The Salvation Army received a Commonwealth Safe Places grant of $5.6 million to build a new family violence refuge for women and children in Karratha.
The funding will allow 10 two-bedroom and three-bedroom self-contained units to be developed, in addition to a communal group room, therapeutic rooms, a sleepover room and an administration building. Karratha and the Graceville Centre in Perth are the Army's two main refuges for women and children.
---
Commissioning decision delayed
With the ongoing volatility around the nation related to the COVID pandemic, a territorial decision has been made to delay a final plan for Commissioning in November this year. On 1 September, a final decision will be made as to whether cadets will be commissioned online or whether they will be commissioned in their home divisions. Once this decision has been made, there will be further communication to clarify the format and specific dates.
---
Work starts on new community hub in Dandenong
The Salvation Army joined representatives from Development Victoria and the City of Greater Dandenong to celebrate the project at an official 'sod-turning'. (Photo taken before latest lockdown in Victoria).
A sod-turning ceremony was held earlier this month to mark the start of building work on The Salvation Army's new $13.5 million community hub in Dandenong, Victoria. Due to open in mid-2022, the centre is part of the Revitalising Central Dandenong Project, which Development Victoria is delivering in collaboration with the City of Greater Dandenong.
Cr Angela Long (City of Greater Dandenong Mayor), Geoff Ward (Group Head of Precincts from Development Victoria) and Colonel Winsome Merrett (Chief Secretary) spoke about their organisations' role in the project and the collaboration between them to bring it to fruition. The Salvation Army has been active in Dandenong since 1885.
---
Trade seeks feedback
The Trade Department plays a vital role in how The Salvation Army presents and delivers its mission in our communities by supplying quality Army clothing and products. Taking five minutes to answer a few questions in the survey in the link below will help Trade understand how to provide the best customer experience and expand the value of its service to meet the geographical breadth of our movement. To take part in the short survey, click here.
---
RSDS out in force for military exercise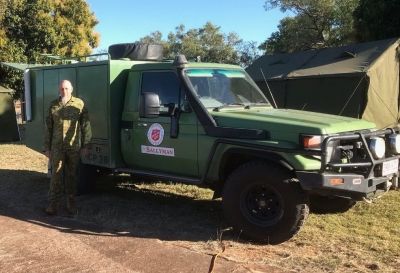 The Salvation Army Red Shield Defence Services senior representative Major Garry Johnson sets up his 'Hop In' at the Brigade Maintenance Area, Townsville, as part of the RSDS involvement in Exercise Talisman Sabre 2021.
Members of the Red Shield Defence Services (RSDS) in Queensland have been heavily involved in Talisman Sabre 2021, the largest bilateral combined training activity between the Australian Defence Force and the United States military.
RSDS Chief Commissioner Major Brett Gallagher said for the past fortnight, RSDS personnel from Brisbane's Gallipoli Barracks and Townsville's Lavarack Barracks have been supporting about 17,000 military personnel from seven nations. They are in Queensland for the exercise being held in several places around Far North Queensland.
Brett said while Talisman Sabre was held every two years, each year at this time a major military exercise was conducted, and so this was the RSDS's biggest operation of the year. He said it was an "impressive" display of firepower on land, sea and air. Talisman Sabre is designed to test the respective forces' Combined and Joint Task Force operations and improve the combat readiness and "inter-operability" between Australian and US forces.
Along with the Australian and American forces, personnel from Japan, Canada, South Korea, Britain and New Zealand are participating. Brett said Major Robert Mills and Senior Representative Mark Messenger had travelled from Brisbane to support Majors Nigel and Penni Roden, Major Garry Johnson and Territorial Envoy Greg Curnow from Townsville.
The soldiers appreciated the food and hot drinks from the RSDS, which was "a bit nicer than what comes out of a ration pack", said Brett. He added that the soldiers were always keen to talk to the RSDS. Being part of the exercise "on the ground" was an important missional opportunity for the RSDS: "These guys have many issues that many other Australians wouldn't even realise," Brett said.
---
Learning hub helping families
Sophie and Levi with mentor Sonya at the Caloundra Corps Learning Hub.
Caloundra Corps on Queensland's Sunshine Coast began an after-school Learning Hub for primary school-age children earlier this year and is finding it is meeting a need in the community.
Corps Officer Aux-Lieutenant Karen Clark said the program, run by corps ministry assistant Jess Allwright, not only provided children with a safe place to do their homework and interact with other children but gave parents and carers an environment where they could enjoy a hot drink and a chat. "It was Jess' dream to have a homework club. It's a great space and meeting a need and has the potential to grow," Karen said.
The hub aims to "encourage a love for learning". Karen said the group began again last week after the first-semester break. The children receive one-on-one mentoring from the corps and the community. About 12 children regularly attend.
"We've made a lot of community connections," Karen said, especially through the Family Pathways program the corps runs in schools in the area. The children bring their own homework rather than the corps providing a curriculum, and the mentors work with them on that, but they play "fun learning games".
---
Queensland men gearing up for conference
Queensland Divisional Envoy Bill Hunter (left) interviews Just Men Conference speaker Pastor Brian Andrew in a promotional video for the Queensland Divisional event.
Pastor Brian Andrew, from the Sunshine Coast, will be the guest speaker at the 2021 Queensland Division's Just Men Conference to be staged at three sites across the state over the weekend of 13-15 August.
Brian, an author and influential speaker, will focus on the conference theme 'Rise Up', with his sessions live-streamed.
The Brisbane conference is to be a one-day event held at North Brisbane Corps. In Bundaberg and Far North Queensland, the conference is to run over the weekend in a camp style with fishing trips and other outdoor adventure activities planned. The Far North Queensland conference is to be held on Magnetic Island.
Registration costs range from $40 (North Brisbane), $70 (Bundaberg) and $100 (Magnetic Island, which includes ferry). To register for the event at any of the locations, log on to http://qldjmc2021.salvationarmy.org.au/