You are here:
Home › News › 2021 › 08 › 12 › Draft Ingle Farms Hospo Stars Turning Georgis Dream Cafe Into Reality
New-look Ingle Farm cafe pays it forward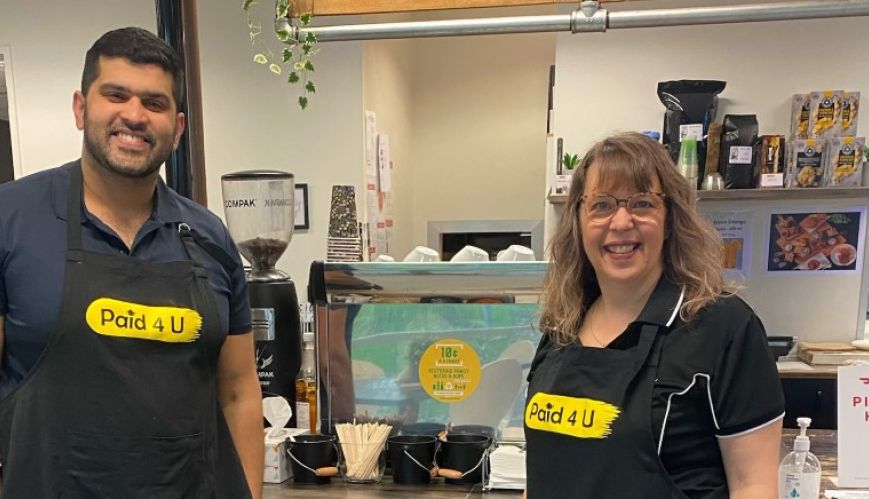 New-look Ingle Farm cafe pays it forward
12 August 2021
The Mustard Seed Family Project's Georgi Thomas and Ingle Farm Corps Officer Major Belinda Davis at the Paid 4 U cafe.
By Darryl Whitecross
Ingle Farm Corps, in Adelaide's north, is turning disadvantaged youth and people experiencing homelessness into "hospo stars" through a partnership with The Mustard Seed Family Project."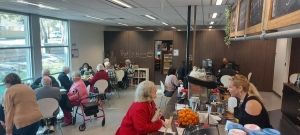 Changing the stereotypical image of a community cafe – customers at the new-look Paid 4 U cafe at Ingle Farm Corps, run in partnership with Georgi Thomas and The Mustard Seed Family Project. 
Corps Officer Major Belinda Davis said the "hospo stars" were the trained "front of house" hospitality staff at its Paid 4 U Cafe, which is run in partnership with The Mustard Seed Family Project. The cafe opened in June.
The passion behind the cafe initiative is Georgi Thomas and his wife Minu. Belinda said Ingle Farm did not have plans to reopen its cafe until she met Georgi. After five minutes of listening to his vision, "I was sold", she said.
When Georgi spoke to the corps about it, he was "blown away" when someone gave him $20, so he would be the first person to 'pay it forward', Belinda said.
"The very first customers were actually a group of men that usually meet in our foyer while Home League is on. They were quite proud to be labelled as the very first customers," she said.
Belinda said the cafe used the 'pay it forward' model although diners did not pay for the meal they were eating and gave an extra donation toward the next person's meal (as usually happened when paying it forward), but that what they paid covered the next meal.
She said all diners were asked to pay something forward "because we feel that you value [the meal] more, even if it's only a gold coin".
Georgi and Minu have lived in Australia for five years, having moved from India. They have two children – Evangeline, 9, and Evan, 5. 
Each Friday night, Georgi, his family and some volunteers can be seen in the heart of Adelaide giving out food and blankets to rough sleepers – bought with the money from another of his ministries: redeeming cash for cans and bottles. 
Georgi, a full-time chef on The Ghan and Indian Pacific trains, said he felt God wanted him to expand his ministry to those living on the streets or hiding away from society who wanted to turn their lives around in a permanent location. That was when the vision for Paid 4 U cafe began.
Belinda said Georgi was working with the Youth Homelessness Project run at the Ingle Farm facility to give hospitality training to its clients.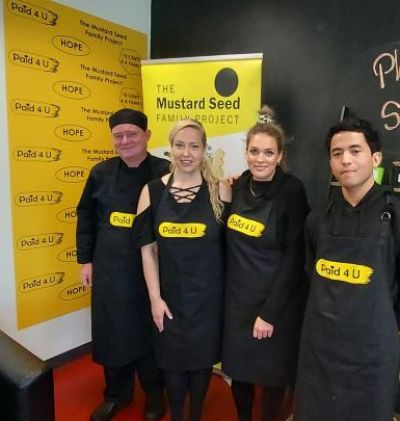 A group of "hospo stars" from Ingle Farm Corps Paid 4 U cafe, which is helping give vulnerable people new skills.
Georgi said he wanted to change perceptions that community cafes staffed by volunteers were sub-standard. "This is a community cafe, but it has a high standard," he said. "You get the same service as you would get on The Ghan or the Hilton [Hotel]. We have the best coffee; the chef looks professional; everyone's got their own uniform; everything looks crisp, clean; nice linen; nice place; nice ambience."
He said it was "like a miracle" to run a cafe at Ingle Farm and "take it to a different level".
He has several experienced chefs supporting the cafe – including Sashi Cheliah, the 2018 winner of the reality television cooking competition, MasterChef – who volunteer to make 'signature dishes' (from the pantry items in the cafe kitchen) and help with training the volunteers.
Sashi was among the dignitaries, financial supporters, corps members and community guests at the cafe opening.
Along with Paid 4 U, which is open Tuesday to Friday from 9am-3.30pm, Ingle Farm Corps runs a community meal (offering free soup) on a Monday, so the public was able to get "fed for lunch" each day of the week: "We're pretty stoked about that," Belinda said.
People unable to get to Paid 4 U still could be part of the ministry to pay forward a meal by clicking here