Did you know?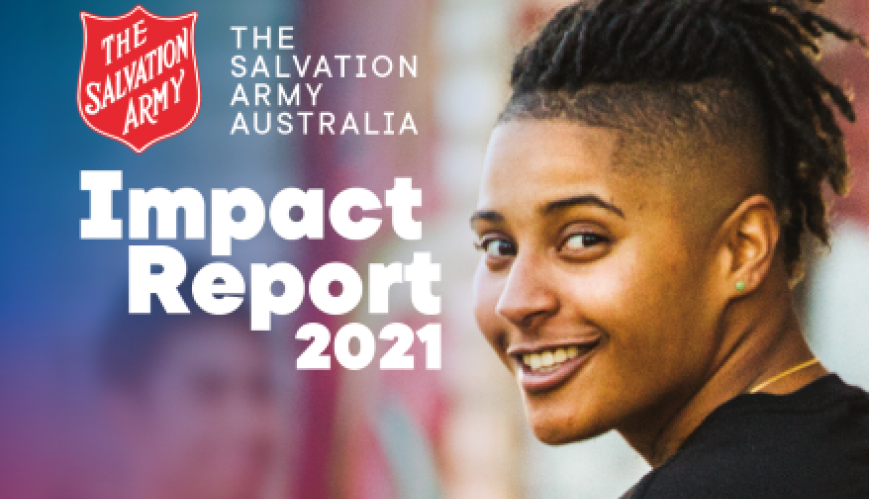 Did you know?
13 August 2021
The 2021 Impact Report is out now.
Making an impact on our nation


Did you know that last year The Salvation Army provided 1,594,912 meals to people accessing homelessness services? Or that the Army found longer-term housing for 591 people?
Take a look at the 2021 Impact Report and be inspired by the stories of transformation brought about by the Army's wide range of services and programs.
By measuring outcomes, we are able to gain insights into the experiences of individuals, families and communities interacting with The Salvation Army.
While looking at outcomes also means the Army can focus our efforts to ensure our resources have the greatest possible impact, the report highlights how outcomes are more than just numbers. They are measured by strong support networks, renewed hope, and lives transformed.
​Read the report here
---
Words of Life devotion booklet out now
The International Headquarters Editorial Department has released the September–December 2021 edition of the Words of Life devotional booklet.
Words of Life is The Salvation Army's daily Bible reading series. This edition of Words of Life focuses on the theme 'Grace Alone'.
Grace permeates writings in the Old Testament, such as in the prophetic writings of Ezekiel as well as the minor prophets Jonah and Habakkuk.
We also discover how grace abounds in the New Testament, as found in the parables of Jesus, the timely book of James, the apostle Paul's letters to Timothy, Titus and Philemon, John's three significant letters and Jude's epistle.
Guest writers include Captains Youhana Waryam and Asia Youhana from Pakistan. Most weekends feature a psalm or proverb, as well as a Christian song.
You can buy the devotional book from The Salvation Army Trade Store.
---
Father's Day at Salvos Stores
Father's Day is only weeks away – so when you're thinking of buying presents for your dad, think of Salvos Stores.
Selected stores will be stocking special gifts for the occasion, including men's cologne, socks, dad-themed mugs, novelty number plates, AFL team keyrings, sweets and shortbread.
If you're affected by COVID-19 lockdowns, don't worry! You can shop online. In addition to hundreds of present ideas, curated packs of new products are available for delivery, such as the 'Dad Joke' gift packs available to purchase online here.
Online items can be delivered anywhere in Australia. Postage, with tracking, is $5.50 for regular post and $7.50 for express post. To ensure gifts for dad are received in time for Father's Day, orders need to be placed by Monday 30 August.
And it's the gift that keeps giving. Last year Salvos Stores raised $33,645,800 for Salvation Army social programs.