You are here:
Home › News › 2021 › 08 › 18 › Vaccination Hubs Pop Up As Salvo Services Support Homeless
Vaccination hubs pop up as Salvo services support homeless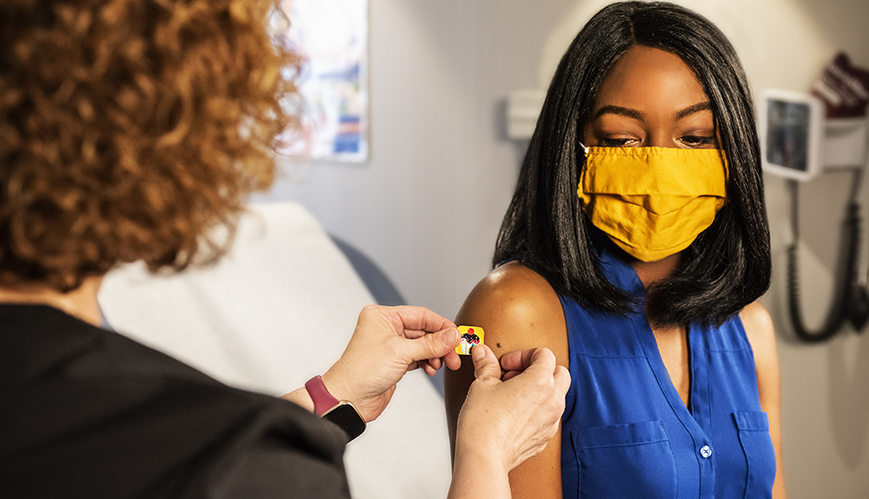 Vaccination hubs pop up as Salvo services support homeless
18 August 2021
As more people become eligible for COVID-19 vaccines across the country, Salvation Army expressions are working hard to ensure the homeless population is informed and have access to immunisation if they choose. Photo by CDC on Unsplash.
By Jessica Morris
People across the country are rushing to get vaccinated against COVID-19, but it's not easy to access when you are homeless or vulnerable. That's where Salvation Army mission expressions are working to fill the void.
Pivoting to administer a COVID-19 vaccine
In Victoria, The Salvation Army Access Health service team on Grey Street in St Kilda is partnering with St Vincent's Hospital in Melbourne and running a Mobile Immunisation, Health and Harm Reduction Service (MIHS) through a mobile vaccination clinic on-site.
St Vincent's Hospital changed the function of its mobile vaccination van, enabling clients at The Salvation Army Access Health service to receive COVID-19 vaccines. Up to 30 people can receive a vaccination in one session.
The service was set up as a hub 12 months ago so clients could receive vaccines for Hepatitis A, Hepatitis B and the flu. Last month, it became a COVID-19 vaccine hub and was open three days a week, providing people with the Pfizer and AstraZeneca vaccines. The team sees between five and 30 people receive their vaccine every session.
"Much of the work we do is health information, debunking myths and building trusting relationships so that people feel safe and okay to accept the vaccination," said Rebecca Thatcher, Program Manager for Access Health and the St Kilda 24/7 Needle & Syringe Program.
While the general population needs a Medicare card and ID to access their vaccination, the team works closely with clients so everyone the government deems eligible can access the service. And second doses aren't an issue either, given they are booked in and patients are notified during their first injection. The team is also on hand for those with vaccine hesitancy to provide a non-judgmental, educational approach.
Collaboration in Sunshine
Down the road at Sunshine Corps, a COVID-19 vaccination hub was set up after Captains Colin and Phuong Reynolds were approached by IPC Health in Deer Park. When they heard that the pop-up hub would coincide with the corps' Friday takeaway meals, they knew it was an excellent chance to serve the community.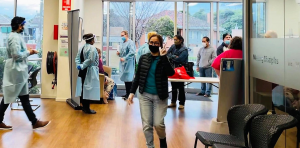 The team at Sunshine Salvos collaborated with IPC health to set up a pop-up COVID-19 vaccine hub. All up, 12 people chose to access the service.
"Our collaboration with IPC Health working together to provide vaccinations to the homeless and disadvantaged cohort in the west of Melbourne is a very recent development," shares Colin. "Of course, we were very happy to partner with IPC Health – after all, one of our Salvation Army four mission intentions is 'building healthy communities'. We couldn't think of a better way to fulfil that missional imperative at this specific time of fighting a global pandemic that threatens our community and people's wellbeing."
On their first Friday vaccine pop-up, a dozen people picking up meals also chose to be vaccinated against COVID-19 with the AstraZeneca or Pfizer vaccine. IPC staff were also available to answer questions about the Delta strain of COVID-19. "It was a successful exercise as those disadvantaged persons vaccinated would probably still remain unvaccinated if the pop-up hub didn't happen," said Colin.
IPC Health will set up the vaccination pop-up again on Friday 27 August, in conjunction with the community meal so that community members can receive their second dose of the Pfizer vaccine.
Long-term support at The Beacon
In Western Australia, a Salvation Army service is geared to help people experiencing homelessness or at risk of homelessness to access the Pfizer vaccination. The Beacon, an emergency crisis and transitional homeless centre that provides accommodation and case management in Perth, partnered with the Department of Health to administer volunteer vaccinations to clients and staff.
Beacon resident Deacon (right) was one of 36 clients who took up the offer to receive a Pfizer COVID-19 vaccination on-site recently. Pictured with Deacon is Department of Health nurse Belinda.

"The first-dose vaccination clinic intentionally coincided with a homeless healthcare GP client clinic on-site. This ensured that should there be any adverse reactions to the vaccination, we had immediate and additional medical support," explained Karen Coetzee, Manager at The Beacon.
All up, 36 clients and numerous staff chose to receive the vaccine on the day. Beacon resident Deacon was one client who participated in the vaccine roll-out. "Everything was taken care of for me," he said. "I felt very comfortable having the injection even though I have a needle phobia that makes me feel anxious. The staff facilitating the clinic were very lovely."
The Department of Health will return to administer the second Pfizer dose to participants in several weeks. Following this, Homeless Healthcare will solely be responsible for administering vaccinations to clients on-site who wish to take up the offer.
"For all of the homelessness services, comprehensive COVID-19 related information is regularly distributed. This includes current public health advice (including vaccine roll-out), ongoing updates regarding possible exposure sites and changes to interstate border arrangements," said Kate Greenway, Manager of The Salvation Army Outreach Support Homelessness Services in Western Australia.
"This is our commitment to ensuring that the most vulnerable members of our community are making informed decisions when exercising their agency and self-determination. And for our client group who have chronic or complex health concerns, are aged or Indigenous, specific information on targeted vaccine roll-outs are always provided."