Did you know?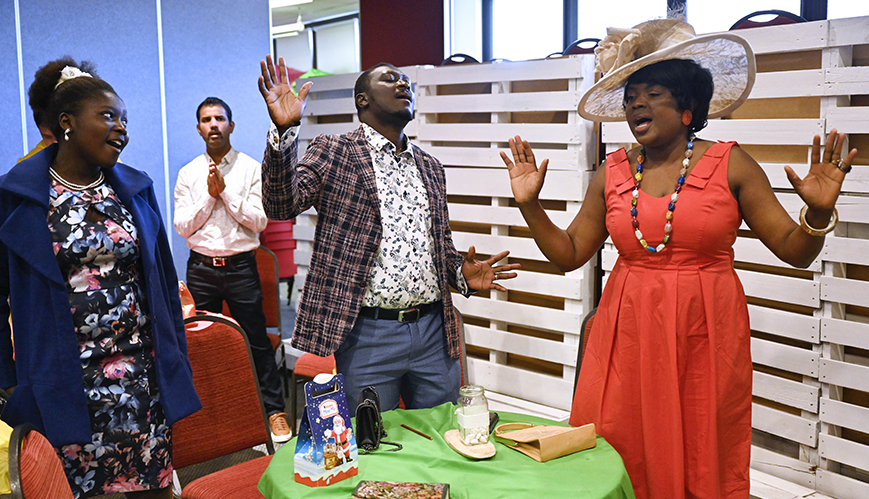 Did you know?
20 August 2021
Freelance photographer Adam Hollingworth's photo from the Auburn Corps Easter service this year has been nominated for the Australian Life Photography Competition.
By Others writers
---
A picture paints a thousand words
A joy-filled photo taken during this year's Easter service at Auburn Corps has been nominated for the Australian Life Photography competition. Freelance photographer Adam Hollingworth took the shot earlier this year, but his relationship with The Salvation Army goes back much farther.
"I was touched by The Salvation Army years ago when they helped my late father who experienced mental illness, alcoholism and homelessness," he said "Now I've worked with the Salvos [as a freelancer] for years, taking photos for the Red Shield Appeal and TV campaigns. I'm a big believer in the work the Army does."
Adam is proud of his nominated photo, 'Auburn Salvation Army, Corps Easter 2021', and says it displays real joy. "It's a really remarkable gorgeous summation of diaspora that makes modern Australia. There are so many nationalities represented in that corps," he said. Vote for Adam's photo here.
---
Webinar keynote speaker from UK
Captain Dr John Clifton from the United Kingdom will be the keynote speaker at the second Tri Territorial mission webinar on Thursday 2 September, from 5pm (AEST).
The webinar will focus on The Salvation Army's public voice in civil society – work, poverty and advocating for a better normal. Dr Clifton will speak on his work with Citizens UK, an alliance of community organisations that campaign for the common good at local, regional and national levels. Register here
---
Have you got any idea?
The Salvation Army's co-founder William Booth was known as an innovator, and The Salvation Army is, in turn, intrinsically innovative.
Do you have ideas for your local corps or community that could have national potential? Tell us about them! We want to hear your ideas of bringing something new to the Army to help fund its important mission services.
The Salvation Army IDEAS platform is where ideas from people inside and outside the Army come together to bring about innovative ways to increase the reach of services within our communities. Visit the IDEAS platform to submit your ideas and vote and comment on ideas that you think have the potential to make a difference.
---
All abilities inclusion workshop
Become better equipped at including people of all abilities at your mission expression or workplace at a virtual workshop hosted by the Diversity and Inclusion Stream.
'Introduction to All Abilities Inclusion' will cover subjects such as defining disability and identifying barriers to inclusion, the Bible and disability ­– biblical principles of all abilities inclusion, as well as featuring Stevie's personal story of inclusion. There will also be breakout room discussions. Guest speakers from CBM Australia will facilitate the workshop.​​​​​​​
The workshop will be held on Wednesday 8 September, 10am–noon (AEDT). Register here