EVERYDAY SALVO: Dorothy's legacy of leadership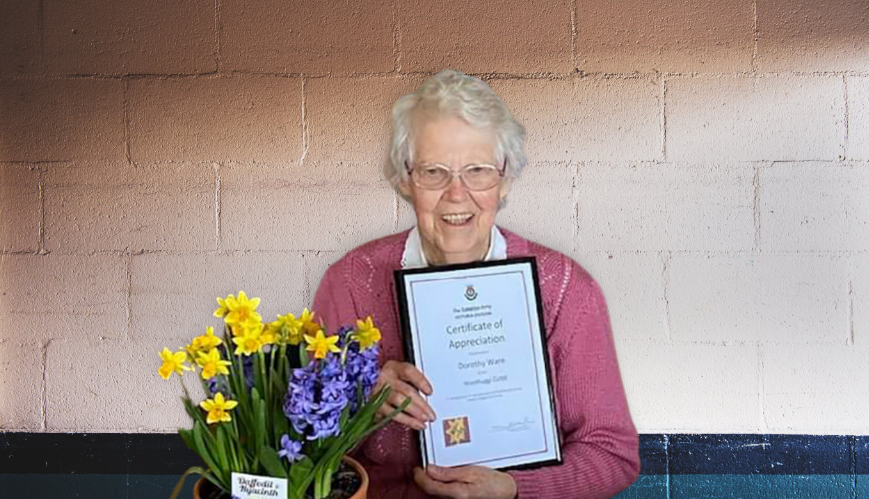 EVERYDAY SALVO: Dorothy's legacy of leadership
1 October 2021
The community at Wonthaggi Salvos thanked Dorothy for her years of service with a special certificate and celebration lunch.
By Jessica Morris
For Wonthaggi locals, The Salvation Army corps on Salvation Way is an iconic meeting place. And when it comes to long-time soldier Dorothy Ware, well, she is as much a part of the rural Victorian town as the Salvos are.
"The Salvation Army has always been part of my life. My father was part of Wonthaggi Corps for 40 years, and my mother was an officer before they got married. So, The Salvation Army is my heritage. I think I was only about 15 when I became a soldier!" Dorothy recalls.
That was in 1946, and it's fair to say that Dorothy has faithfully served ever since. She has been a primary leader – a meaningful role, considering she gave her heart to Jesus in Sunday school at 13. Not to mention her time as Corps Sergeant Major, Corps Treasurer, Home League Secretary, and a songster. And it's not a leap to suggest Dorothy would still be in at least one of those roles if COVID-19 hadn't changed the way church is done. She only just retired, and it was only due to circumstance.

"I've always enjoyed what I've done for the Lord and for The Salvation Army, and at times I get a bit frustrated – I'm going to be 90 in November, so I felt that it was time to retire. And the pandemic has changed everything," Dorothy says.
Asking Dorothy to choose a favourite memory from her life as a Salvationist is a big call. She misses the days of big bands, open-airs and congresses. And during lockdown, she has enjoyed worshipping to the Canadian Salvation Army's services on YouTube. But ask her about her time in the Home League Singers during the 1960s, and she lights up.
"The Home League Singers was one of my greatest success stories! Captain and Mrs Duncanson were appointed to Wonthaggi in 1964, and Mrs Duncanson started a Home League singing group and asked me to be the pianist – but they received another appointment, and I was asked to take on the leadership!" she says.
Calling it a success story is well warranted – not only did Dorothy take on the singing group, but she raised three children at the same time. And when the singing group ran out of new music, she wrote her own! Her song, 'Did you see the hand of God today?' was even published by noted Salvation Army composer Howard Davies.
"At first, stepping into this role was like a trip to the dentist, but I overcame that and continued to lead for 35 years," says Dorothy. "We had a group of about 16, and we entertained senior citizens and other home leagues. We always had a Bible reading and a prayer."
Dorothy loves Jesus, and she loves The Salvation Army. And come November, as she looks back on 90 years of life, she hopes the Army will carry forward the tradition and light of its youth – the same way she experienced it growing up.
"I've been very blessed. I thank The Salvation Army for the many opportunities it gave me to use the talents God gave me."