'Souperhero' students save the day in Sunbury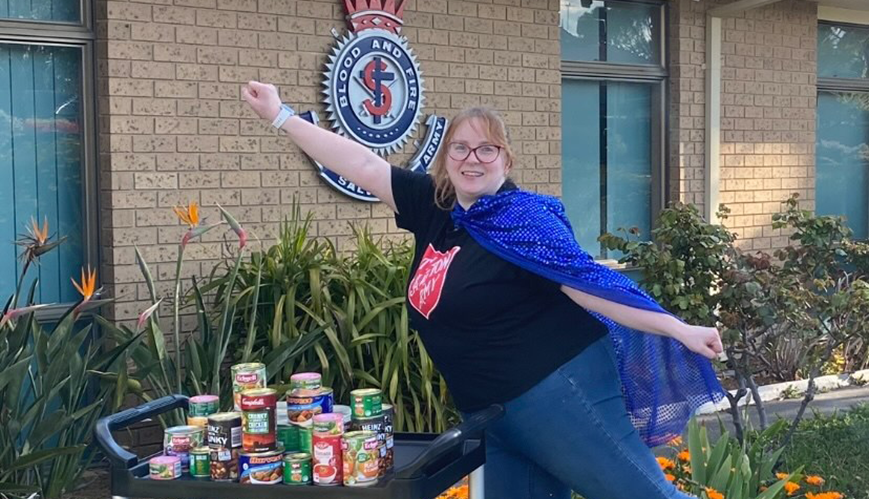 'Souperhero' students save the day in Sunbury
6 October 2021
Captain Kimberley Featherston and the team at Sunbury Salvation Army are flying high after local students donated more than 500 cans in a 'Souperhero Challenge'.
By Jessica Morris
A superhero doesn't always wear a cape – sometimes, they wear a school uniform.
At least that's the case in Sunbury, north-west of Melbourne, where Diggers Rest Primary School donated more than 500 cans of non-perishable food to the local Salvation Army's 'Souperhero Challenge'.
The challenge was initiated by Sunbury Corps Officer Captain Kimberley Featherston and soldier Jasmine Purches, and they were blown away by the results.
"As a member of the school council, I wanted to bring social justice into school. So, we worked closely with Doorways and came up with the idea of a can drive," said Jasmine, who works as the Administration Assistant at Sunbury Salvos. "We thought it would be great if the kids could do something small that would help them to care for others during lockdown."
With the creative skills of Kimberley, the can drive soon morphed into the 'Souperhero Challenge' – a call-back to the Salvation Army-led campaign from 2018 that challenged people to eat soup for a week and raise money for Salvo services. But this time, the Sunbury-based students were just asked to bring a can or two to school. And when they learned it was a competition, they went all out and donated more than 500 cans in three days. The best part is the donations are still coming – and the kids love it.
"It has already made a difference in volume and in encouraging our volunteers and staff," said Kimberley. "Sometimes, our shelves of food are slim pickings, and these donations gave us hope that we will have what we need. It's living hope that the community is willing to work with us."
Diggers Rest Primary School threw their support behind the Sunbury Salvos during last year's Christmas Cheer campaign by donating toys for families doing it tough. And after a successful Souperhero Challenge, the school is already on board to support Christmas Cheer again.
It's a testament to a town that values social connection – something that Kimberley has appreciated since she was appointed to the corps in March. "This town values social connection – actually being together and doing life together," she said.
That sounds like a town of superheroes to us!