You are here:
Home › News › 2021 › 10 › 07 › Salvationists Across Australia Urged To Enter City2surf Fun Run
Salvationists across Australia urged to enter City2Surf fun run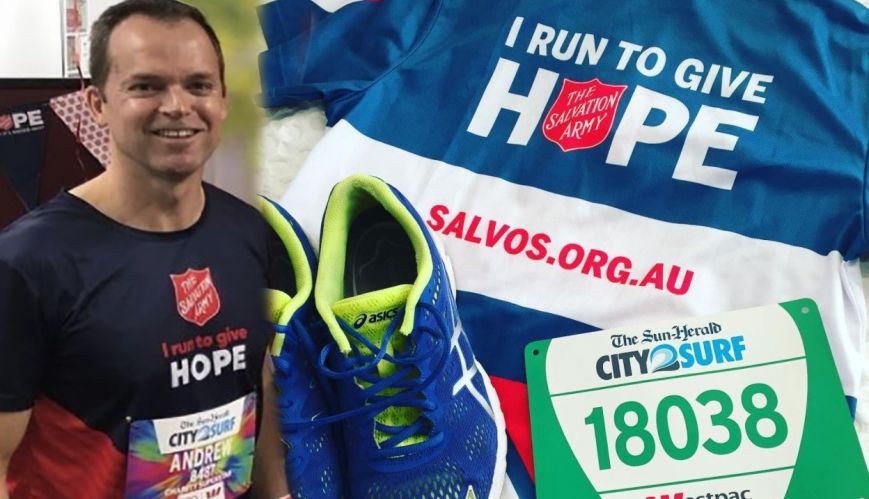 Salvationists across Australia urged to enter City2Surf fun run
7 October 2021
Andrew Hill, Community Fundraising General Manager for The Salvation Army, plans to run this year's second virtual City2Surf fun run from Sutherland to Cronulla.
By Darryl Whitecross
For the first time in its 50-year history, the streets of Sydney were relatively quiet over the annual City2Surf weekend last year as the COVID-19 pandemic forced the cancellation of what organisers claim is "the world's most popular fun run".
Not being able to stage the fun run for the thousands of runners who usually flocked to the New South Wales capital to take part, organisers promptly changed the event to a virtual one. It was a great success – with 13,000 people around the world taking part to raise $600,000. Organisers have decided to make it a virtual event again this year – and the work of The Salvation Army is to benefit.
Usually the event is held on one day, but this year virtual runners can complete the 14km any time between 6am on Sunday, 17 October, and 4pm on Sunday, 24 October. 
Andrew Hill, Community Fundraising General Manager for The Salvation Army and a regular entrant in the run, said the Army will be a charity partner again this year, receiving $5 from each general registration. Entrants can also choose to support the Army as their "charity of choice" and fundraise in the lead-up to the event.
He said the Army had been part of the event since 2010, having raised more than $150,000 in that time.
Andrew said an Army team of 50-60 usually entered in the event – wearing their Salvos Striders shirts – but missed last year because it was run virtually. This year Army officers, soldiers, employees and volunteers around the country are being encouraged to enter the fun run as a community ministry activity.
Andrew said people could choose to run, dance, skip or walk the 14km in their neighbourhood and "raise vital funds for those in need while you do it". He was planning to run from Sutherland to Cronulla Beach.
"This is a great chance to bring your team together virtually – whether distanced by lockdown or state lines – while keeping it COVID-19 safe," Andrew said. "It's a fun way to get everyone focused on a challenge to complete together while keeping active." 
Andrew said one additional component to the event this year was the availability of software – the C2S VR program – which could be downloaded to mobile devices to not only track participants' progress wherever they were running, but could pinpoint at any given moment where they were on the City2Surf route.
The City2Surf is considered the world's largest fun run and a "bucket list event" for Sydneysiders. While being billed as a fun run, many prominent sportspeople from around the world take part. The actual course is from Hyde Park in the heart of Sydney to Bondi Beach.
Meanwhile, in Brisbane, the Queensland Division has entered a team in this year's annual Bridge to Brisbane fun run on Sunday, 7 November. 
Divisional Community Fundraising and Resource Co-ordinator Shari Birse said 36 people had signed up to be part of the Army team, with 175 general entrants who have registered to fundraise for the Army.
This year is the 25th anniversary of the event, returning to its original route over the Gateway Bridge for the first time in six years. 
At time of publication, almost $4800 had been raised as part of the initiative. To enter the City2Surf event, log on to https://city2surf21.grassrootz.com/the-salvation-army
To be part of the Bridge to Brisbane event, log on to https://bridgetobrisbane.gofundraise.com.au/cms/SalvationArmyAustralia