You are here:
Home › News › 2021 › 10 › 20 › Townsville Flood Recovery Project Wins Resilience Award
Townsville flood recovery project wins resilience award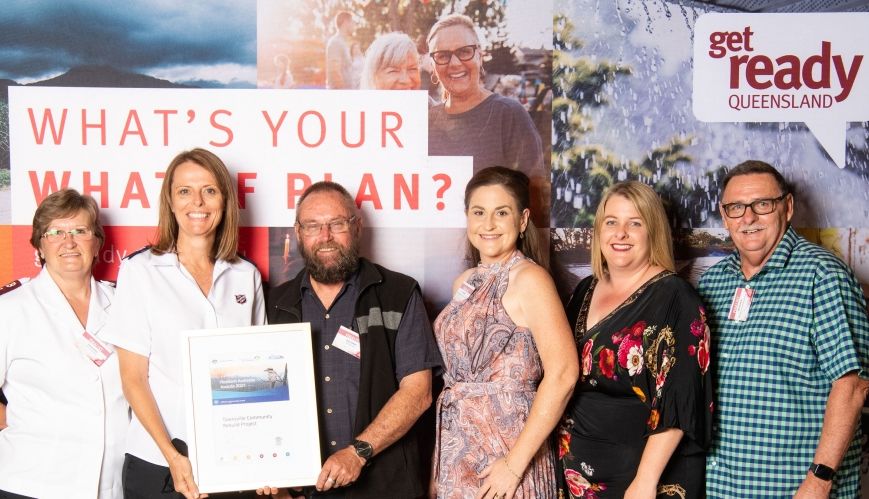 Townsville flood recovery project wins resilience award
20 October 2021
Six representatives of the Townsville Community Rebuild Project with their award (from left): Captain Leanne Stevens (The Salvation Army Associate Coordinator for Strategic Emergency and Disaster Management, Queensland), Tamara Forde (Townsville Riverway Recovery Mission), Bruce Cornish (Project Chair), Emma Rush (National Recovery and Resilience Agency), Teresa Hudson (Townsville Community Information Centre) and Peter Buckland (Department of Communities).

By Darryl Whitecross
The Townsville Community Rebuild Project (TCRP), partly led by The Salvation Army, was a joint winner in the 'Community' category at the 2021 Get Ready Queensland Resilient Australia Awards.
The TCRP was established in 2019 as an inter-agency collaborative initiative to help residents in Townsville and surrounding areas recover after significant floods hit the North Queensland region earlier that year.
The 22nd annual presentation evening was held at the State Library of Queensland in Brisbane on Wednesday 6 October. Accepting the award on behalf of The Salvation Army were Captain Leanne Stevens (Associate Coordinator for Strategic Emergency and Disaster Management in Queensland) and Tamara Forde (Townsville Riverway Recovery Mission). TCRP Committee Chair Bruce Cornish and other project team members also attended.
Leanne said the project aimed to "make a house a home again" for many residents who could not repair their affected properties to a habitable condition because they were uninsured, vulnerable or ineligible for adequate government assistance.
Tamara, who was employed as a case worker for the project's duration, said many of the people helped were vulnerable community members who had connected with various local agencies and services following the event. "There was not one referral pathway," Tamara said.
She said the project not only ensured people had their homes repaired but saw that their mental wellbeing was supported throughout. The project has ended, but Tamara said the support continued with regular "check-ins" with some of those affected. "We are comfortable that people are in a much better space than they were two years ago," Tamara said. "There have been some fantastic outcomes."
The two-year TCRP project involved coordinating 14 organisations to help 47 vulnerable households with psychological support and home repairs. Tamara added that Townsville had "come back stronger" through projects such as the TCRP and the community working together.
Inspiring project
Along with two other nominations in the category, the TCRP shared the 'Community' award with the Australian Red Cross, which implemented a project to build disaster resilience among culturally and linguistically diverse communities. 
Stephen Miles, the Deputy Premier and Minister for State Development, Local Government, Infrastructure and Planning, said the 56 entrants across six categories was a record number of submissions and the most of any state in Australia for 2021. He said the awards recognised "inspiring projects" designed to build "the resilience of Queensland communities to natural disasters".
"Queenslanders are hit by more disasters than any other state in Australia, and we are famous for our ability to support each other to recover and rebuild, and the Queensland entries to the Resilient Australia Awards show why," Stephen said.
Tamara said the Army was able to secure a government grant to fund what became the TCRP with representation, input, support, and resources coming from the Army, Combined Churches of Townsville, Townsville Community Information Centre, the Department of Communities (Community Recovery), Queensland Health's Mental Health Disaster Recovery Team, GIVIT, service clubs Rotary Australia, The Oasis Townsville, St Vincent de Paul, Townsville City Council, and the National Drought and North Queensland Flood Response and Recovery Agency.
The TCRP is now being considered for a national award at the National Resilient Australia Awards ceremony in November.