Brisbane sleeps out to put women's homelessness to bed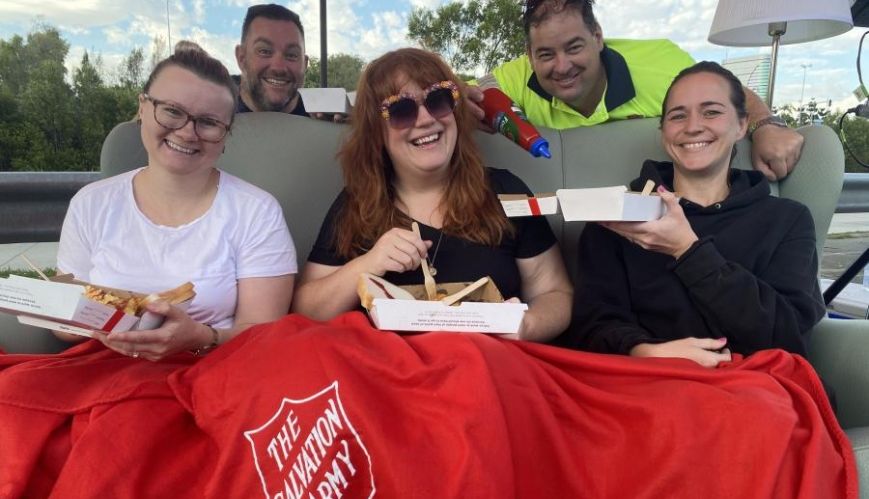 Brisbane sleeps out to put women's homelessness to bed
21 October 2021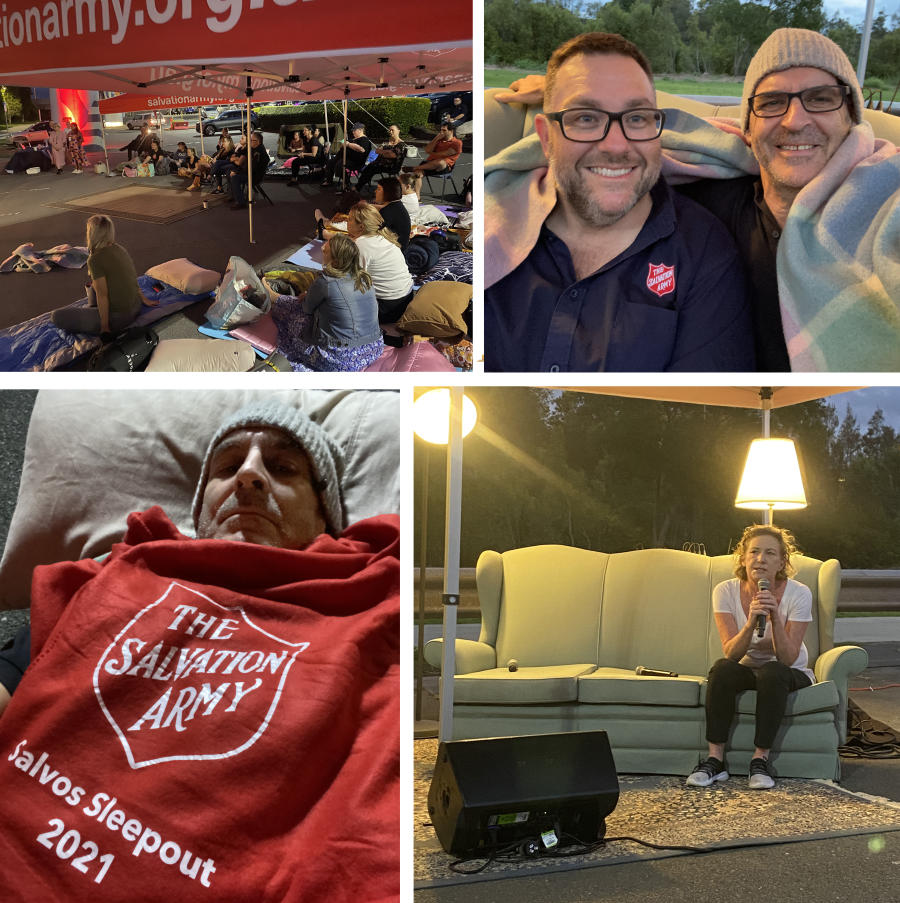 Breakfast on the couch ... (from left) rough sleepers Amy Sanders-Robbins (Bespoke Family Lawyers), Kirsty Visman (Superdream marketing agency), Katy Smith (Grizzly Bear Media) are served brekky by Simon Gregory (Queensland Divisional Public Relations Secretary) and Adam Cole (Queensland State Emergency and Disaster Management Coordinator) just after sun-up this morning as part of the inaugural Salvos 'A Place Called Hope' Sleepout in the car park at Toombul Shopping Centre.
Sleeping rough to support The Salvation Army Queensland Division campaign against domestic violence and homelessness among women. (Clockwise from top left) Listening to speakers before bed; Queensland Public Relations Secretary Simon Gregory shares a blanket with Others Magazine journalist Darryl Whitecross; Nicole sharing her transformation story thanks to the Salvation Army; and Darryl under a specially minted blanket.
By Darryl Whitecross
The Queensland Division held its first Salvos Sleepout overnight in the car park of a suburban Brisbane shopping centre.
The sleepout was part of the Army's campaign 'A Place Called Hope', raising awareness and funds to help end domestic violence and homelessness among women.
About 40 people, mostly women, from Army ministry expressions, the corporate sector and community organisations either slept out under the stars (when it wasn't raining), under the overhead Airtrain rail bridge or under marquees to show support for the campaign.
More than $25,500 had already been raised, primarily through peer-to-peer efforts, said Divisional Public Relations Secretary Simon Gregory.
The event began at 5.30pm yesterday with ABC Radio Brisbane breakfast program host Loretta Ryan doing 'on the couch' interviews with Anna Tim and Nicole Collins, survivors of domestic violence, homelessness and substance abuse. She also spoke with members of the Army's homelessness and accommodation streams, including Aaron Pimlott, Sharleena Bramley and Jocelyn Harris.
Light rain began falling around 7.25pm, accompanied by thunder and lightning, but that didn't deter the rough sleepers. It stopped soon after, and it turned out to be a balmy 19°C evening with a light breeze. Simon suggested that should the rain and storm have persisted, the sleepers could have sought refuge in their cars, "which is a legitimate shelter for the homeless".
Most people grabbed a few hours' sleep, despite the noise coming from the regular Airtrain service to and from nearby Brisbane airport, a steady stream of delivery trucks arriving and leaving the shopping centre loading dock, cleaning vehicle movement, the bright car park lights, the screech of curlews and plovers, busy road traffic noise, the occasional plane taking off, and customers coming and going at the nearby 24-hour fast-food outlet.
The Army's State Emergency and Disaster Management Coordinator for Queensland, Adam Cole, and his team arrived just after sun-up to serve breakfast, claiming it was "a brand new menu the SAES is going to use at its next disaster". It included bacon, sausages, scrambled eggs, hash browns, mushrooms, tomatoes, and fruit cups. The Streetlevel Mission coffee van kept the group well watered with hot beverages.
Simon said it was hoped the initiative would become an annual event and be "bigger and better" next year.