Hygiene-pack partnership to benefit The Waterhole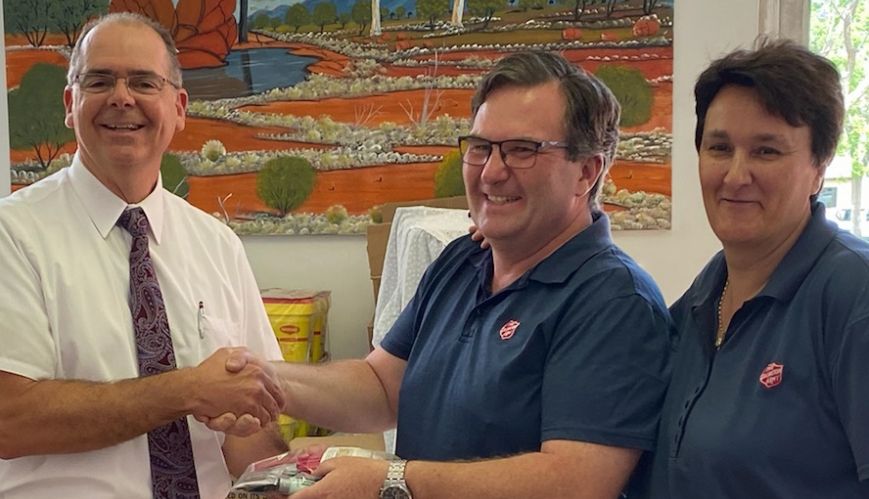 Hygiene-pack partnership to benefit The Waterhole
29 October 2021
Handshake deal ... Paul Lekias, a senior leader in the Church of Jesus Christ of Latter-day Saints in Australia, presents Alice Springs Corps Officers Majors Dean and Rhonda Clutterbuck the first of thousands of hygiene packs the denomination plans to donate to the Army's Waterhole community centre as part of an initial 12-month partnership. Photo: Tony Lawry.
By Darryl Whitecross
The Salvation Army in Alice Springs today launched a 12-month partnership with the Church of Jesus Christ of Latter-day Saints to provide thousands of hygiene packs, food items, and domestic products to The Waterhole community centre.
Alice Springs Corps Officer Major Rhonda Clutterbuck said the church would also donate clothing and commercial quantities of laundry powder, rolled oats, and soup to the Army-run centre. Rhonda described the initiative as "a real blessing".
"They might be seemingly small things, but it adds up [financially] because of the nature of our community," Rhonda said. "They're things we use every day and we go through a lot every day."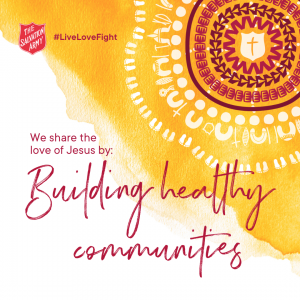 The partnership was announced at an official event at The Waterhole centre this morning, attended by guests from both denominations.
Paul Lekias, one of the Church of Jesus Christ senior leaders in Australia, flew in from Perth to attend the event. He described the partnership as "a beautiful joint collaboration".
"We appreciate The Salvation Army for the wonderful service provided year after year to communities throughout Australia," Paul said. "As is the case with all like-minded people, groups and religious denominations, we truly believe that, when we are in the service of others, we are in the service of God."
Commissioner Robert Donaldson, Australia Territorial Commander, was unable to attend [due to COVID-19 restrictions] but welcomed the new partnership. He said The Waterhole provided significant support and assistance to vulnerable people in and around Alice Springs and the two denominations working together would help that important ministry and mission to continue.
Meeting practical needs
Major Lance Jeffrey, South Australia/Northern Territory Divisional Commander, said the Army was "delighted, grateful, and appreciative" for the practical support that would come from the partnership.
"We recognise that, in this day and age, our resources aren't what we need to actually provide the amount of support that we need to provide for the most vulnerable people in our community," Lance said. "These partnerships that we form are absolutely critical for us to be able to continue to deliver a quality service that meets the very practical needs [of those people]."
Rhonda said about 1000 of the hygiene packs were presented at the launch. These had been assembled by members of the Alice Springs Church of Jesus Christ congregation. Another 1000 packs are expected by the end of the year.
Riki Tukukino, the church's Welfare and Self-Reliance Manager for Southern/Central Australia, said it was planned that 8300 packs – containing soap, shampoo, conditioner, toothbrush and toothpaste, washcloth, and a shaving razor – would be donated over the next 12 months.
"We are grateful for our friends in The Salvation Army for their examples of Christian service to others," Riki said. "We hope that the supplies we will provide will help them in their important work to relieve suffering and bring hope to individuals and families in need."
Church of Jesus Christ representatives visited The Waterhole earlier this year as part of a study tour of Northern Territory to find a mission project the church's humanitarian arm, Latter-day Saint Charities, could become involved with.
Rhonda said Latter-day Saints Charities was keen to forge a link with the Army in Australia to complement ties the two organisations had in the United States.
She said it would also create "a great connection" between the two denominations in Alice Springs as members of the Church of Jesus Christ congregation and its missionaries not only dropped off the various products but met with The Waterhole community on a regular basis.