EVERYDAY SALVO: Elva epitomises God's goodness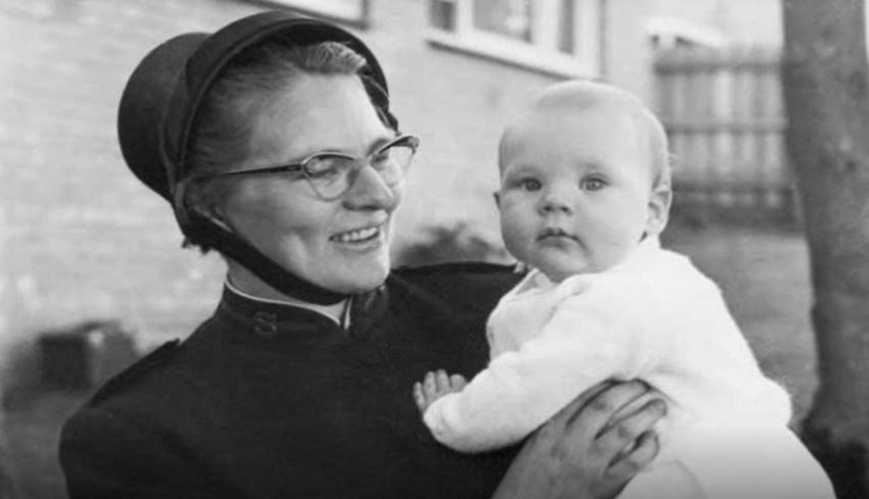 EVERYDAY SALVO: Elva epitomises God's goodness
9 November 2021
Elva Davies lives and breathes the mission of The Salvation Army. She can trace her Salvationist roots back to 1888! When this photo was taken in the 1960s, she and her husband Edgar served as corps officers in regional Victoria.
By Jessica Morris
The Salvation Army runs through Elva Davies' blood – literally. She can trace her Army roots to 1888 when her great-grandmother was sworn in as one of the first soldiers at Kaniva Corps in Victoria's far west.
As a former Salvation Army officer, an 'Officers Kid', and a proud Silver Star-wearing mum, Elva lives and breathes Christ's call to serve the 'least of these'.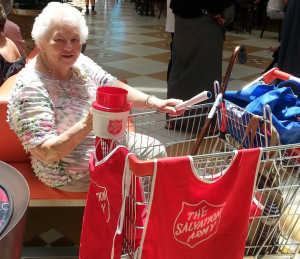 Elva Davies calls Moreland City Corps her spiritual home and is always eager to serve God and The Salvation Army in the community.
"My first memory of The Salvation Army was living at the Mount Barker Boys' Home in South Australia and wondering why the officers wore different clothes on a Sunday for church!" shares Elva. "God spoke to me [about officership] when I was 17 at Box Hill Corps, and I kept putting it to the back of my mind [because] from the age of about six I wanted to be a nurse."
Elva always had a passion for serving people; however, before she pursued nursing, she was determined to attend the 1956 Corps Cadet Congress in London. A job at the taxation office and 12 months of leave allowed her to see the world before she settled down. But once she returned to her job, life took a different course. And she saw God turn tragedy into something beautiful.
"I bought a Vespa motorbike so my sister and I could save money by avoiding bus fares, and one day a utility hit us, causing me to spend six weeks in hospital. The back injury effectively ended my nursing career before it had started," Elva recalls.
As her life deconstructed, God spoke to Elva through three people – Mrs Colonel Stranks, Mrs Major 'Nan' Raymond, and her father. And the message was clear. "My dad said to me, 'Obey God's calling, love'," says Elva. "I knew my sister, brother, and brother-in-law were soon leaving for the [Officer] Training College in Melbourne, and I was the only family member left in WA [where the family had settled]. I said 'yes' to God but wasn't in a hurry to move. I knew that my boyfriend was also intending to go to college!" she says.
Elva's patience was rewarded. She married that boyfriend, Edgar Davies, in 1961, and the couple entered college in Melbourne the following January. After Commissioning, it's fair to say the couple then served across almost every region in Victoria until 1974!
They received appointments to Burnley, Ascot Vale, Rochester, Benalla, St Arnaud, Seymour, Kyabram, Prahran/South Yarra, Reservoir/Laidlaw, and Mitcham. By 1974, Elva and Edgar's health had deteriorated due to the frenetic pace of appointment changes, and they asked for a less demanding appointment in the next season of officership. After taking sick leave, they realised that God was calling them to ministry in one location, and the couple made the brave decision to step out of active officership and settle at Northcote Corps in Melbourne as soldiers.
Edgar and Elva Davies with their three children – Malcolm, Geoff, Bronwyn – in the early 1970s.
The Davies family thrived at Northcote. Over the years, Elva held roles including Corps Cadet Counsellor, Home League Secretary, League of Mercy Secretary, Junior Soldier Leader and was a songster. She also witnessed one of her sons, Malcolm, become an officer, earning her a Silver Star as a mother of an officer. And in a full-circle moment, Major Mal Davies is now serving in London as the Assistant Secretary for Communications and Editor-in-Chief of the United Kingdom and Ireland Territory.
Edgar was promoted to glory in 2014, and, today, Elva calls Moreland City Corps her spiritual home. And irrespective of her circumstances, she has never waived in her calling from God or her love for The Salvation Army.
"I see God's work being done in pockets of The Salvation Army, but I think too many people are not responding to God's word. 'Open airs' have disappeared, and the uniform seems to also be on the way out. We need to seek out and sing some of the old Salvation Army songs and choruses!" Elva says.
After a lifetime of ministry, Elva's advice for the next generation of Salvationists is clear: "Keep your eyes on God and study and know your Bible and the Doctrines of The Salvation Army. Always pray for guidance, and ask God for help and seek advice from respected officers and older Salvationists," she says.
We can't argue with that wisdom. Thank you for your passion, Elva!