Promising to reuse to rejoice this Christmas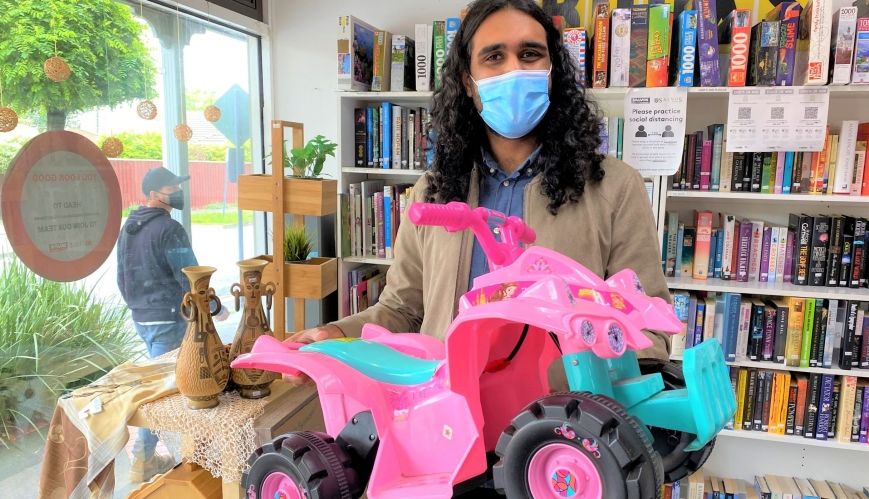 Promising to reuse to rejoice this Christmas
15 November 2021
Matt McMahon, Salvos Stores customer campaign partner, is encouraging us to buy preloved presents this Christmas.
by Faye Michelson
Christmas is a joyful time of giving, but when research shows that Australians receive more than 20 million unwanted gifts each year, it could be time to rethink the way we do it.
That's the idea behind Salvos Stores Preloved Promise, a movement across the nation to redefine second-hand giving.
Matt McMahon, Salvos Stores customer campaign partner, says research they conducted last year showed that 63 percent of us would consider shopping second hand over Christmas to support the environment. Their research also found 72 per cent of Australians made a commitment last year to create more sustainable habits, confirming the groundswell of community determination to live and shop sustainably. And that, says Matt, is the beauty of the Preloved Promise.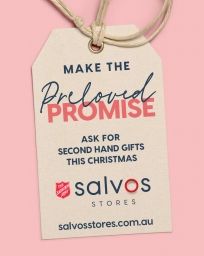 Salvos Stores launched the Preloved Promise campaign this month on billboards, online TV, digital channels and in partnership with frankie magazine, encouraging people to post their Preloved Promise on social media. This can be done by using the imagery on the Salvos Stores website to announce that second-hand presents are high on their wish list this year, explaining why they've made this choice.
"I can understand there could be some hesitation in shopping second hand for Christmas gifts," Matt says.
"Gift giving comes from a generous heart, and perhaps there is a concern that second-hand gifts appear stingy. But by making the promise, you are removing any negative connotations associated with preloved gifts and empowering those purchasing gifts for you to shop second hand with confidence."
As well as creating a more sustainable Christmas, Matt says there are other benefits to buying preloved gifts.
"Financially speaking, with a second-hand gift you can usually buy a better gift with the same budget, compared to shopping new. For instance, recently, in a $5 Kris Kringle present-swapping game, the most sought-after gift was something purchased from Salvos Stores – a new board game, still sealed in the box! " he says.
"Not only that, when you shop at Salvos Stores, you're helping to spread hope and joy to those in need with 100 per cent of profits supporting the work of The Salvation Army."
Finding quality second-hand gifts poses no problems, with 350 stores across the country and an online store that lists on average more than 1,000 items every day.
"If you need help with ideas, just ask and our store teams will help – they are preloved present experts," Matt says.
"I think there is often an extra element of thought that goes into a second-hand gift, a story behind why the gift-giver chose the gift they did that can be more meaningful than an off-the-shelf item. There's a real beauty in the uniqueness of a second-hand gift selection."
There is also real beauty in helping to reduce waste this festive season.
Click here to find out how to make the Preloved Promise.