Gala celebrates the diversity of Western Sydney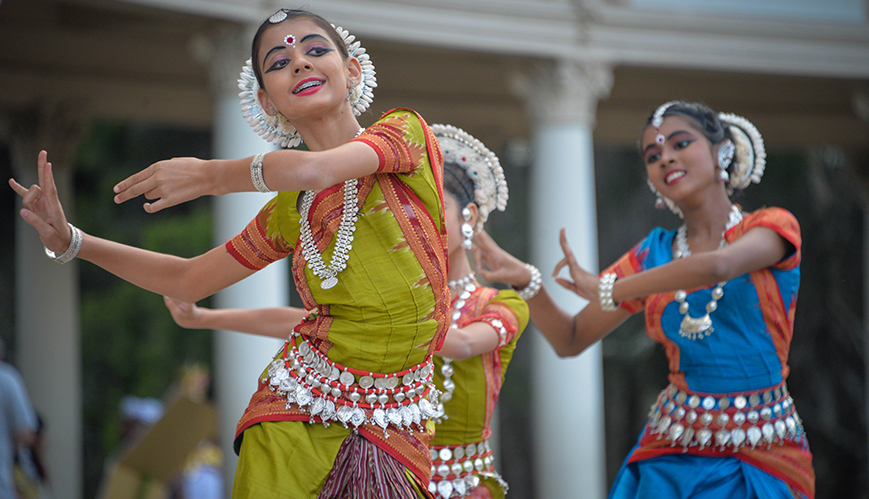 Gala celebrates the diversity of Western Sydney
16 November 2021
The Salvation Army's Diversity and Inclusion Team will hold a Multicultural Gala next week to celebrate the diversity of Western Sydney. Performances will include a didgeridoo solo, African drumming, Bollywood dance (pictured), and a Chinese dance performance. Photo by Pavan Gupta on Unsplash.
By Jessica Morris
The Diversity and Inclusion team are hailing a new season for The Salvation Army in Australia, with the launch of a Multicultural Engagement Campaign. Starting in Western Sydney, Salvationists are swinging wide the doors of welcome through a Gala event and the Salvos Multicultural Ambassador Program.
Adrian Kistan leads prayer at The Gathering, a Salvation Army conference that celebrates diversity and multiculturalism. Photo: Cazeil Creative
"The 'melting pot' of Western Sydney is something to be absolutely celebrated – the people of the nations have come to Australia… The Salvation Army always has, and always will have, the desire to partner up, support, celebrate, welcome and include all people," says Lt-Col Miriam Gluyas, Divisional Commander NSW/ACT.
"We are about caring for people, creating faith pathways, creating real community, and working for justice. Through [a] Salvos Multicultural Ambassador program and [a] Gala event, imagine the dreams that will be birthed, the hope that will be realised, and the future that might be ours!"
As part of the campaign, an annual Multicultural Gala will be held on November 19 at CommBank Stadium in Parramatta. Created to celebrate cultural diversity in Western Sydney, it was organised by Gandhi Creations for The Salvation Army and will be hosted by Stephanie Brantz, Board of Football NSW. The event will include a didgeridoo solo, African drumming, Bollywood dance and a Chinese dance performance from some of Australia's premiere performers. Awards will also be handed out, honouring people outside of The Salvation Army who have worked tirelessly to support and empower culturally diverse communities.
Adrian Kistan, General Manager for Diversity and Inclusion for The Salvation Army, says Western Sydney was chosen as the starting point for the campaign, in the hope it will be expanded across Australia.
"In Australia, people know The Salvation Army from our work on the frontlines of war, but the face of Australia has changed dramatically since then. Now we are such a culturally diverse society, that many people may not have that connection with us," he says. 
"We need to create a new narrative so that people from culturally diverse communities can have a better understanding of who we are. This is not about raising funds. [We want people to know that] the Salvos want to welcome you and connect with you so we can be more effective!"
In addition to the Gala, the campaign will see a combination of digital, social, and event opportunities pop up across Western Sydney to increase dialogue between communities, and to empower local corps and mission expressions of The Salvation Army.
The launch of a Salvos Multicultural Ambassador Program is another step in the campaign, allowing The Salvation Army to partner with six prominent representatives from communities with varying backgrounds and beliefs.
"These ambassadors all have a clear understanding of who we are as a Christian organisation. They know our values, and are deeply committed to our mission," says Adrian. "The ambassadors will be a voice for TSA in their community. They use their influence to connect people to local expressions of the Salvation Army."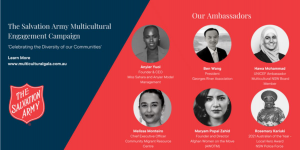 All six Salvo Multicultural Ambassadors will be present at the Gala to answer questions about the Multicultural Engagement Campaign. Ambassadors include Anyier Yuol, Ben Wang, Hawar Mohammad, Melissa Monteiro, Maryam Popal Zahid and Rosemary Kariuki.
The Ambasador Program and Gala are fundamental steps in reaching out to an already vibrant culturally diverse community, a key aspect of the Multicultural Engagement Campaign. Internally, Salvos are invited to build on their cultural intelligence and awareness as we welcome more people into our midst. This, says Adrian, is a key part of making more Salvation Army corps and mission expressions increasingly diverse.
"The Mission and Inclusion Team identified that by and large our faith gatherings are predominantly white-anglo. There are few exceptions in pockets around Australia, however research has shown us that The Salvation Army's engagement with culturally diverse people in faith settings is towards the bottom of all denominations," said Adrian.
"We are believing that the Multicultural Engagement Campaign will further build and be a launching pad for connection with culturally diverse communities – connecting people to expressions that lead to faith pathways. We want to reflect and embrace and all that comes with cultural diversity."
To learn more, visit https://www.multiculturalgala.com.au/.