You are here:
Home › News › 2021 › 11 › 18 › Changing The Conversation About Mental Health Across Geelong
Changing the conversation about mental health across Geelong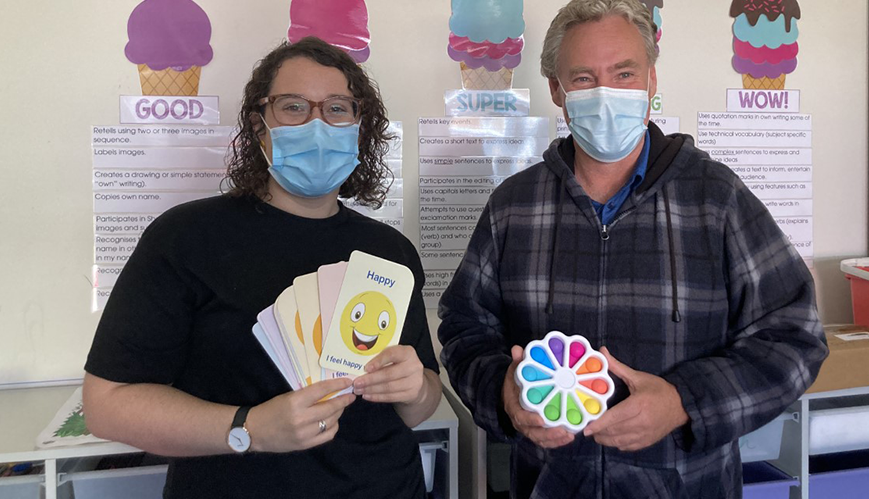 Changing the conversation about mental health across Geelong
18 November 2021
(L-R) The Geelong Corps Life Engaged Program is celebrating connection with the community – including other Salvation Army expressions in the region. Pictured are Life Engaged coordinator Rachel Morris is joined by Scott Worldron, Welfare Worker at Nelson Park School who attends South Barwon Salvos, as they look at the new sensory toys students can use to regulate their emotions.
By Jessica Morris
"Who knows what mental health is?" It's a single question that is opening doors across Geelong, as Life Engaged Coordinator Rachel Morris and the team educate students about mental wellness to increase school engagement.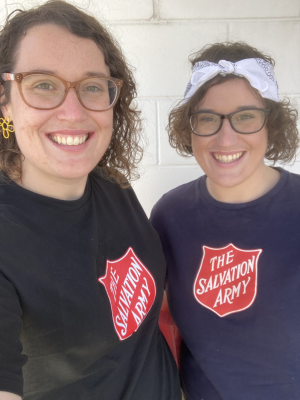 Life Engaged coordinator Rachel Morris (left) was joined by Others journalist Jessica Morris during a mental health workshop at Nelson Park School in Geelong, as part of the Life Engaged Program.
Based out of The Salvation Army Geelong Corps in Victoria's south, the Life Engaged Project began in 2020 with a mission to help young people and their families access mental health supports. Initially, it was built to provide professional services, including counselling to families involved in the Just Brass program who were doing it tough, and those living in the region's lower socio-economic suburbs. It has evolved into a counselling referral service, youth group ministry and schools program – tasks Rachel has relished since she took on the role of coordinator in November last year.
"Our purpose is to help young people and their families access mental health supports, increasing resilience and building community connection so they can thrive at home, school and in community," explains Rachel, who is a practising social worker and children's counsellor in Geelong.
"Through our schools program and the wider work of Life Engaged, we want to resource communities and transform lives with the love of Jesus," she shares. "A large part of this is linking with other Salvation Army expressions in the region and working together."
The schools program began in October 2021 after the Bibury Trust funded The Salvation Army in Geelong to conduct mental health workshops in schools. Nelson Park School was one of the first schools to invite the Salvos in to work with their students in years 7-9. And it was thanks to Wellbeing Worker Scott Worldon, who also attends South Barwon Salvation Army – just down the roads from Geelong Corps.
"We were so excited when Nelson Park opened their doors to us, because it is a school for children of all different abilities who have really beautiful giftings. Some are on the autism spectrum or have intellectual difficulties, and mainstream curriculums about mental health aren't suitable for them," says Rachel.
"As a social worker I was able to alter our mental health workshop for each class, and we found that the kids engaged well. We noticed that the students identified with the Salvo shield immediately and trusted us, because of the supports they already received in the community, particularly through Northside Salvos in Corio."
Rachel and the team present a 40-minute session to each class, teaching emotional resilience and utilising plenty of 'brain breaks'. But the real hit is the 'Calm Kit' every student makes, including pipe cleaners, feathers, sensory toys, ribbon and other items from Geelong's Sensory Kingdom. This gives them the opportunity to process emotion through play, and develop coping techniques to handle life's challenges.
"Right from the start Rachel and the team's professionalism, and the way they were willing to work with the school [to] adjust their presentation, has really helped our students to understand mental health. This was done by visuals, asking good questions, providing brain breaks and movement breaks, and providing each student with sensory tools they can access," says Scott.
"I cannot speak highly enough of the program and am looking forward a long-term partnership with the Life Engaged Program."