Gold Coast says thanks to donors and sponsors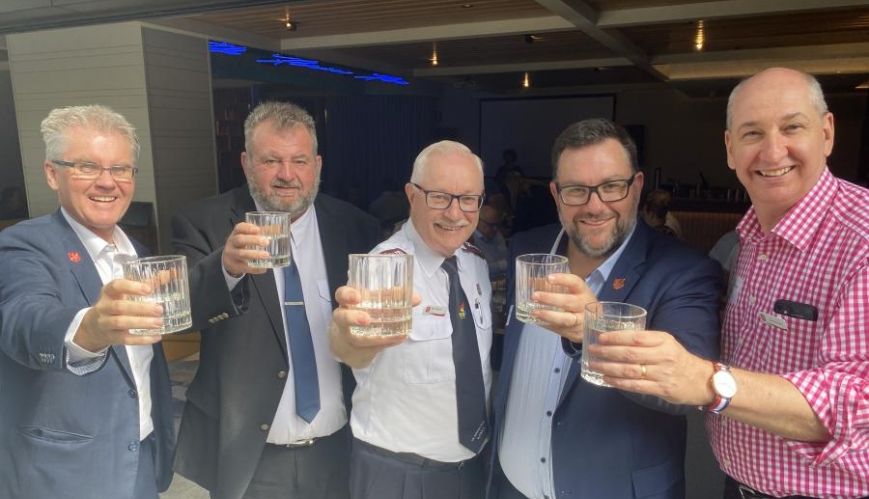 Gold Coast says thanks to donors and sponsors
22 November 2021
Raising a glass in appreciation of the many supporters and donors on the Gold Coast who have helped The Salvation Army continue to minister to the vulnerable in the community are Southern Queensland Relationship Manager, Community Fundraising, Rowan Johnstone, Relationship Manager, Bequests Queensland, Tony Welsh, Assistant Divisional Commander Major Neil Dickson, Divisional Public Relations Secretary, Simon Gregory and Team Leader Philanthropy Specialist, Derek Brown.  
By Darryl Whitecross
While demand for its services has increased dramatically over the past 12 months due to COVID-19, The Salvation Army on the Gold Coast could not wait to say thank you to all its sponsors and donors for their help in keeping its programs operating.
To show that appreciation, the Salvos merged their Stories over Lunch series with a Christmas Thank You Lunch at a Gold Coast restaurant in Broadbeach.
Rowan Johnstone, the Queensland Division Relationship Manager, Community Fundraising for Brisbane South and Gold Coast, said 65 sponsors, donors and Army representatives attended the lunch. Divisional Public Relations Secreatary, Simon Gregory was the MC.
The Stories Over Lunch concept involves inviting sponsors, donors and partner organisations to an informal lunch to hear and gain a better understanding of the Army as a church and community support agency and to hear the story of a guest speaker.
Alan "Chook" Rossiter speaks about his transformed life as part of the Stories Over Lunch and Christmas Thank You on the Gold Coast.
Alan "Chook" Rossiter spoke about how his life had turned around from being a convicted armed robber and alcoholic to a follower of Christ, thanks mainly to the support of the Salvos whose people showed love, care and concern.
Those present heard that pandemic strategies had significantly increased the impact on already-high levels of homelessness, vulnerability and mental health.
Assistant Divisional Commander, Major Neil Dickson said that, after what he described as an "ordinary" 2020, most people expected a better 2021. While housing prices have "soared", the stock market has "recovered" and some sectors of the economy were even "booming", for many "it has not been a great year".
"As we approach Christmas, many families and individuals in our communities find themselves in very difficult situations," Neil said. "The shortage of affordable housing has forced many people into unstable and unsafe housing and, for many, it's been for the very first time.
"I want to tell you that, here on the Gold Coast, throughout this pandemic, The Salvation Army has been able to continue its work in our local communities and in large part it's because of the generosity of supporters like you.
"You might not have been there in person. You might not have been the person handing out that support but you have been present in the warm meal, the dry blanket; you've been there in the friendly conversations; the hugs, the tears and the laughs as our officers and staff and volunteers have helped provide the hope that people so desperately need."