International news briefs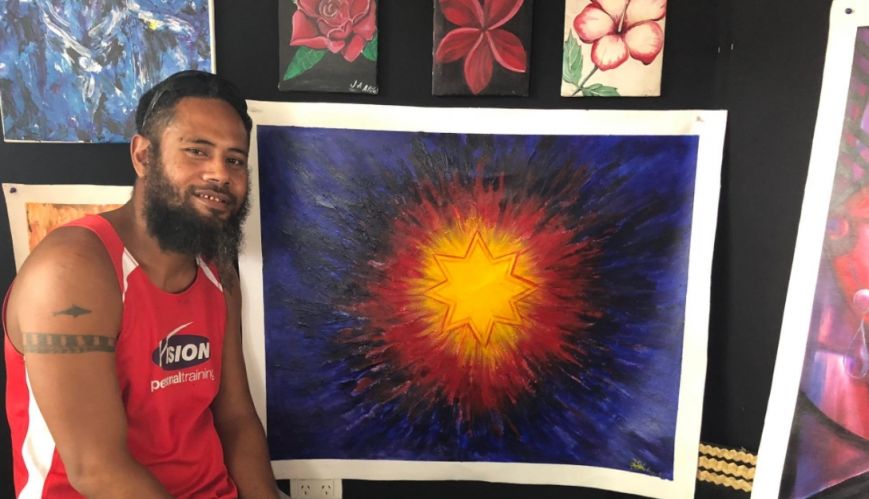 International news briefs
26 November 2021
Solomon Islands artist, Riaz Maninga, from White River, West Honiara with his abstract depiction of The Salvation Army flag which was unveiled at a Mission and Cultural Celebration service to commemorate the 10th anniversary of the Army's presence in the country.
Compiled by Others international news editor Darryl Whitecross 
---
Art piece marks anniversary of Islands ministry 
The Salvation Army has unveiled a commissioned painting to commemorate the 10th anniversary of the Army's official presence in the Solomon Islands, which is part of the Papua New Guinea and Solomon Islands Territory.
The work is by prominent Solomon Islands artist Riaz Maninga, from White River, West Honiara, and is an abstract depiction of the Army flag.
Solomon Islands District Officer, Major Robert Evans, said Riaz intended for the piece to capture God as the source of light through the shining star, which symbolised the existence of God and his bounties and love for humanity.
Riaz said he was honoured to have been given "this wonderful opportunity" to create the piece. 
"God is likened unto a light which does exist, giving off love, blessings and mercy to his creation and darkness is merely an absence of the divine attributes or virtues of God," Riaz said.
"Thanks all you who loved, liked and have a taste [of] my artwork, representation and interpretation of The Salvation Army flag. God bless you all." 
Robert said the piece was unveiled during a Mission and Cultural Celebration service last Sunday, the finale to the weekend of commemoration.
It was planned to present the painting to General Brian Peddle as part of the celebrations but restrictions on travel due to the COVID-19 pandemic meant that was not possible. General Peddle and Commissioner Rosalie Peddle recorded a video greeting instead.
Riaz's painting is to hang in the district quarters until "it's final destination" is decided. There also are plans to produce commemorative prints of the work.
Meanwhile, the Army has officially recognised Kafomauri New Opening as the newest church in the District, and Raia Fellowship for obtaining Fellowship status.
In the PNGSI Territory, there are three levels of recognised church growth: new opening or church plant, or fellowship. When the new opening shows sustained viability, corps when officers can be appointed.
During an afternoon of worship, six people were enrolled as senior soldiers and the warrants of four Envoys and two Auxiliary-Captains were issued, Robert said.
Video greetings from Chief Secretary Lieutenant-Colonel Tilitah Goa and Assistant Chief Secretary Christian Paulo Goa and a video sermon by Territorial Commander Colonel Garth Niemand were also screened.
---
Giant Kettle starts Christmas campaign
The World's Tallest Kettle in Detroit, Michigan continues to be a beacon of hope and popular with tourists.
Red Kettles are quintessential to Christmas in the United States and Canada and central to The Salvation Army's annual Christmas appeal.
In the land of 'super sizing', the Army's Metro Detroit Corps, in Eastern Michigan Division, has again put up its 'World's Tallest Red Kettle' in Cadillac Square.
The giant 'kettle' has been a popular tourist attraction in downtown Detroit, Michigan, for about 20 years.
Tracy Wolf, senior integrated communications specialist for the Army in Detroit, said the kettle would be "a beacon of hope for millions of metro Detroiters in 2021 after a tumultuous year".
The 'kettle' is 17m tall by 7.5m wide and illuminated by 26,000 LED lights that on November 19 were officially switched on .
Switching on the lights marked the "unofficial" start of the Army's annual Red Kettle Christmas Campaign and it was hoped to raise $US8.3 million ($A11.2million) to help fund its year-round "critical social services and various community programs", Tracy said..
---
Teams rush to support flood victims 
The Salvation Army has served more than 10,000 meals to emergency crews and victims of last week's flooding in British Columbia, a province on Canada's west coast.
The Prince George Corps Officer, Major Neil Wilkinson, said Army teams were on the front lines in Kelowna, Kamloops, Chilliwack, Maple Ridge and Abbotsford working to supply food, hydration, blankets, and other support as required.
The widespread flooding to the area, which is about 420km north-east of Vancouver, came after a month's worth of rain fell in a matter of days, cutting roads and destroying homes and infrastructure. The floods have been described as the worst in 100 years.
The Army's Canada and Bermuda Territory BC Divisional Secretary, Mike Leland, said several teams from outside the flooded areas had mobilised their communities to assist in the relief effort: "This is a tragedy unfolding and we are here for those people and communities day and night and we will be here to end and see this through into the recovery phase. This is what we do but we don't do it alone."
Some in the province were still recovering from the bushfires of four months ago, in what has been described as one of the worst wildfire seasons yet experienced in the area. 
---
US territory funds apartments for senior uganda officers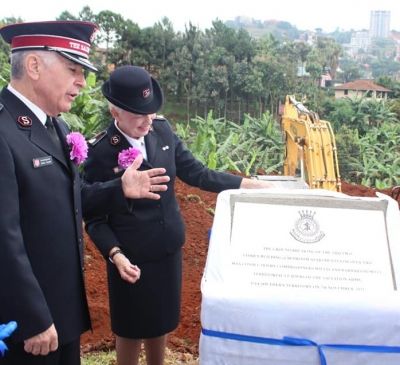 Work has begun on six new apartment quarters in The Salvation Army Uganda Territory where several senior territory administrators, including the Territorial Commander and Chief Secretary, will call home.
The ground-breaking ceremony and dedication to mark the beginning of work was officiated in Kampala City by Commissioners Willis and Barbara Howell from the United States Southern Territory, which is supporting the project, and Uganda Territorial leaders Colonels Samuel Kwao and Philomina Oklah.
Samuel said the Uganda Territory was grateful to the USS Territory for its "infrastructural development support".
It is expected the new quarters, located within the THQ compound, would take four years to build. 
Other projects the USS Territory has provided funding for include the construction of a multi-storey Officers' Training College cadet hostel in Jinja – opened by General Brian Peddle and Commissioner Rosalie Peddle last year – and the Kampala Corps building.
Following the ceremony, Willis and Barbara joined the Kampala Corps congregation for a celebration service with the theme: 'The Pursuit of Holiness'. Willis told the congregation a person's salvation was like an image in a mirror - "We reflect what we pursue or look at."