Common Ground cafe brews hope for the future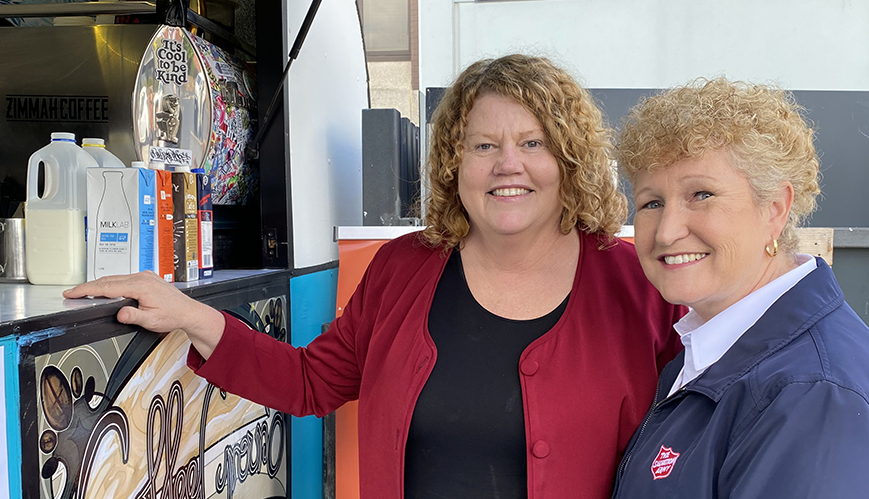 Common Ground cafe brews hope for the future
20 December 2021
Hobart Lord Mayor Anna Reynolds and Tasmania Divisional Commander Captain Kim Haworth celebrate three years of the Common Ground coffee van at Salvation Army Housing Campbell Street.
By Jessica Morris
Over three years, Salvation Army Housing Campbell Street in Hobart has equipped, empowered, and caffeinated its community. Formerly known as Common Ground, last week it celebrated the accomplishments of its coffee van, topped off with two awards from The Australasian Housing Institute.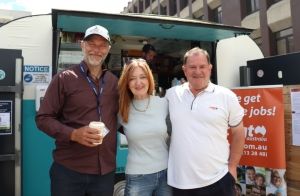 (L-R) Housing Coordiator Anthony Fagan celebrates the success of Coffee Ground with barista Sharon and another employee.
"For any small business in Hobart to be able to start up a year before COVID-19 – and still be operational today – is testament to the quality of the initiative that has relied on multiple partnerships," said Housing Coordinator Anthony Fagan.
"The change of narrative around identity that has occurred in the last two and a half years [between tenants working at Coffee Ground and the community] breaks stereotypes and shifts a person's identity, which moves to esteem, confidence, and the ability to take those risks."
The celebration was an encouraging close to 2021, as Campbell Street undergoes renovations. The Coffee Ground café, situated out the front of the Campbell Street facility, has been a vital tool in making tenants employment-ready, providing 6500 hours of vocational education, training, and employment to 11 people and selling more than 50,000 coffees. Hobart Lord Mayor Anna Reynolds was on hand to celebrate this achievement with Divisional Commander Kim Haworth with, what else – a cup of coffee?
Employees were also present to celebrate, including barista Sharon. After receiving an unexpected medical diagnosis, Sharon found herself homeless in the country she had called home for over 40 years with nowhere to turn. 
"I had always had a home and a place to sleep but after returning from overseas unwell I struggled to find employment and consequently found myself homeless," she said.  
Sharon had never worked in hospitality before but with some encouragement from the Social Housing team, she completed a barista course at TAFE with flying colours. Within a week of completed her course Sharon was contacted by Campbell Street Housing who were looking for employees for their newly established Coffee Van. 
"I got all of my confidence back and found myself really enjoying this new chapter." 
These are the stories that define the success of Coffee Ground. And while the future of Coffee Ground cafe is currently in flux due to renovations, there's no doubt it is beloved by patrons and the business industry alike. The Australasian Housing Institute just awarded the Campbell Street facility with Excellence in Social Housing for direct and indirect benefits of the Coffee Ground café. Meanwhile, Tenancy Officer Jade Munnings also received an award for Outstanding Achievement. This is in addition to Coffee Ground's former award for best small business at Taste of Tasmania.
"As we look at the next chapter of the Coffee Ground café, this isn't to say goodbye. This is to say ciao for now and to come back bigger and stronger," said Anthony.
We'll drink a cup of coffee to that!