You are here:
Home › News › 2022 › 01 › 05 › New Accommodation For Residents Of Alice Springs Hostel
New accommodation for residents of Alice Springs hostel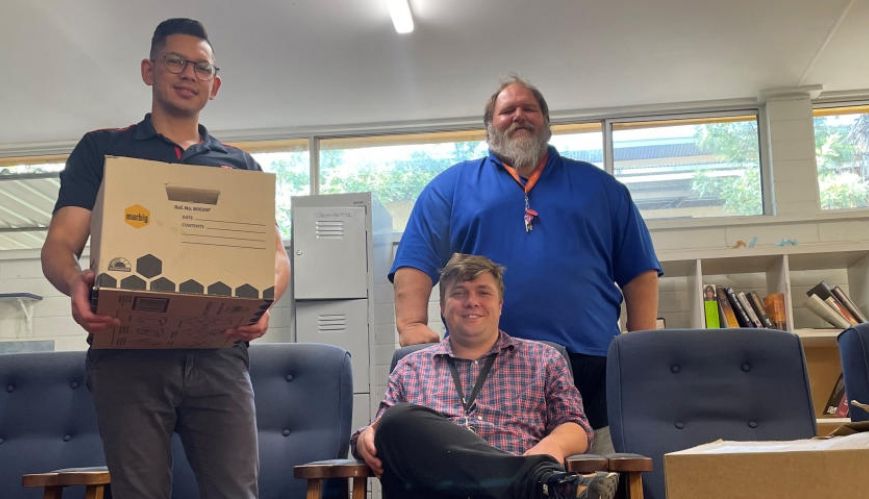 New accommodation for residents of Alice Springs hostel
5 January 2022
On the move in Alice Springs – men's hostel staff (from left), Program Manager Keith Van Haeften, case worker Billy Mansell, and senior support worker/case worker Jason O'Brien.
By Darryl Whitecross
Clients from The Salvation Army Men's Hostel in Alice Springs have moved into more modern accommodation in the form of a new, independent-living facility in the heart of town.
Program Manager Keith Van Haeften said all residents had gradually settled into the new 24-unit complex by 22 December. 
Keith moved to Alice Springs from Brisbane about two years ago for "a three-month secondment" to support hostel management, but when the program manager resigned, he was offered a two-year contract and has been heavily involved in the transition process to the new facility.
He said the new facility allowed for "independent living, dignity and empowerment of clients".
The previous complex, containing 19 single rooms, opened in February 1989. Residents shared communal areas such as bathrooms, a kitchen, and a recreation room. In the new 24-unit facility, residents have their own rooms with a small kitchen, bathroom, toilet, and shower along with a washing machine, dryer, fridge, microwave oven, single bed, television, and kettle.
"That brings more opportunity for an individual to really be able to gain life skills and independence, which is very important for them," Keith said.
Previously, Army staff were on-site 24 hours a day, but the men are given more independence at the new facility. There are no staff on-site, but there is access to an emergency call button if any assistance is required, and there are security cameras.
The facility is in the centre of town, allowing access to other support services and shopping. During business hours, residents have access to case workers and program coordinators at the Army administration centre nearby.
"This project is more a specialist service, providing accommodation support for single men who are experiencing homelessness, with a focus on Indigenous men," Keith said. He added that the new facility provided the residents with more options around "long-term sustainable accommodation".
The residents are required to sign a tenancy agreement, and Keith said having a two or three-month public tenant lease would give the residents a rental history that would help them once they moved to a more permanent living environment.