Outreach door always open - even during lockdown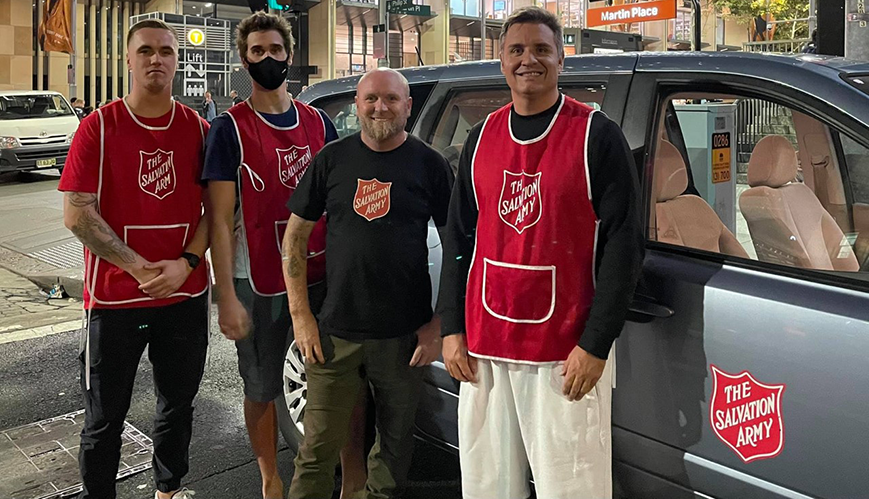 Outreach door always open - even during lockdown
19 January 2022
The Outreach Team at Sydney Congress Hall has focused on connecting with rough sleepers during NSW's lockdowns. Led by Community Outreach Coordinator Danny Salsbury (second from right), they head out every Tuesday to deliver meals and have a chat with their community. * Please note, masks were taken off for this photo in mid-2021. The team always wears them when working as required by law. Photo by Martin Machado.
By Jessica Morris
The Outreach Team at Sydney Congress Hall didn't miss a beat during NSW's extended COVID-19 lockdown last year. When social services in the area paused, and the vulnerable became more isolated, Danny Salsbury and his team of volunteers continued to connect with rough sleepers in the CBD.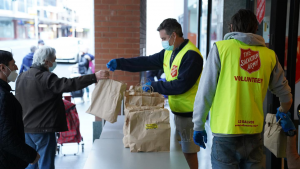 Sydney Congress Hall delivered a takeaway Christmas lunch last year amid COVID-19 restrictions. Photo by Martin Machado.
"Every Tuesday, we load up the vans with meals and make those connections. On Wednesday, we have our Hope Community Meal. It's all about building relationships with the community and seeing if there's anything else we can provide," Danny shares. "And if what is needed is not available, we point them in the direction of other services that can help."
As the Community Outreach Coordinator for Sydney Congress Hall, Danny oversees the corps' weekly meal drop, where volunteers visit sites like Central Station, Woolloomooloo and Belmore Park to connect with people doing it tough. On the surface, the main purpose of this ministry is to fill people's immediate need for a meal. Each Tuesday, they hand out between 150-175 meals, often baked at William Booth House or through the corps' Big Kitchen. Each person they meet walks away with two meals – enough to sustain them for a day.
But the connection goes deeper than that. Sure, in winter they provide people with warm blankets, sleeping bags, socks, and beanies – lifelines for anyone enduring a cold winter – but it's a spirit-led presence that people witness in the Salvos, giving people hope.
"When the community sees the regular faces of our volunteers, they build on that relationship," Danny said. "For many, we see them regularly, so we know them, and they know us. There's a meaningful connection there. During lockdown, a few services closed or tightened up, but we didn't miss a beat. When there are fewer services out there [due to lockdown], there's more need."
Danny is full of praise for his team of volunteers. Even through lockdowns, between 10-12 volunteers show up on Tuesday nights and serve at Wednesday's community meal (which has turned into a takeaway meal to be COVID-safe). And when restrictions mean fewer feet on the ground, they work doubly hard.
"Most days are tough for people out on the streets, but everyone we meet is appreciative and grateful. It's wonderful to hear someone say 'thank you for being here, and for walking along with our community'," Danny said. "I had someone say to me recently, 'Every time I see the Salvos, you make me smile.' It's comments like that really remind us why we do what we do. We want to provide hope for people and bring some joy in the midst of what can be a very tough time."