The art of changing lives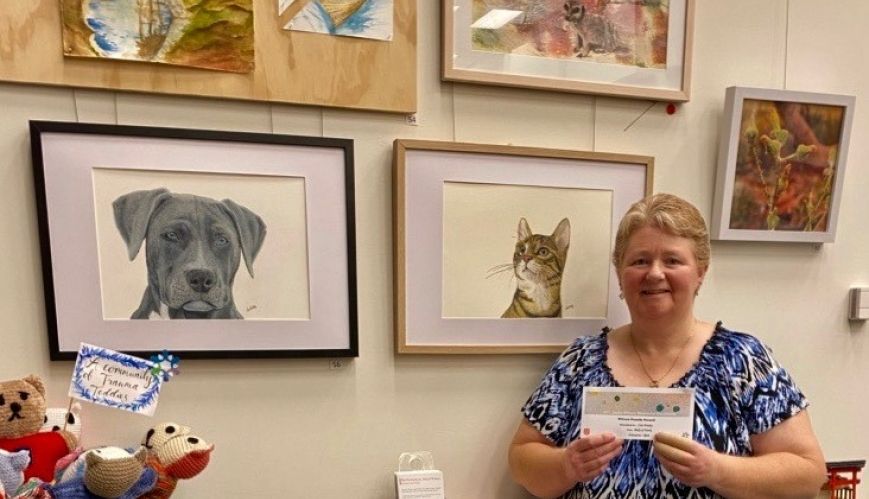 The art of changing lives
25 January 2022
Lisa Pratley, who won the Wilson Family Award in 2020, has returned as the guest artist at this year's Jayne Wilson Memorial Arts Competition and Exhibition in Wollongong.
By Others Writers
When Lisa Pratley met Jayne Wilson about 17 years ago, she couldn't possibly have anticipated the role The Salvation Army counsellor would play in her life, let alone her ongoing influence all these years later.
First Floor Program founder Jayne Wilson.
"I met Jayne at a very down time in my life," Lisa said. "I had lost custody of my children due to my drug addiction. They were placed in permanent care of a minister, and I was told I would never get them back.
"It was Jayne who led me in the right direction. She encouraged me and helped me believe that I could change myself and turn my life around, and it's because of her I was successful in doing that."
Jayne established The Salvation Army First Floor Program in Wollongong in 1996, a counselling and support service for families impacted by substance use, mental health issues, and suicide.
Jayne passed away on Christmas Day 2013 from cancer, and to celebrate her service to the local community, an annual art competition and exhibition was established in her honour.
"We wanted to involve the community in honouring Jayne's legacy," said First Floor Program Team Leader Marilyn Dunn. "Jayne loved art and used it frequently in our support groups and programs, so this was a way we could combine these elements and celebrate her passion for family, recovery, and hospitality."
The Jayne Wilson Memorial Arts Competition and Exhibition, which receives entries from all over Australia, is organised in conjunction with the Wilson family, who will judge the winning competition entry in the Wilson Family Award – for the work which best represents Jayne.
In 2018, Lisa entered the exhibition for the first time, and in 2020 she was awarded the Wilson Family Award. Since then, she has commenced a Diploma of Fine Arts and started a pet portraiture business. In 2022, she plans to complete a Diploma of Counselling and explore a future in Art Therapy to help bring the healing power of art to others.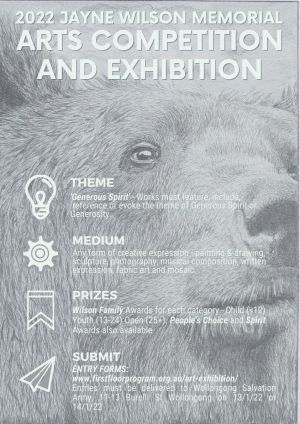 Each year, alongside works from artists and art groups from all over Australia, the First Floor Program team choose a featured artist to display a body of work.
This year, Lisa is the featured artist. "When I won [in 2020], I said to my daughter: 'One day I want to be the featured artist in that exhibition'," Lisa admitted.
"For every reason, she was a natural choice," said Marilyn. "With her personal connection to Jayne and the importance of creativity in her new life, she is the embodiment of everything the exhibition seeks to represent."
Artists submit works based on a theme that changes every year. This year's theme is 'Generous Spirit', and works must include a reference or invoke the theme of generosity.
The exhibition, which opened last Friday (21 January), is on display at Wollongong Salvation Army until Monday 31 January, 10am-3pm daily.
Several prizes are awarded at the end of the exhibition in various categories, including Child (under 12), Youth (13-24), Open (25+), a People's Choice award, a Spirit award and the overall Wilson Family Award. 
The award ceremony will be live-streamed at 10am on Sunday 30 January, as part of the Wollongong Corps service. You can watch the award ceremony here: www.youtube.com/wollongongsalvos/live