Unsung heroes recognised in Australia Day awards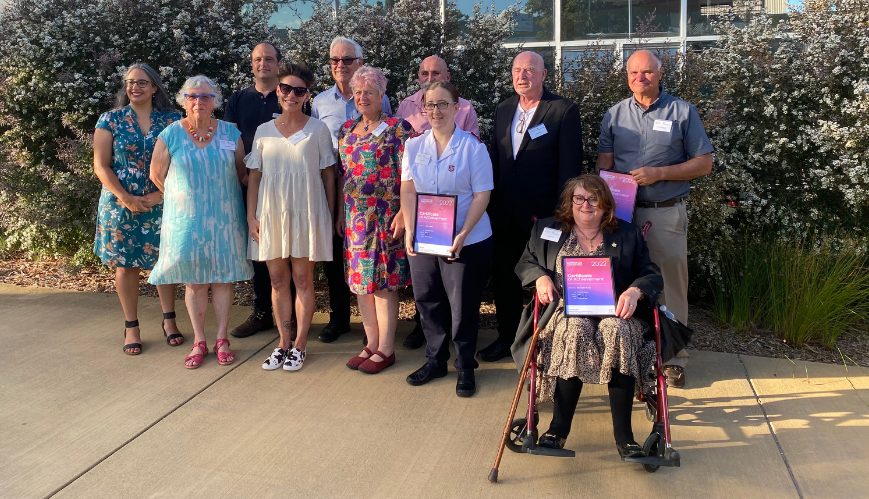 Unsung heroes recognised in Australia Day awards
26 January 2022
Salvos across the country have been recognised for their service with nominations for Australia Day awards. Captain Amy Jones (front row in uniform) with other nominees for the Bass Coast Citizen of the Year Awards.
By Jessica Morris
There are many unsung heroes in The Salvation Army, from tireless volunteers to committed staff and officers embodying the love of Christ. Come 26 January, we see many Salvationists recognised with Australia Day Awards on a national, state, and local level. Here is a snapshot of some of the Salvos recognised in 2022.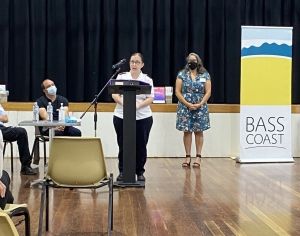 Captain Amy Jones thanks the community for her nomination as Bass Coast Citizen of the Year at a COVID-safe ceremony last week.
In regional Victoria, Wonthaggi Corps Officer Captain Amy Jones was nominated for the 2022 Bass Coast Citizen of the Year Awards. Commended as an 'inspirational role model,' she was nominated by council member Scott Edwards.
"The COVID-19 pandemic has been an extremely busy and challenging time for Amy and her role at The Salvation Army, with responsibilities for food relief and psychosocial support for our community. Throughout these challenging times, Amy has consistently gone above and beyond her regular duties," Scott stated in his nomination.
A member of the Bass Coast Municipal Emergency Management Planning Committee, Amy has also supported residents through power outages, quarantine, and house fires.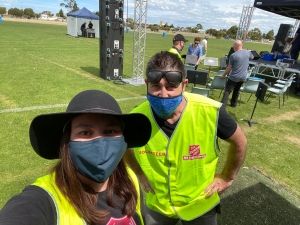 Lieutenant Jess Ffrost-Boyd and Deputy Mayor Natham Reynolds joined a group of volunteers from South East Salvos to make the Sorrell Community Carols a success. They have since won the award for Community Event of the Year.
"I work with so many wonderful people," she said. "From our Doorways team who provide emergency food relief with compassion, to our Thrift Shop team who work hard to provide affordable clothing, furniture, and bric-a-brac. To the caseworkers who provide varied support and our elderly church folk who care for their neighbours and family faithfully. I am only one small part of The Salvation Army here, so this nomination is for all of them."
South Eastern Tasmania Corps Officers Lieutenants Craig Boyd and Jess Ffrost-Boyd were nominated for organising the Sorrell Community Carols event in December. It led to them winning Community Event of the Year. Overcoming multiple challenges regarding entry requirements to keep everyone COVID-safe, the event at Pembroke Park entertained more than 450 locals, including a few Salvos in the choir. Numerous food vendors and businesses across the region also supported the event.
In 2021, Captain Wes Bust received the Scenic Rim Regional Council Community Leader Award. In 2022, he has been nominated for Citizen of the Year.
"It's an honour to be nominated, not as a recognition of our efforts or to celebrate our achievement, [but because] it's awesome that our community appreciated an event which celebrated Jesus at Christmas," said Craig.
In Queensland, Fassifern Corps Officer Captain Wes Bust received the 2021 Scenic Rim Regional Council Community Leader Award for his work during the 2019 bushfires, and hail and windstorms across the area. In 2022, he has been nominated for Scenic Rim Citizen of The Year.
"He is regarded by many as the epitome of the Australian character, always ready to help others in need, and is involved in numerous community organisations including as a member of the Rural Fire Brigade and President of the Boonah District Chaplaincy Committee," his earlier nomination said.
Meanwhile, the Cranbourne Doorways team in Victoria was also recognised for supporting the community through COVID-19. They were nominated for a City Of Casey Australia Day Award by their team leader, Kerry Jose. Members of The Salvation Army Berwick community were also nominated for two gongs in The City of Casey Australia Day Awards. The Berwick START AOD Community received a nomination for Community Group of the Year, while START program Manager and Lead Mentor Dean McWhinney was nominated for Citizen of the Year.
On the other side of the country, the Kalgoorlie-Boulder Salvation Army Youth Shed was nominated for Community Group or Event of the Year at the Kalgoorlie-Boulder Australia Day awards.
---
The Others team has scoured the country, and every effort has been made to cover Salvationists nominated for an Australia Day award in 2022. Do you know someone we have missed? Let us know in the comments!