IN BRIEF: Snapshots from around the Territory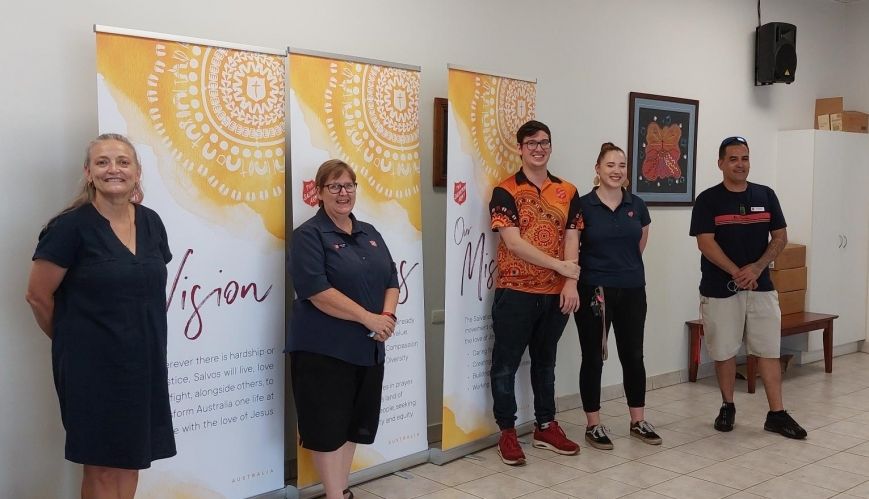 IN BRIEF: Snapshots from around the Territory
18 February 2022
Northern Territory MP Kate Worden (left), SA/NT Area Officer Major Kaye Viney, Katherine Corps Officers Aux-Lieuts Samuel Higginbottom and Michellie Higginbottom, and Katherine Hub coordinator Eli Sherman at the Katherine Hub.
By Others writers
---
MP visits Katherine Hub in NT


During a recent visit to Katherine in the Northern Territory, MP Kate Worden (Minister for Territory Families and Urban Housing, Disabilities, Sport, and Multicultural Affairs) dropped into The Salvation Army Katherine Hub to chat with senior management about people experiencing homelessness and domestic violence.
Katherine Corps Officer Auxiliary-Lieutenant Samuel Higginbottom said that during the 40-minute informal visit, Kate was told that temporary shelters, transitional housing, and accommodation were the critical needs of that vulnerable area of the community.
Samuel said the Minister, who had visited the Hub several years ago, stayed to watch the lunch service.
The Hub, which is in the main street of Katherine, is a drop-in centre and community space that supports people experiencing homelessness and or at risk of homelessness. People can seek respite, shelter, and food and have access to shower and laundry facilities.
Other social service organisations use the Hub to support the people there.
Eli Sherman, the Hub coordinator, said that the Katherine hospital supported the Hub's meal program. Up to 100 meals a day could be handed out.
---
Bramwell House in Adelaide rebuilt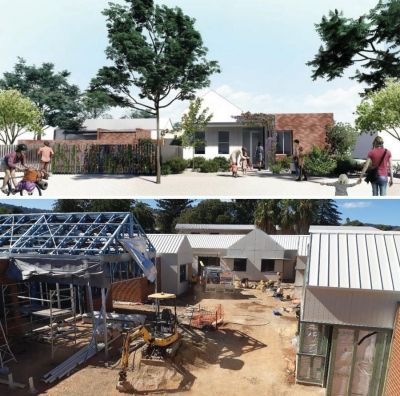 An artist's impression of the finished Bramwell House (top) and the construction site earlier this month.
In Adelaide, The Salvation Army South Australia/Northern Territory is building a new facility for domestic and family violence survivors.
While the facility's location cannot be revealed to protect the people who will be accommodated there, the complex is to replace the suite of buildings, known as Bramwell House, which have served Adelaide's vulnerable well for more than 50 years.
Alexandra Miller, State Manager for Family Violence, said the redevelopment would comprise eight new homes with supporting communal and administration spaces. Each home would offer increased capacity to house larger families and would be accessible for people with disabilities.
Alexandra said the redevelopment would be ready in June to accept its first clients.
The idea for the project was first raised at a Red Shield Appeal breakfast launch in Adelaide five years ago.
"Over the past five years, our team has worked tirelessly with consultants to develop a design that draws on 'national best practice' to create functional and therapeutic spaces for women and their children," Alexandra said.
"The design will create spaces that maximise capacity for women and children to address the developmental, biological, social, and psychological impacts of family violence through the provision of safe emergency accommodation with specialist support.
"It will be a place [for the participants] to heal, nurture, seek comfort, repair and recover to start again."
The project is being delivered as part of a partnership with the Commonwealth Government under its Safe Places Emergency Accommodation Grant.
---
Making a splash in WA



January normally sees youth across the nation come together for Summer Carnival – but COVID-19 meant it looked different this year, and each state wrangled their own weekend of fun. Unfortunately for WA, their weekend camp fell through due to COVID concerns, but that didn't stop them from making a splash!
After their weekend camp in Perth was cancelled, youth at Kalgoorlie-Boulder Corps held their own 'Kalgoorlie Summer Party'. Twenty-six young people enjoyed water obstacles, slides, and friendly competition before retiring to 'The Shed' Youth Space for a meal.
A week later, youth across Perth followed suit and came together for the Metro Summer Party on a scorcher 40-degree day. Thirty young people from corps, including Perth Fortress, Rockingham, Morley, Gosnells, and Bunbury, partied with inflatables, water sports and enjoyed a pizza dinner. At both events, Aux-Lieut Steve Freind, Youth and Youth Adults Secretary within WA, asked teens to consider the national spiritual framework, 'Our Story Is Love'.
"When we're young, we are still figuring out our life stories, but people can sometimes think they know who we are," explains Steve. "Sometimes, we feel like our story has already been decided. You might feel like your story has already gone wrong, but that's not where it ends. The Good News is that we can know who we are when we know we are loved."
---
Gosford gift cards help students return to school


On the NSW Central Coast, Gosford Corps has used Red Shield Appeal funding to help students from vulnerable families get a good start to the new school year.
Corps Officer Major Carole Smith said the corps reached out to the 20 public primary schools in the area to assess the needs as the beginning of the new school year approached.
Carole said that each of the schools responded, indicating they had families who would need assistance with back-to-school costs. She said the corps was able to "bless each school" with Kmart gift vouchers the parents could use to help buy their back-to-school needs.
Avoca Beach Public School principal Ben Thomas described as a "kind gesture" the corps providing the vouchers: "It will be a blessing to those families who really need them," he said.
Carole said the school had a 'Community Connections' committee that identified families in the school community who needed support.  
Ben said his school would acknowledge in its newsletter "the invaluable work that The Salvation Army does in the local area".
---
Riverland move holistic mission approach
Riverland corps folk Allan Wedd (left), Ronald Oliver, Gloria Glencorse, and corps administrator Helen Adamczyk carrying the flag for a holistic approach to mission.
The faith community of Riverland Corps in South Australia, near the border with Victoria, has moved as part of a more holistic approach to its mission.
Corps administrator, Helen Adamczyk, said that, over the past 12 months, the corps, in Berri, which is about 240km north-east of Adelaide, had been merging with the existing Doorways program to offer a more holistic mission and felt that would be best achieved by relocating the corps into the Doorways building.
Helen said the new location – on the Murray Riverfront in Riverview Dr – was smaller, which required some tough decisions around what would fit into the new space.
"This meant we had to look at the items that would accompany us. We decided the cross and the flag were non-negotiable, but the holiness table and mercy seat had to be packed away until we are able to be in a larger building," Helen said.
Moving into the new worship space mid-February was "the final step", having relocated the corps office from Wilson St about six months ago.
"The concept of a 'one-stop shop' makes a whole lot of sense in today's busy climate, and COVID-19 has given us the opportunity to reflect on mission and how we deliver it," Helen said.
"The corps has embarked on a radical transformation, and our main focus is on discipling and bringing both staff and volunteers on the journey. We are client and customer-focused with a strong emphasis on outreach. In order to achieve results, we need to be where our people are. That's where the opportunity lies to present the gospel after we have built relationships.
"We take the command to 'go into the world and make disciples' very seriously, and all decision-making is filtered through that lens," she said.
Helen said the existing corps building would continue to be used as a sorting hub for Salvos Stores and community meetings until the lease is reviewed.
"What excites me the most in all of this is we now have volunteers actually praying with clients and for clients. It's the holistic approach that fires us up, and that requires a cultural shift for all parties," Helen said.
---
Rosedurnate r

esidents first time fishing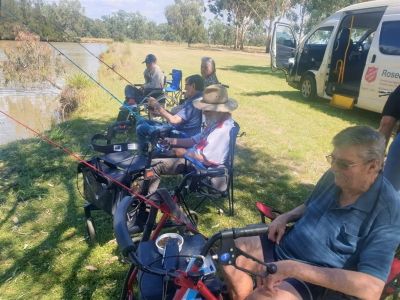 The group of anglers who took part in the Rosedurnate Aged Care Centre fishing expedition.
In the Central NSW town of Parkes, a group of residents from The Salvation Army Rosedurnate Aged Care Centre have been on what they hope will be the first of many fishing trips.
Facility Lifestyle Coordinator Jaide Stewart said the trip was to the popular ski dam area on Lachlan Lake near Forbes, and the group of five residents and three staff enjoyed the morning, which included a barbecue lunch.
Jaide said the centre arranged the barbecue and lunch while the fishing gear and bait was arranged by the National Disability Insurance Scheme (NDIS) staff at the centre.
"The residents came to us with the idea," Jaide said. "Some hadn't been fishing for 10 years. We caught 14 fish, but we were not going to fish to eat. We're going for fun. We'll release the fish back to the dam. They showed us (the staff) how to put the worms on the hook."
The event was so well received that Jaide said it was planned a fishing trip would be held once a month with numbers limited to how many could fit on the centre minibus.
The next trip already has been planned: "Next time, we'll be going to Condobolin (100km west of Parkes)," Jaide said. "We'll just try all different fishing holes that the residents used to fish at."
Jaide said some of the group said the trip was more than "just a day out". It was the highlight of their month.