Salvos offer help and hope at flood sites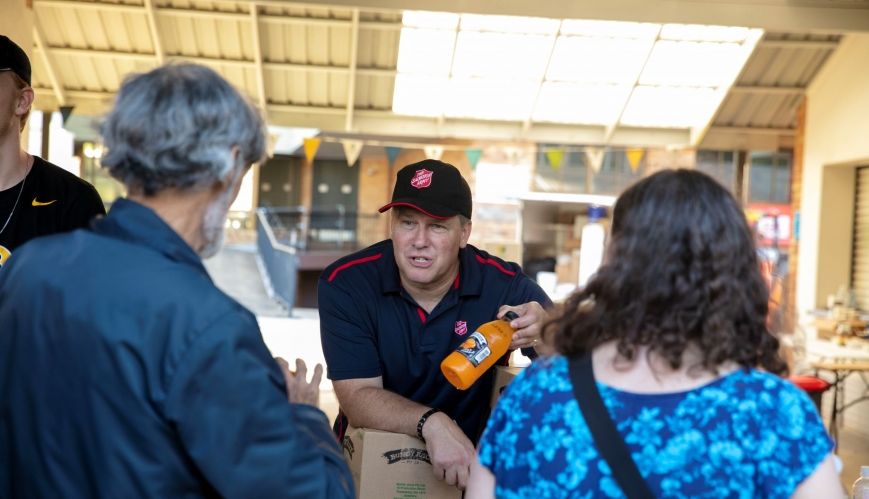 Salvos offer help and hope at flood sites
3 March 2022
Salvos offer refreshments and encouragement to people affected by the floods in Lismore, NSW.
Australia Territory Chief Secretary Colonel Winsome Merrett has urged Salvationists to pray for those affected by the devastating floods in Queensland and NSW.
"I urge you all to join me in praying for those who have been displaced by the floods, the families who've lost loved ones and their homes, and for our officers, employees, and volunteers involved in any way in the relief effort," she said.
"As we witness the devastating impact of the floods along much of the east coast of Australia, Salvos on the ground are rolling up their sleeves and helping those in need. I want to thank our many officers, employees, and volunteers on the frontline of another disaster. Thank you for what you do and what you mean for the people in your community."
Earlier this week, The Salvation Army launched the 2022 Flood Appeal, aiming to raise $10 million to directly support the estimated 18,000 homes affected by these unprecedented floods. The Army has already contributed $1 million from its Red Shield Appeal funds toward the $10 million target.
"After witnessing so much hardship in our communities over the last two years through bushfires, floods, drought and COVID-19, we are calling on the generous spirit of our Salvos community to volunteer if you are able and spread the word about our 2022 Flood Appeal," Winsome said.
Salvation Army Emergency Services (SAES) crews continue to provide practical and emotional support to the thousands of Australians affected by the floods.
Situation as of 5pm, 3 March 2022:
• 19,019 meals and refreshments served in Queensland and NSW to date.
• Active in four sites in Queensland – Ipswich, Dakabin, Chandler, and Logan – and five sites in NSW – Lismore, Grafton, Maclean, Meroo, and Tweed Heads Corps (this centre is not supported by SAES). These evacuation centres are being supported by multiple corps in the area.
Financial assistance can be accessed via the recovery hubs. These recovery hubs are operated by multiple agencies, including The Salvation Army, and are a one-stop shop for information, referrals, and personal support and guidance with accessing financial assistance.
Recovery hubs currently open: Redcliffe Showgrounds, Redcliffe (Webb Hall); Gympie Civic Centre, 32 Mellor Street, Gympie; Caboolture Hub, Learning and Business Centre, King St, Caboolture (was closed yesterday due to bad weather). Open from tomorrow, Friday 4 March are Ipswich Trades Hall, 4 Bell Street (opening 4 March); Deepwater/Baffle Creek, with SAES support; Beenleigh; Jimboola, Deception Bay; Yeronga and Zilmere (TSA is not activated in NSW recovery hubs yet).
Financial assistance can also be accessed directly from the government:
QLD Personal Hardship Assistance

Federal funding via Services Australia