Massive mobilisation as rain hampers flood recovery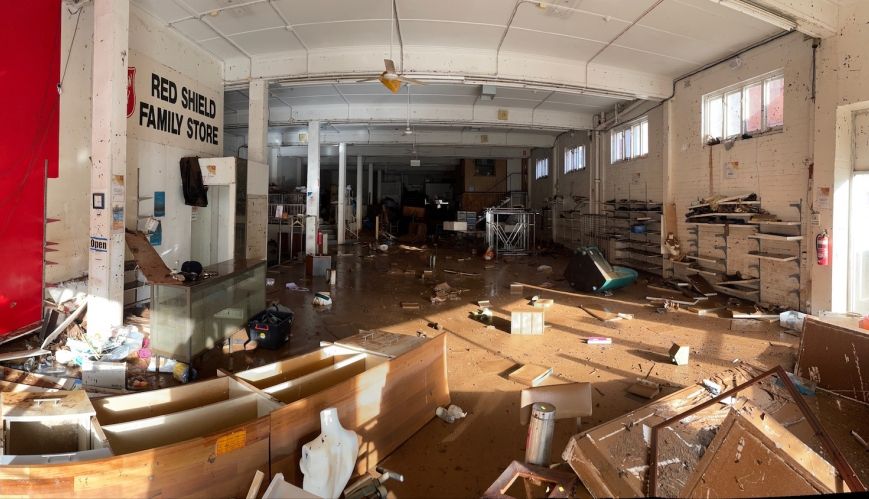 Massive mobilisation as rain hampers flood recovery
4 March 2022
The inside of the Lismore Family Store was a picture of devastation today after floodwaters receded.
Compiled by Darryl Whitecross
The Salvation Army in Queensland this week entered the recovery phase after the worst of the heavy rain and flooding subsided, but that was short-lived as the skies darkened again yesterday.
After two days of blue skies on Tuesday and Wednesday over the state's south-east, residents woke to thunderstorms around 4am yesterday, with more heavy rain and gusty winds. The Bureau of Meteorology is forecasting the rain to persist into today and over the weekend.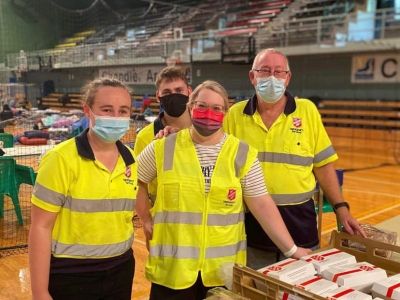 Part of the team from Carindale Corps helping SAES crews at Brisbane City Council's evacuation centre at Chandler, in suburban Brisbane – (from left) Jess Pratt, Lucas Anderson, Courtney Drew, and David Pratt.
The latest rain has hampered recovery efforts from Bundaberg to the Gold Coast. Schools closed again, and the State Government warned residents to stay at home for 48 hours as the bureau issued another severe weather alert.
Captain Leanne Stevens, Associate Coordinator for the Army's Strategic Emergency and Disaster Management (SEDM) in Queensland, said people who began cleaning up on Wednesday were flooded again yesterday, but not as badly: "It will be very traumatic for them that it is happening again."
SEDM personnel began setting up hubs yesterday at the Gympie Civic Centre, the Caboolture Learning and Business Centre, and Webb Hall at the Redcliffe Showgrounds to interview affected residents about services available, and other assistance the Army could provide.
The Caboolture hub closed later in the day due to bad weather. New hubs were to open today in the Ipswich Trades Hall and, with SAES support, at Deepwater/Baffle Creek, between Bundaberg and Gladstone.
The hubs, which see other agencies working alongside SEDM personnel, are set up to be a one-stop shop for information, referrals, personal support, and guidance on getting financial assistance.
Over the past week, Salvation Army Emergency Services (SAES) crews have been working hard to provide food and support to the many hundreds of people displaced from homes due to the rain and flooding.
Often with little in the way of resources and manpower, those crews and volunteers from corps and ministry expressions worked around the clock to support affected communities, and that deployment continues in the Northern Rivers region of NSW, and Sydney is now bracing for evacuations.
For many of the displaced in Queensland, the water levels had receded, allowing them to start the clean-up, but others still cannot get to their homes because they remain inundated or roads are cut.
Many fled their homes to evacuation centres with only their clothes and the valuable possessions they could carry. Others were trapped in their homes as the water levels rose quickly around them.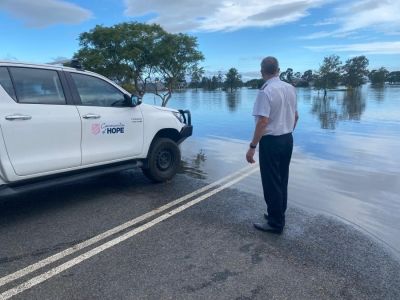 NSW/ACT Public Relations Secretary Major David Collinson on the road to nowhere. Richmond Street, at Lawrence, south of Maclean (NSW) disappears into floodwaters from the Clarence River.
Adam Cole, SAES coordinator in Queensland, said the Army not only supported the displaced in the evacuation centres but the hundreds of first responders.
On Tuesday, an evacuation centre opened at Logan, south of Brisbane, taking to 10 the number of centres where SAES teams and corps folk and volunteers from mission and ministry expressions close by provided food, hydration, and other assistance to flood victims.
While evacuation centres began standing down in Queensland, others opened in NSW as required.
Corps folk from Calamvale provided meals for 30 people as soon as the Logan centre opened, but that number grew as more evacuees found their way there. Carindale Corps members were joined by volunteers from Newcastle, Townsville, Gosford, and the Central Coast to support the evacuees.
In Caboolture, Corps Officer Lieutenant Danielle Starr, Candidate Helper Peter Cook, Captain Narelle Unicomb (Project Team Leader, Brisbane City, North and Sunshine Coast Area) and some volunteers from the corps worked around the clock last weekend at the evacuation centre in the town as their relief from the Gold Coast could not make it, having had to turn back because of roads out of Brisbane were cut at the time.
Danielle said despite resources being stretched, "we have loved the opportunity to share in conversation and bring comfort in even a small way" and "being a constant presence".
Despite the Gold Coast team being unable to get through, as the water receded and roads reopened, more corps volunteers were able to help along with members from service clubs Rotary and Lions, "which was a massive relief for us", Danielle said.
---
SAES crews going above and beyond
The Lismore Family Store after floodwaters from the Wilson River swept through the city's shopping precinct earlier this week.
The Salvation Army Emergency Services (SAES) reports having served almost 20,000 meals and refreshments since the flood disaster began last week.
Along with the Tweed Heads, Logan and Caboolture evacuation centres, the Army has worked at similar centres in Queensland at Nambour and Gympie (which have since closed), Ipswich, Dakabin and Chandler, and in the Northern Rivers of NSW at Lismore and Maclean.
In Lismore, the six initial Army volunteers there were joined on Monday by 10 people from Coffs Harbour to help to serve hundreds of meals.
As the situation in NSW worsened, Army personnel trying to get from Sydney to Lismore (on Wednesday) by road to provide support and relief to crews, diverted to Maclean to support the Army's Grafton team at the evacuation centre there, as getting to Lismore was unlikely as more roads south of the town were being cut.
---
'Manna from heaven' for stranded motorists
Truckies, holidaymakers, and commuters were stranded on the Pacific Highway between Ballina and Tweed Heads earlier this week. Picture: Channel 9.
While the SAES and volunteers from Army mission expressions have helped people mainly in evacuation centres from the Central Coast of Queensland to Grafton in Northern NSW, Tweed Heads Corps Officers Majors John and Nicole Viles led a team to get food to motorists stranded on the M1 highway for several days cut off by floodwaters.
Nicole said the Tweed Heads Corps team were able to quickly make 280 sandwiches for the stranded people, and police and State Emergency Services (SES) personnel were able to deliver them.
She said that, along with the people stranded in their cars on the Pacific Highway (M1) south of Chinderah, trucks heading south were halted south of the Tweed. Some motorists took refuge in the twin-tube, 134m-long Cudgen Tunnel.
"Limitations meant sandwiches were the only option. We did the maths of how much we'd need [and] scrambled together everything we had," Nicole said. "We got every hand on deck in a massive sandwich-making production line.
"Sixty-six loaves of bread later, 560 pieces of bread were buttered and filled and wrapped and sent off in the police van to meet a helicopter or boat. Then we backed it all up and did it again six hours later, all the while feeding the 150 people at the evacuation centre [which opened at Tweed Heads on Tuesday]. The volunteers have been outstanding."
News reports indicated the motorists had been stranded without food or water between Tweed Heads and Ballina for at least 30 hours since about 7.30am on Monday when the M1 was cut south of the Tweed River. In the Cudgen Tunnel, truckies shared the food contents their vehicles were carrying and holidaymakers set up barbecues to cook it.
The Tweed Heads evacuation centre has operated out of the Tweed Heads Corps. It is the only Army corps facility being used as an evacuation centre. Other centres are at Local or State Government locations.  
John said water over roads had receded enough in recent days for some people to leave the evacuation centre. He said some people travelling through the area had been able to return to their cars and resume their journeys: "Most of them have had to head back north to Brisbane because of the ongoing flooding south of the border at the moment." 
The Tween Heads centre sheltered about 180 evacuees while others used the facilities, such as people stranded in motorhomes.
"We've had everything from cats and dogs and birds making their sounds," John said. "The church has been converted into a dormitory, as has our foyer, and we are really fortunate we have a cafe facility. The cafe has been converted into a donation drop-off zone as well as a feeding portal. We're really blessed to have so many people donating [clothes and other items] but also volunteering themselves." 
---
More help needed for recovery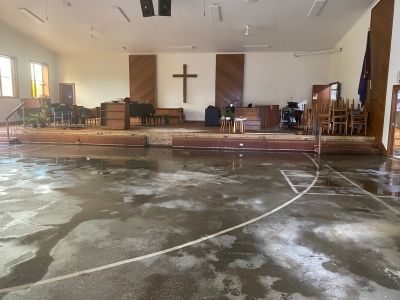 The Grafton Corps citadel after sodden carpet, damaged chairs and other equipment was removed after the building was inundated during the flooding that swept through the city.
The Salvation Army has issued a callout across NSW and Queensland for employees, officers, and retired officers to volunteer in flood recovery initiatives.
People interested in being deployed over the next few weeks or longer have been asked to complete a special deployment form to assist Salvation Army Emergency and Disaster Management (SEDM) teams in the recovery phase. An additional five days of paid Workplace Support Leave has been made available to full-time and part-time employees with written permission from their line manager to be involved and follow the new Workplace Support Program procedure.
For further information, email salvossedmvolunteers@salvationarmy.org.au
The SEDM stream expects emergency relief to remain for some time as floodwaters move through river catchments. Salvation Army Emergency Services (SAES) teams will remain on deployment for as long as the evacuation centres remain open.
Adam Cole, Queensland SAES coordinator, said the recovery phase would be a long one, but the Army would be doing what it could to support people who had lost homes or businesses.
---
Mozzie alert issued

The Salvation Army has reiterated a Queensland Government health warning calling on all flood-affected communities – especially frontline workers – to be vigilant against mosquito-borne diseases.
Health Minister Yvette D'Ath said, "conditions are ripe for mosquito activity" in the aftermath of the flooding. "Some of the most common mosquito-borne illnesses are Ross River virus, Barmah Forest virus and malaria, though these are only some of what can be spread by a mosquito bite," she said. "And with the detection of the Japanese encephalitis virus in southern Queensland recently, people needed to be vigilant."
Dr John Gerrard, Chief Health Officer, said simple but effective steps to minimise the risk of mosquito bites included applying a reputable insect repellent, wearing loose clothing that covered the arms and legs, and wearing closed-in shoes.