IN BRIEF: Snapshots from around the territory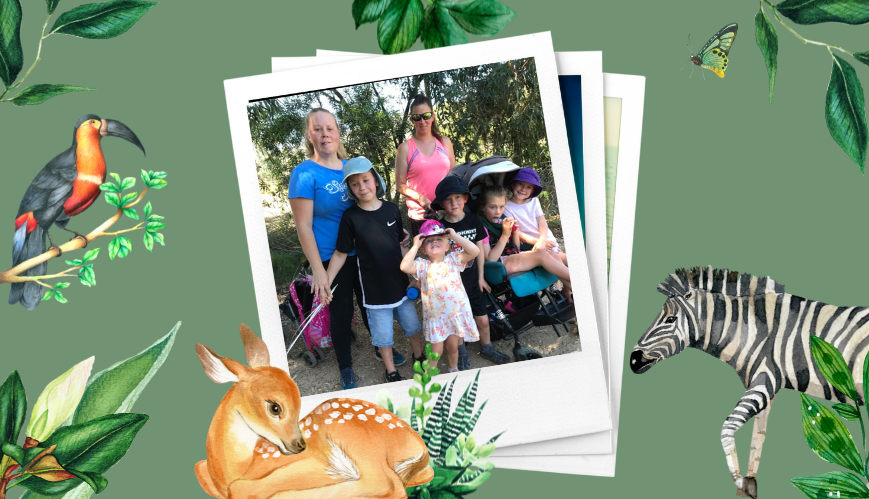 IN BRIEF: Snapshots from around the territory
8 April 2022
Families in Stawell and Ararat were able to reconnect with the Salvos thanks to a local Family Fun Day at the Halls Gap Zoo, organised by Captains Greg and Lynne Turnbull and Stawell Ministry Assistant Sandra Pickens.
By Others writers
Families have a zoo of a time


Fins, fur, and feathers – families across Victoria saw them all during their divisional Family Fun Day earlier this year.
A trip to the Werribee Zoo was just what the doctor ordered after two years of few social events due to COVID-19. And the Children and Family Ministry team exceeded themselves – collaborating with officers to create a localised version of the event, giving families doing it tough in Stawell and Ararat the opportunity to get connected at Halls Gap Zoo.
"We loved to reconnect with those we haven't been able to spend time with, building relationships over a barbeque lunch in a fun environment. This also helped us invite people to the next corps gathering," shared Captain Lynne Turnbull, who organised the Halls Gap-based event with Captain Greg and Stawell Ministry Assistant Sandra Pickens.
Seeing the macaws fly overhead at the Halls Gap Zoo was a welcome respite for families connected with the Ararat and Stawell Corps following years of financial hardship. The mission-oriented focus of the day meant families who had drifted from their community during lockdown were able to re-engage.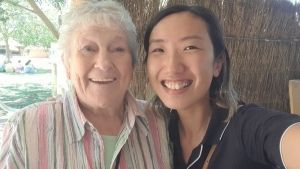 Mornington Corps volunteer Beryl (left) and Naty Keung enjoyed the Family Fun Day at Werribee Zoo as much as the kids.
Out west, 118 people from Hobsons Bay, Wyndham City, Brimbank City, and Mornington Corps showed up for a family day of fun at the Werribee Zoo. Complete with scavenger hunts, snacks, and a safari, it truly was a time of reconnection for Salvos of all ages.
"My highlight for the day would be reuniting with one of the playgroup leaders from Mornington Corps. Beryl is now 80 years old, and she has been running playgroup for 40 years!" said Naty Keung, Children's Secretary for Victoria. "Beryl was super excited to come to the zoo with her walking stick and even sat on the safari bus twice with all the children to make sure she would see all the animals. To see her serving was a great opportunity for the young people."
As the year progresses, the Children and Family Ministry team plans to run a camp and more localised events suited to more remote corps. This collaborative approach gives plenty of space for God to move in rural communities where the Salvos are already walking alongside families.
---
Working together in Box Hill
Representatives from The Salvation Army, Jobs Victoria and Haven; Home Safe enjoy the festivities of the community day. 
Box Hill Salvos recently brought their music and message to the streets of Whitehorse, supporting a Community Day with Jobs Victoria and Haven; Home, Safe. Community members were entertained by the Box Hill band, while kids had fun playing giant outdoor games, had their faces painted, and people learned about the services available to them in the community.
"It's been a fabulous day connecting with people. The bottom line is we want people to know there is help for them in the community," said Lieut-Colonel Debra Stevens. "It's been great [partnering] with housing services and Jobs Victoria, and the beginning of a connection ... seeing how we can work together to see people flourish." 
Watch a video about the day here.
---
Broken Hill hosts family fun day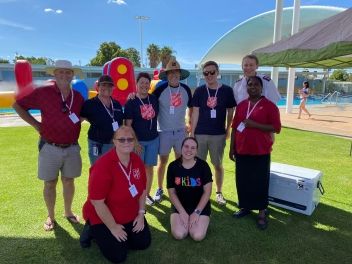 The volunteer team included those from the corps, Catherine Haven services, and rural chaplains.  
Broken Hill Salvos hosted its Family Fun Day on Sunday 20 March, after postponing the original January date due to COVID-19. This outreach event, held at the local aquatic park, targeted families in Broken Hill and surrounding towns. More than 230 people, including families and other community members from Broken Hill, Menindee, and Wilcannia, attended. Attractions included a blow-up obstacle course, waterslide, grass games, and lunch courtesy of the local Lions Club.
"Many conversations took place about what the Salvos do in the community," said Corps Officers Majors Kevin and Sugunama Meredith. "It was a real blessing to meet people from all walks of life in the community. A big thanks to the Kids Team for the funding to help us with this event!" 
---
Gunnedah Corps goes to the markets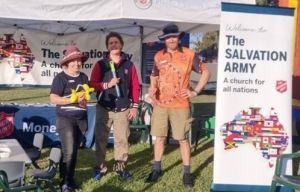 Reaching out to the community at Gunnedah.
Last month's Multicultural Markets in Gunnedah (NSW) featured music and performances, art and craft stalls, family activities – and Gunnedah Corps.
"It was a fantastic day," said corps officers Peter and Sally Anne Hall of the event held at Wolsley Oval on 19 March.
"We met so many families, created almost 250 balloon animals and gave away nearly 100 'zooper doopers'! It was a great opportunity to share the love of Jesus with our community."
---
What's happening at your corps? Tell us at others@salvationarmy.org.au