International news briefs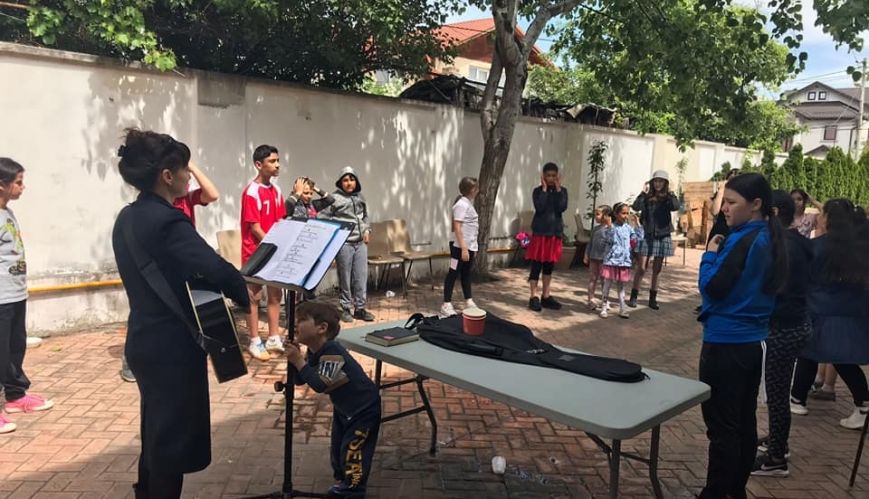 International news briefs
12 May 2022
Romanian Salvation Army teams run activities for the children of Ukrainian refugees fleeing the Russian invasion.
Message of thanks from Commissioner Larsson

General John Larsson was the Army's world leader from 1999 to 2002.
My family and I have been touched and overwhelmed by reading the many kind and thoughtful messages, cards and letters we have received over recent weeks since the promotion to glory of my husband, General John Larsson (pictured). Some of these contained stories that we had never heard before and were so very heart-warming.
It is simply not possible to respond to all of these personally, and so we wish to take this opportunity to say a very warm collective thank you to everyone who has been in contact or shared in the Thanksgiving Service – either in person or online.
---
Pop-up pods help tackle homelessness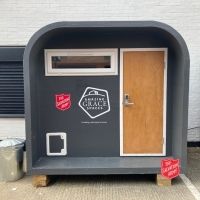 Pop-up pods help support rough sleepers in the UK.
Pop-up accommodation to house entrenched rough sleepers is helping tackle homelessness in Sheffield, United Kingdom.
Each sleeping 'pod' provides a bed, chemical toilet and charging facilities. They are aimed at helping people who have been sleeping on the streets and have complex needs so may struggle in hostel-style accommodation.  
As part of a pilot scheme, The Salvation Army has provided two pods, made by Amazing Grace Spaces, with Sheffield City Council supporting the clients to help them move into more permanent accommodation.
"The pods provide a warm, dry and safe place for people to sleep, while support from The Salvation Army and the council is helping to tackle some of the reasons why they may have become homeless in the first place, such as poor mental health, addiction, job loss or relationship breakdown," said Andy Parkinson, Salvation Army service manager.
"In just a couple of months, we have seen a real difference in the two clients who have been placed in them. They are more engaged with mental health and housing services. One has now been offered a flat, and the other has been referred into long-term supported housing."
---
Romania reaches out to disadvantaged families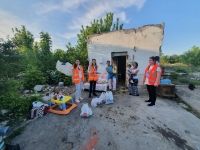 Salvo and anti-trafficking teams deliver goods to poor Romanian families.
The Salvation Army in the Romanian capital of Bucharest has identified many disadvantaged families with young children living in squalid conditions without water or electricity.
Mobile teams recently delivered supplies of food, clothing, toys and baby products. "Thank you to those who have joined us and donated so we can provide assistance to these families," said Major Ionut Sandu. Romanian Regional Leader with Major Roxana Sandu. "We still need you guys."
Salvation Army teams and volunteers are running activities for the children of Ukrainian refugees fleeing the Russian invasion. Children of different ages enjoyed games, crafts, music and snacks, and the opportunity just to play together in safety and peace.
Major Roxana Sandu participated as the National Contact Person (NCP) in the Fight against Human Trafficking at The Salvation Army's Europe Zone Community of Practice webinar. Participants shared their experiences of best-practice in helping to combat modern slavery and human trafficking. Human trafficking is a growing problem in Romania, and refugees entering the country from Ukraine are also vulnerable and at risk.
---
IHQ continues prayer spotlights

As part of its weekly prayer spotlights, International Headquarters recently focused on the India Eastern and Nepal, and Macau, Hong Kong and Mainland China territories.
The India Eastern territory includes Nepal and the Indian states of Arunachal Pradesh, Assam, Manipur, Meghalaya, Mizoram, Nagaland, Sikkim, Tripura and West Bengal.
From community development programs to schools, Salvation Army work in this part of the world is busy. There are homes for motherless babies, residential schools for those with physical challenges, and various community development initiatives.
Hong Kong, Macau and Mainland China Territory is home to many people. The Salvation Army runs a range of programs there, including education work, a recycling program, social services and rehabilitation initiatives.
Please pray for all who are in these areas – for the impact of the pandemic, for the leadership of The Salvation Army and for God to use the programs operating.
---
Baby packs delivered to new Ukrainian mothers
Oleg delivers baby packs to Ukrainian mums.
More than two million Ukrainian refugees have crossed into Poland since the Russian invasion. Many who arrive in Warsaw, the Polish capital, are pregnant women who have been forced to flee, leaving their husbands, partners and elderly relatives behind. Some have been raped, allegedly by Russian soldiers, and are pregnant as a result.
Captain Oleg Samoilenko, Warsaw Corps Officer, and his team help deliver baby packs to Ukrainian mothers to ensure they do not feel isolated at this very emotional time.
"We contacted hospitals and prepared special welcome baby kits for the mothers," he said. "One woman I visited in hospital was completely alone, and her baby was born with a disability.
"It was difficult to find the right words for her, but she told me that our presence already gives her the feeling that she is not alone."