Encouraging us to speak the truth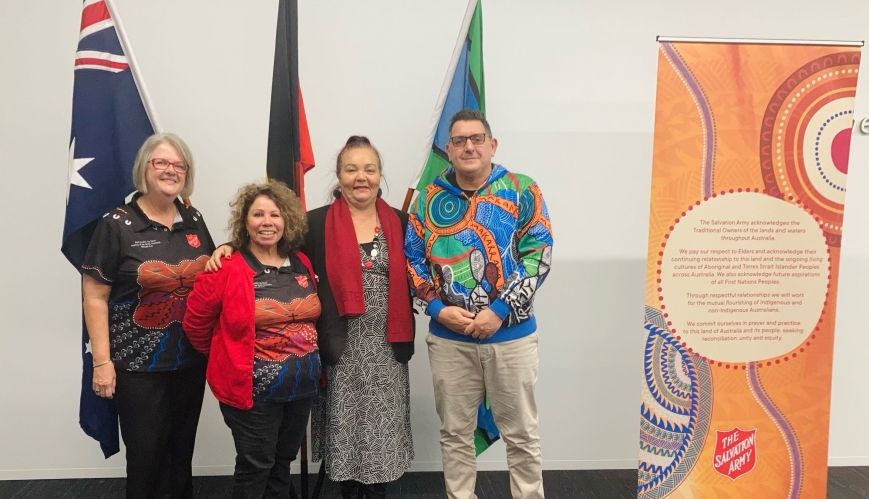 Encouraging us to speak the truth
10 June 2022
Major Robyn Black, Sue Hodges, Aunty Donna Ingram and Colin Watego at the NSW/ACT DHQ National Reconciliation Week celebration.
National Reconciliation Week celebration


National Reconciliation Week was celebrated at NSW/ACT Divisional Headquarters at Redfern on Tuesday 31 May with a moving address on the theme 'Be Brave. Make Change'.
Colin Watego, a Bundjalung man, spoke of his thankfulness to the Salvos for helping him to 'be brave and make change' through the ministry of William Booth House recovery centre 20 years ago. He has since gone to Bible College and now ministers at the Anglican church in Glebe with young Aboriginal people.
During his talk, he encouraged and challenged listeners to speak the truth and recognise that real change is challenging but achievable.
Aunty Donna Ingram, a Wiradjuri woman, provided the Acknowledgement of Country, and Aunty Sue Hodges, also a Wiradjuri woman, helped listeners to take time to reflect and commit to action on how they were going to be brave and make change for reconciliation.
Major Robyn Black and Major Romona Kinder also took part in the service, which was a special time to remember that God is committed to reconciliation and "he has committed to us the message of reconciliation" (2 Corinthians 5:19).
---
Bush Chapel in the outback
Major Niall Gibson leads Bush Chapel during the Mataranka Never Never Festival in the Northern Territory.
Every year, hundreds of people gather at the Mataranka Never Never Festival just south of Katherine in the Northern Territory to pay tribute to the past and celebrate the future.
There are stalls and festivities, and this year the special guest was The Salvation Army Flying Padre, Major Niall Gibson.
Niall, the Army's Rural and Remote Chaplain for the Northern Territory/South Australia Division, led Bush Chapel in the Park on the Sunday morning.
It's fair to say the Salvos had a good time – engaging in their first rodeo and enjoying fellowship in the great outdoors. Majors Niall and Michelle Gibson will return to Mataranka this weekend to lead their monthly chapel.
---
Recognising volunteers in WA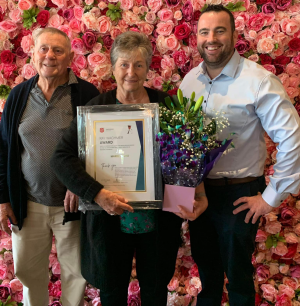 Volunteer Marie Broad (centre) received the annual Ray Wachmer Emergency Services Award from Head of SE&DM in WA Ben Day (right).
To coincide with National Volunteer Week last month, The Salvation Army in Western Australia honoured their volunteers' time, energy and skills.
Ben Day, Head of Strategic Emergency and Disaster Management for the state, led the event, which 75 volunteers attended. He acknowledged Dorothea and John Angus, who volunteer as part of the Positive Lifestyle Program at the Bentley Centre at The Beacon in Perth.
Multiple awards and certificates of recognition were also handed out across the board, including the Ray Wachmer Emergency Services Award to volunteer Marie Broad. Named after soldier Ray Wachmer who was promoted to glory in 2020, it is the annual State Coordinators Award for Meritorious Service to The Salvation Army Emergency Services in Western Australia.
Ben also thanked Ben Boekholt for 20 years of service and recognised the Country Women's Association of WA.
---
Boonah hosts inaugural Red Shield Appeal launch 
A panel spoke on the issue of family and domestic violence at the inaugural launch.
The rural town of Boonah, approximately 90km south-west of Brisbane, hosted its first Red Shield Appeal launch on 2 June. Guest speakers travelled from the Gold Coast and Ipswich to present at the event.
Kevin Lawler, a soldier at the Gold Coast Temple Corps, shared his journey from a life of drugs and crime to now volunteering at the Southport Courthouse as a chaplain. A few years ago, Kevin also founded the 'coat tree' project, where around 300 warm coats, donated by Salvos Stores, are hung on trees near the Southport Courthouse for those experiencing homelessness. This year, warm sleeping bags will again be part of the project.
A panel addressing the focus of this year's appeal – domestic violence – also drew the attention of the guests. Dianne Gipey, Salvation Army NT/QLD Domestic Violence State Manager, answered questions about the increased need for domestic violence services and the desire of the Salvos to respond to women and children fleeing for their lives. 
Senior Sergeants Adam Cordner and Jacinta Pannowitz, Officers in Charge at Browns Plains and Loganholme police stations, respectively, each shared how domestic violence had impacted them professionally and personally and their desire to educate communities about the issues, support victim-survivors and coordinate services. The officers have formed a partnership with The Salvation Army and their fledgling foundation, Dignity Blooms.
---
Norwest launches Hope Chapel family dinner nights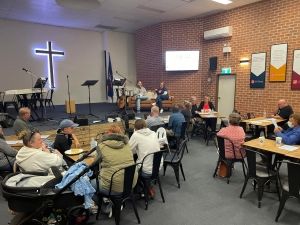 'On the Couch' segment during the Hope Chapel community dinner. 
The first Hope Chapel family dinner night took place at Norwest Hawkesbury Corps in Sydney last week.
"The night started with a meal together for anyone that would like to come – pay what you can afford for your meal so that no one will miss out," said Liam Holland, Project CSC Team Leader and Norwest Team Member.
"We shared some singing and worship together, followed by an 'On the Couch' segment, where each week a member from the community will share answers to five key questions about their journey and life, ending with how we as a community can pray for them.
"We then had a 10-minute t­­hought from the Bible, speaking about inclusion – diversity, yet unity in community." The discussion focused on everyone being valued for who they are, what they bring to a community and what that might look like.
Liam explained that the chapel community values being real and authentic, saying sorry, making mistakes, being loud and messy and doing "grace on grace on grace" as Jesus did.
"We are the body [of Christ]; each part so important to the other parts. If one part of the community suffers, we suffer with it; if one part celebrates and rejoices, we rejoice and celebrate together."
The 32 people at the family dinner then enjoyed dessert around tables using 'Table Talk' cards to chat about life. 
"It was 'oh so good'," said Liam. "We are so thankful to God for being faithful in the planning for this, especially after delays from floods (twice) and COVID-19 impacting some building works. This is good news. Please pray for us as we want to build more teams around this so we can speak more into our community as a whole."
---
Bike equation adds up for Adelaide City Salvos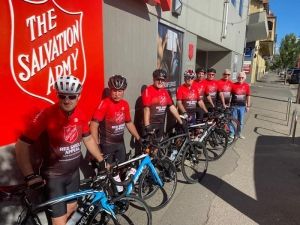 (From left) Shane Healey, Richard Trewren, Gary Carnell, Mark Gray, John Lepley, Glen Badenhop, Ray Mundy and Dean Martin.
Now here's an equation: What does 800km x 8 days x 8 men on a bicycle fundraiser equal? The answer is $17,000 towards Adelaide City Salvos' Red Shield Appeal target. 
Corps Officer Captain Shane Healey said a team of six riders and two support crew set off on 1 May, riding through the South Australian countryside to raise money and build relationships. 
"We got plenty of toots and waves on the way," he said. People also stopped them to donate; however, most of the money raised was donated online. 
The funds will go towards the corps' drop-in centre, which is open five days a week for community members struggling with homelessness and other vulnerabilities. 
"Basically, the ride was eight blokes together, with all the highs and lows, but also the quiet times, to discuss our faith journey," Shane said. "Relationships were definitely strengthened." 
---