IN BRIEF - Snapshots from around the Territory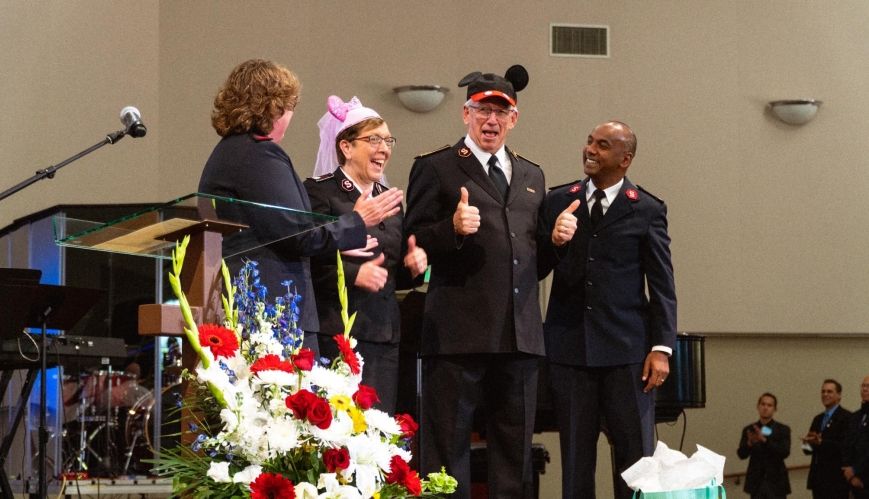 IN BRIEF - Snapshots from around the Territory
24 June 2022
General Brian Peddle gives the thumbs up as he and Commissioner Rosalie Peddle are given a 'Disneyland' welcome by Australia Territory officers Majors Nesan and Cheryl Kistan, who lead the Tustin Ranch Corps in Orange County, USA.
Aussie officers host the General in USA
General Peddle converses with Major Nesan Kistan after the morning service.
Majors Cheryl and Nesan Kistan, Australian officers currently serving at Tustin Ranch Corps in California, hosted General Brian Peddle and Commissioner Rosalie Peddle at the weekend as part of the international leaders' tour of the USA Western Territory.
The Kistans, from Sydney, have been serving in Orange County, not far from Disneyland, for the past five years. They gave the Peddles a traditional 'Disneyland' welcome during the Sunday morning service, complete with Mickey and Minnie Mouse hats.
"[During his sermon] the General challenged us to be bold and courageous, to take more risks and make our mark on our world that desperately needs to know Jesus," Nesan said. "He urged us to pull back the curtain and see how amazing God is. The Salvation Army is rising up and marching forward with new fervour and a renewed spirit. New soldiers were enrolled and adherents accepted into this mission movement called The Salvation Army. Get ready for God is doing a new thing!"
During their time in Orange County, the Kistans have overseen the construction of a comprehensive 325-bed homeless care facility, known as the Center of Hope, offering everything from an emergency shelter to supportive housing, health services and job placement programs.
---
Norwest launches family dinner nights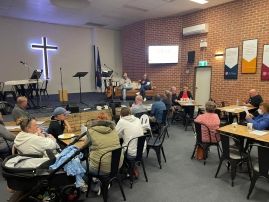 Good food, good conversation and good company at the dinner night.
Norwest Hawkesbury Corps launched its weekly Hope Chapel Family Dinners this month.
"The night started with a 'pay what you can afford for your meal' so that no one who wanted to come would miss out," said Corps Officer Alli Holland. "We shared some singing and worship together followed by an 'on the couch' segment."
This segment will be a part of the weekly dinners, with a community member sharing answers to five key questions about their journey and life, ending with how the community can pray for them.
"We then had a 10-minute t­­hought from the Bible, speaking about inclusion: 'Diversity yet Unity in Community', all being valued for who we are and what we bring to a community and what that might look like," Alli said.
"Then the 32 of us had dessert around tables using our 'Table Talk' cards, talking about life. We are so thankful to God for being faithful in the planning for this, especially after delays from floods, twice, and COVID impacting some building works. 
"Please pray for us as we want to build more teams around this so we can speak more into our community as a whole."
---
Stanmore House serves up blessings
Poppy, Stanmore House catering supervisor and cook, prepares meals to give to those in need.
At the beginning of this year, staff at Stanmore House (in Sydney's inner-west) and Stanmore House Mission Manager David Eyles were inspired to seek funding to prepare meals to give away to those in need who visited nearby Salvation Army mission expressions.  
Commercial Manager Maja Danilovic said the initiative had been enthusiastically supported by staff.
"We worked together, through emails and in person, to seek the funding approvals, and were blessed to receive generous funding of $20,000 from the Red Shield Appeal initiative to be used for our social mission meals distributed through Sydney mission expressions," she said. 
"We emailed an order form to the Area Leadership Team, listing five savoury dishes that many people had enjoyed for dinner or lunch when dining at Stanmore House. As soon as the email was sent, at the beginning of April 2022, we received our first order for 50 meals!"    
Since then, 601 meals have been distributed, with orders continuing to come in.
"We have changed our order form, adding a few more savoury meals and some sweet items as well. There is now also an option for purchasing the meals for Mission Expression functions, such as a corps dinner," Maja said.
"It is a blessing for Stanmore House that we have been able to supply these meals to help people in need. We thank God for giving us this inspiration, and we are praying for further inspiration for the next way we can work together to serve."