IN BRIEF: Snapshots from around the territory - 15 July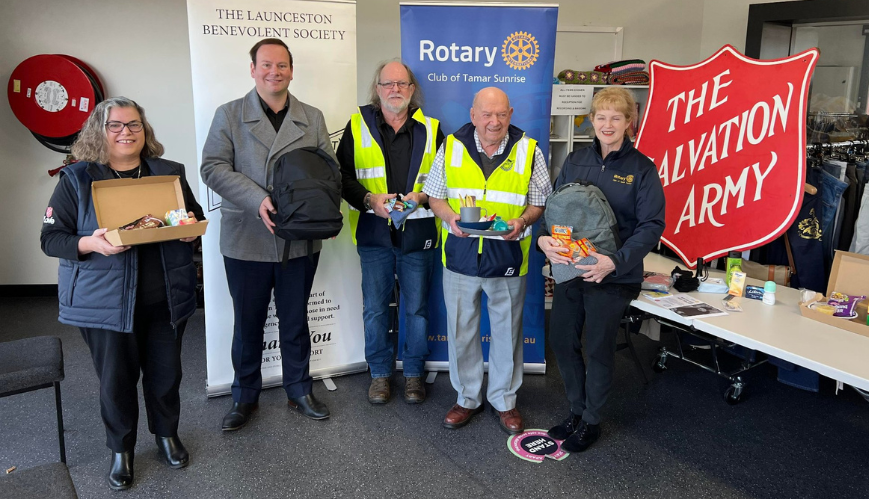 IN BRIEF: Snapshots from around the territory - 15 July
15 July 2022
Doorways Regional Manager Anita Reeve (left) celebrates the collaboration between the Salvos, the Launceston Benevolent Society and The Rotary Club of Tamar Sunrise in Tasmania. Together they have provided $8000 of winter care packs to locals.
By Others writers
Tasmanian services warm people's hearts
From left: Aux-Lieut Roderick Brown, Head of Community Engagement Major Brad Watson, Emergency Services State Coordinator Michael West, and Emergency Services Assistant Coordinator Nigel Chong at the dedication of the custom-built SAES trailer in Launceston on 3 July.
The Salvation Army in Launceston has celebrated the launch of a purpose-built trailer that will better equip emergency services volunteers and staff in providing meals and other relief services in times of crisis and training.
Attending the dedication ceremony were Divisional Commander Captain Kim Haworth, Launceston Corps Officer Aux-Lieut Roderick Brown, Head of Community Engagement Major Brad Watson, Emergency Services State Coordinator Michael West and Emergency Services Assistant Coordinator Nigel Chong.  
The Salvos have also partnered with the Launceston Benevolent Society and the Rotary Club of Tamar Sunrise to provide $8000 worth of Winter Care Packs to those doing it tough. Locals can purchase a pack for $10 and then pass it on to someone in need.
Each pack includes heat pads, toiletries, non-perishable food items and tea. These are essentials for those sleeping rough or struggling to pay electricity bills.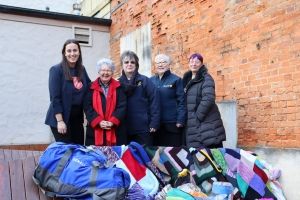 Amelia Natoli (far left), Public Relations Manager for The Salvation Army Tasmania, thanks members of the Rotary Club of Tasmania for donating 200 knitted blankets. The blankets and 100 homelessness care packs will be distributed across the state through The Salvation Army and other services.
The Rotary Club of Tasmania has also partnered with the Salvos on a state-wide level by donating 100 homelessness packs for people sleeping rough. The packs, sent to Salvation Army and other local services for distribution, include a sleeping bag, mat, socks and hygiene products. To add a touch of home, Rotary donated 200 knitted blankets, which will undoubtedly warm people's hearts.  
A key factor in getting rough sleepers off the streets and into housing is the provision of emergency housing. And in Glenorchy, north of Hobart, developments are underway for a 21-unit women's housing complex in Moonah. Built on the former Moonah Corps site, when completed, the facility will house women aged over 55 who are experiencing or are at risk of homelessness.
In early July, Tasmania Governor Barbara Baker AC and Professor Don Chalmers AO visited the site to check on its progress. Built in partnership with the Tasmanian State Government and The Select Foundation, the units are expected to be completed by mid-2023.  
---
A man more interested in faith than fame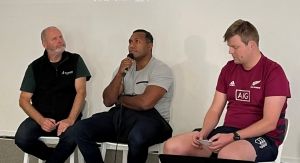 David Fitness (left), Albert Vulivuli and Todd Stein at the Carindale men's breakfast.
Rugby fans know him as a rampaging centre, fearlessly smashing through tackles and dishing out punishing hits in defence.
But participants at a recent men's breakfast at Carindale Corps in Brisbane saw another side to Fijian international Albert Vulivuli – a humble human being who really wants to talk more about faith than footy.
Albert grew up in a small Fijian village and, through the sacrifices of his family, became an international Test rugby player. He played at club level in New Zealand, Australia (Queensland Reds) and then enjoyed 12 years of club rugby in France.
Over the years, he has attended Salvation Army corps in Hamilton (New Zealand) and Carindale. He returned to Carindale Corps on 2 July as the guest speaker at the men's breakfast.
"Nobody wanted to leave while Albert was speaking," said David Fitness, one of the organisers, family friend and dedicated rugby fan. "His faith just oozes out of him."
Now 37, Albert talked about his humble beginnings, his parents' sacrifice to help their children get an education and his commitment to God. He shared how his father, mother and uncle strongly influenced his faith and helped him stay grounded and not forget his origins, even when famous.
Albert also spoke of the positive influence he and other Pacific Island players had on the rugby culture in France. It became accepted for players to pray before a game and have small group meetings at training. Their influence and example of open faith even encouraged French players to join in.
Albert and his family now reside in Brisbane and, as always, are looking to be led by God on the next step of their lives.
---
NAIDOC Week on display in Cessnock 
The front windows of the Salvos Store (top) and the Employment Plus office in Cessnock honoured Indigenous culture during NAIDOC Week.
Cessnock Salvos Store and Employment Plus office jumped straight into the spirit of NAIDOC Week with special window decorations to celebrate Indigenous culture.
"We like to be community-minded and draw attention to what is happening," said Erin Copeland, manager of the Salvos Store in the Hunter Valley region of NSW. "Everyone commented on it because it was big and bright."
Mannequins were dressed in Indigenous colours, NAIDOC posters were prominently displayed, and colourful Indigenous cardboard shapes adorned the shopfront window.
Employment Plus office staff combined to paint the front glass panels with this year's NAIDOC logo (Get Up! Stand Up! Show Up!), complete with an emu and a goanna.
"We celebrate NAIDOC Week every year, and it was certainly enjoyable driving past the office," said Kristy Moylan, Employment Plus Site Manager. "Our staff really got into the spirit of it."
"The Koori people will love this," was one comment from a local Indigenous customer.
---
Queensland Division hosts Mission Conference


Three locations, two days, one mission – that was the brief for the Queensland Mission Conference 2022, which took place simultaneously in Cairns, Rockhampton and Brisbane last month. It was a weekend for Jesus-followers to be equipped, encouraged and inspired to pursue and develop mission opportunities in their local setting.
Almost 400 delegates registered for the event across the three sites. The theme, 'Jesus Centred, Community Focused', was adopted from the recently launched model of mission for the Queensland Division.
The Saturday program commenced with local musicians leading praise and worship. The three sites then connected via live-stream technology for presentations on the conference theme and the divisional mission plan presented by Divisional Leaders Majors Gavin and Wendy Watts.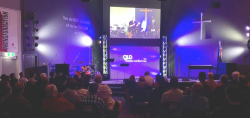 Live-stream technology connected three sites across the state for the Queensland Mission Conference.
In a recorded message, Canadian keynote speaker Danielle Strickland focused on the Salvos' calling to live out love in public. She said, "What a beautiful calling, to be impacted by who Jesus is and then to show that impact by the way we live our lives and by the way that we serve others." She then spoke of the progression in Acts 1-3 of how the Holy Spirit's power enabled the first disciples to live out that calling.
Three elective sessions offered delegates a choice of nine topics, including 'Creating a Discipleship Culture', 'The Calling to Jesus Centred Leadership', 'Finding the Sweet Spot in Jesus Centred Social Work', and 'Jesus Centred Online Community'. All sessions are available on The Salvation Army Queensland Division YouTube channel.
In the final session, Commissioner Robert Donaldson was the first of three speakers whose topics were 'Still Jesus Centred on Monday'; 'Returning to Community' by Cherie Clanfield (Divisional Youth and Young Adults Secretary); and 'This Time Next Year' from Major Wendy Watts.
This multisite, live-stream-connected model of conference delivery was a first for the Queensland Division and the Australia Territory. Thanks to a dedicated planning team, motivated local host teams and a highly skilled technical production team, delegates left the Queensland Mission Conference 2022 feeling inspired, uplifted and motivated to be more Jesus-centred and community-focused in their local mission expressions.
---