Connecting Ukrainian refugees across Victoria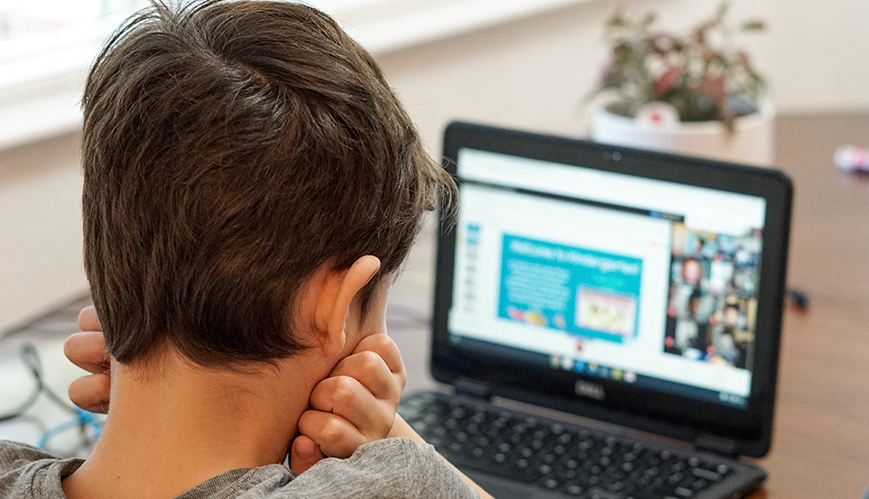 Connecting Ukrainian refugees across Victoria
21 July 2022
Ukrainian children who fled to Australia due to the Russia-Ukraine conflict have experienced hope after they received computers from The Salvation Army in a statewide collaborative effort to support 1500 Ukrainian refugees who now call Victoria home. Photo by Thomas Park on Unsplash.
By Jessica Morris 
The smiles on the faces of Ukrainian children as they sit comfortably in living rooms across suburban Melbourne don't reveal the tragedy of the Russia-Ukraine war they fled with their families. But now settled in Victoria, the gift of a computer was enough to give them a little hope for the future.
So far, the Salvos have delivered 11 computers to Ukrainian refugees, and that's just the start of a collaborative statewide response by The Salvation Army to help an estimated 1500 arrivals on the state's doorstep – half of the 3000 taken in by the Australian Government.
The response started when two community leaders approached The Salvation Army's Intercultural and All Abilities Team requesting support. Calling on Salvation Army mission expressions from across the state, they leapt into action to assess their newest residents' short- and long-term needs.  
"During the initial meeting, area officers from places where Ukrainian refugees have settled, as well as personnel from other mission expressions, decided to meet the two community leaders face to face," shares Major Claire Emerton, Area Officer for Victorian Metro Central. 
The most urgent requests were for food, clothing and shelter – immediate necessities destroyed when fleeing for their lives. 
"Immediate needs will assist the community in finding its feet in Australia, while long-term needs will assist refugees in effectively integrating into Australian society," Claire said.   
It was the start of a coordinated response in Victoria that has already yielded results. With help from The Salvation Army's IT department, 11 computers were given out in the first week, enabling families to look for employment, children to complete schoolwork and households to connect with the outside world. A database of relief services and community groups in the state was also put together, which was passed to the community leaders for translation, so every new arrival could access what they needed.  
Utilising resources The Salvation Army already has, people will be assisted in building resumes and seeking employment. Salvos Stores are working to find volunteer positions for them in the interim – an experience that will not only build their resume in Australia but help them set up a new life here. Plans are also in the works to create or find an English course they can attend.  
The Doorways team in Brunswick was the first port of call for one woman displaced by the Russia-Ukraine war. A Doorways worker took the community member to the Brunswick Salvos Community Centre to meet a women's group while she waited for her appointment. That's where she met Salvation Army chaplain Captain Melanie Cop, and all of a sudden, possibilities for her future employment emerged. 
"Mel engaged with the new community member and identified her professional work skills, then connected her with a HR manager from a company in the Melbourne city centre. She had two job interviews that matched her professional skills perfectly, and we have been informed that she got the IT job in Melbourne!" shares Claire.  
The courage and tenacity of the Ukrainian refugees the Salvos have already encountered is a cause for celebration. And with support from Salvation Army mission expressions across Victoria, their journey to healing and hope is in motion.