IN BRIEF: Snapshots from around the territory - 29 July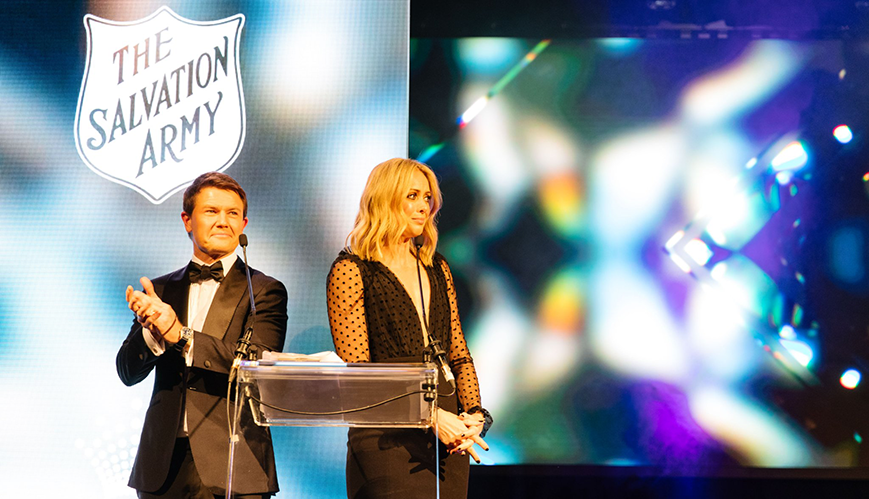 IN BRIEF: Snapshots from around the territory - 29 July
29 July 2022
Channel 9's Alex Cullen and Sylvia Jeffreys celebrate the award winners at the Oasis Ball and Campaign Brief Awards held at Crown Tower in Perth. Photo courtesy of Oasis Ball and Campaign Brief Awards official Facebook page.
Media has a ball raising funds for youth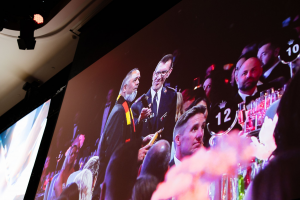 WA Divisional Commander Major Brad Potter's interview with Shaun Nannup is beamed onto the big screen at the 2022 Oasis Ball and Campaign Brief Awards. Photo courtesy of Oasis Ball and Campaign Brief Awards Facebook page.
Any get-together is a celebration, but come the sold-out 25th annual Oasis Ball and Campaign Brief Awards in June, excitement was high. For the first time in three years, 900 business leaders, media, celebrities and staff from The Salvation Army Youth Services in Western Australia had a chance to dance the night away at the Crown Tower in Perth, raising more than $120,000 for The Salvation Army Youth Services.

An initiative of the Western Australian advertising, media and communications industry, the event raises funds for the Independent Living Program, which supports young people who are homeless or at risk of homelessness.
Starting with a Welcome to Country by Aboriginal storyteller Shaun Nannup, a dance ensemble of 25 people also put on a show for guests. The event was hosted by Channel 9's Sylvia Jeffreys and Alex Cullen and included a silent auction, photo opportunities and an array of awards for non-profits, companies and agencies. Since its beginnings, the ball has helped raise more than $22 million for Youth Services.
---
Sleeping out in Brisbane for a good cause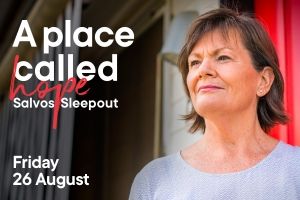 Sign up for the Salvos Sleepout in Brisbane.
Brisbane resident Tarnji was one of many people displaced by the Brisbane floods in February. The 55-year-old was living in shared accommodation before finding herself homeless.
Thanks to the Salvos, she went from being "a broken, middle-aged woman feeling like I was a ship in stormy, stormy weather" to finding her feet.
"The practical help, the emotional support, and the financial help with getting a few things have all contributed to my significant change, where today I can say that I love my life,'' Tarnji said.
Tarnji now has permanent housing and will tell her story to support the Salvos Sleepout on 26 August at the Flowstate Pavilion in South Brisbane. Salvos Sleepout is challenging participants to sleep rough and raise funds and awareness to help women experiencing homelessness.
Sharleena Bramley, Salvation Army Brisbane City Women's Homelessness Services manager, says as well as providing safe and secure accommodation, they also work with other Salvos services to provide support such as counselling and advice to women and children who are experiencing or who have experienced family violence.
"We're committed to providing these vital services, but we rely on support from the community, and donations to enable us to provide these services," Sharleena said. "Homelessness doesn't define these women, just their situation, and it's one that you can help change."
Sign up to sleep rough on 26 August by clicking here here. Earlybird discounted registration will be available until Friday 5 August.
---
Salvos Stores rewarded for a big year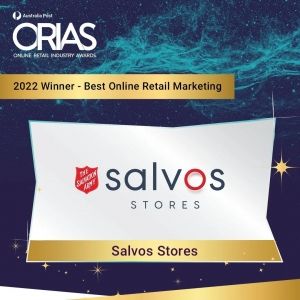 Salvos Stores took out the Best Online Retail Marketing category for its 'Pre-loved Promise' Christmas campaign in the 2022 Australia Post Online Retail Industry Awards (ORIAS). The ORIAS celebrate excellence in online retail.
The Best Online Retail Marketing award is presented to the most imaginative initiative in the Australian online retail space. The judges looked for the most imaginative initiatives demonstrating how innovation led to tangible, positive results.
The award caps off a strong 2021-22 financial year for Salvos Stores, which has more than 350 stores across Australia.
Some of the big wins from the past 12 months include:
• 34 million kilos diverted from landfill
• 35.5 million items sold for reuse
• 8000 volunteers
• 20 new stores opened
• seven nominations in leading retailer awards.
All profits made by Salvos Stores, thrift shops and family stores go to funding vital Salvation Army activities in communities across Australia to help those Australians doing it tough.
---
Students celebrate an early Christmas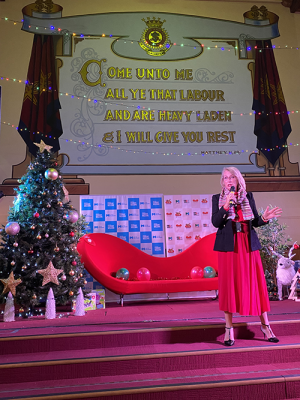 Melbourne Lord Mayor Sally Capp welcomes more than 100 international students to Christmas in July as part of The Couch International Student Drop-In Centre held at Project 614 in Melbourne.
It may have been cold and rainy outside, but international students across Melbourne found a reason to celebrate at Project 614 Corps earlier this week. A 'Christmas in July' event was held on Monday in the main hall for The Couch International Student Drop-In Centre.
More than 100 students enjoyed an evening of carols, food, musical presentations and a few presents. The event also acted as a welcome back to Melbourne for students in time for semester two.  
Special guests included Lord Mayor Sally Capp and Cr Davvyd Griffith. Sally is a major supporter of Project 614 and officially re-launched The Couch centre in March last year after it was put on hold through 2020 as COVID-19 struck. "International students are absolutely vital and valued," Sally said. "They are a part of us, and they are welcome here."
The Lord Mayor reflected on the voluntary roles that international students had taken on to help Melbourne combat COVID-19 as frontline workers, hospitality workers, student nurses, hospital volunteers and volunteers in general. Sally said the students helped to "deliver vital services in our community" and an evening like last Monday not only gave the students time to relax but also honoured their contribution to the Melbourne community.
---
Toowoomba breakfast wraps up RSA


"Unless someone like you cares a whole awful lot, nothing is going to get better. It's not."
Councillor Geoff McDonald, MC for the final 2022 Red Shield Appeal breakfast on 29 July, quoted Dr Seuss, appealing to about 160 local business and community leaders. Cr McDonald, Deputy Mayor of Toowoomba Regional Council, is a member of The Salvation Army Toowoomba advisory group.
Cr Geoff McDonald introduces the speakers (from left) Cindy Laroo, Team Leader Homelessness; Major Darlene Murray, Toowoomba Corps Officer; Anne Bell Property Services Assistant and Karen Wright-Kay, financial counsellor. 
Guest speakers focused on the Salvos' work in responding to homelessness, domestic and family violence, financial counselling, mental health, community connections and the emergency response and recovery from flood events this year. They shared emotional stories of successful outcomes for clients, what they were trying to achieve and plans for the future. They also touched on their motivations for their work and how they care for themselves in the face of constant engagement with people in crisis.
Moneycare financial counsellor Karen Wright-Kay shared the story of Sue, a woman escaping domestic violence and debt, who was assisted by the Salvos to take control of her circumstances, gain employment and see a way forward.
Cindy Laroo, Team Leader Homelessness, shared the story of a transgender client who found affordable housing and emotional support through the Salvos and is able to pursue employment, reconnect with his parents and enjoy life again.
Toowoomba Corps Officer Major Darlene Murray outlined the Army's new project to consolidate all local Salvo services onto one site. Lighthouse of Hope, located in the corps building, will soon provide support for homelessness, financial counselling, Moneycare, and faith questions, and provide a place to get a coffee or buy some clothing.
"With your support, we can walk alongside those who feel there is no way out," Area Officer Major David Terracini said in his closing remarks.