'Live' podcast to focus on anger issues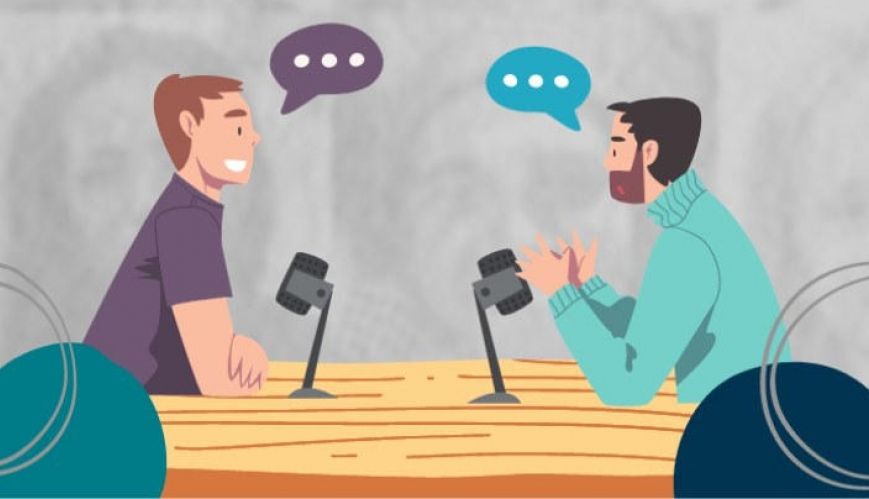 'Live' podcast to focus on anger issues
15 August 2022
Major Bryce Davies' 'Stories of Hope' podcast will go 'live' on Friday when he interviews Matt Boulton.
By Cliff Worthing
Matt Boulton will join Major Bryce Davies' 'Stories of Hope' podcast on Friday 19 August.
Never have an argument when you are angry – this is a principle promoted by Matt Boulton, developer of Circuit Breaker, a men's domestic violence prevention program.
Through his own relationship challenges, Matt realised he didn't have the tools to manage his emotions, so he used his professional training and lived experience to develop a course for men to learn alternate anger and coercive control strategies.
Matt has been facilitating the course for more than 22 years. Its primary focus is to help men with anger issues that negatively impact their relationships and early prevention of domestic violence.
"It's such an important and hot topic," said Major Bryce Davies, National Faith Community Development Team. "Until you learn how to use other tools to manage your emotions, many men damage their relationships by resorting to anger."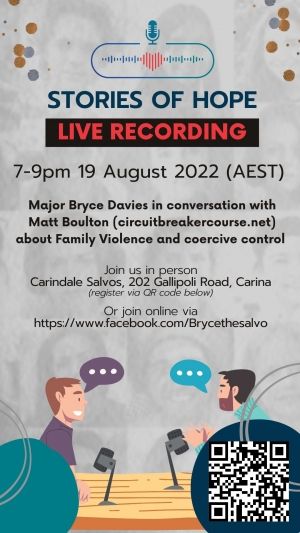 Bryce will interview Matt at Carindale Corps, Brisbane, this Friday 19 August, from 7-9 pm. The interview will be live-streamed if you can't make it in person. Participants will be able to ask questions during the podcast.
Bryce has a regular podcast called Stories of Hope, but this will be the first time he has live-streamed one. Bryce said the weekly podcast generates 1500-2000 downloads per month and has a strong international following. He interviews a wide variety of interesting people, all with a story to tell.
Matt, a trained psychiatrist, also provides training to those wishing to facilitate the Circuit Breaker program. He does the training through videos, and the facilitator leads the group discussion.
Bryce said this training is perfect for any Salvo wanting to facilitate a group discussion for men around changing negative family interactions into positive ones.
---
To register to attend in person, click here: https://tinyurl.com/StoriesOfHope-July2022
The live-stream can be found here: https://www.facebook.com/Brycethesalvo