A jab, a kebab and a place to call home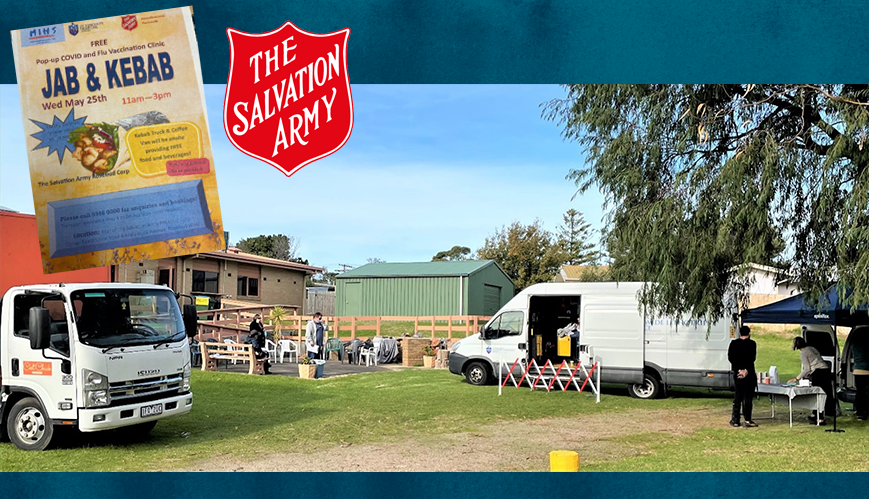 A jab, a kebab and a place to call home
17 August 2022
A jab and a kebab, anyone? The Salvation Army Homelessness Peninsula, The Salvation Army Victoria East and the Rosebud Corps partnered with the Mobile Integrated Health Service at Rosebud Corps in May, giving locals a chance to receive a COVID-19 and flu vaccine, a hearty meal and some fellowship.
By Jessica Morris
For a service built on human interaction, The Salvation Army Homelessness Peninsula team on Victoria's Mornington Peninsula had to get creative during the past two years. Their Rosebud Rooming House Project went from visiting vulnerable residents at boarding houses to communicating mainly over the telephone with some restricted outreach support.
Colm Browne, Rooming House Outreach Worker for The Salvation Army Homelessness on the Mornington Peninsula embraces PPE as he delivers food and essentials to clients in the wake of COVID-19.
Group meals, focus groups and other inclusive activities were on hold in line with client health and safety during COVID-19 restrictions. And hope – well, it was a little more challenging to come by for everyone involved. But still, they persisted.
"Residents feel like they have no control, living in a state of despair. We provide some basic sustenance, have a chat, and help the person to identify what their immediate needs are," shares Colm Browne, Rooming House Outreach Worker.
"[By providing] referrals, emotional support and encouragement, residents are empowered to take ownership of their life journey and start achieving goals that they previously thought were impossible."
During this time, a collaborative approach between The Salvation Army Homelessness Peninsula, The Salvation Army Homelessness Victoria East and the Rosebud Corps meant that two basic needs – health and a hearty meal – could be met in an afternoon. And by partnering with a local food vendor and the Mobile Integrated Health Service (MIHS Van) in May, they invited residents to receive their COVID-19 vaccine and then feast on a kebab.
Called 'Jab & Kebab', 13 people chose to receive vaccinations that day, and one homeless member of the community was added to IAP for intake support. They also saw many locals enjoy a kebab and coffee, giving people a taste of the community pre-COVID times.
The focus on community connection has also meant that the Rosebud Corps could show Jesus' love to a rooming-house resident. They donated a six-month aquatic/gym membership to a resident who was encouraged by their doctor to attend a gym while they waited for surgery.
"The resident was overjoyed at this news, very thankful and said, 'I'll be down first thing tomorrow!'" laughs Colm.
This has also started a conversation with YAWA Aquatic Centre in Rosebud about potential collaboration for other residents in the future.
As restrictions eased, so did the project's ability to help people. While they couldn't initially hold cooking sessions in people's houses – a key way to teach residents nutrition and meal preparation skills – Colm was able to drop and dash food donated or brought at a discounted price from local businesses BunMee Bay Café, Baker Boys Café Rosebud, and Bright Sparqe who pre-make 50 meals for residents every week. However, that wasn't the only community support they received.
"Busking For Beds held an online concert in the second half of 2021, and the funds were used to provide each of the four rooming houses being assisted by RRHP with kitchen packs," Colm said.
"It is hoped that the worker can provide ideas on how this equipment can be used to make nutritious meals assisting with having more energy, being able to think more clearly and getting into better sleeping patterns."
In August 2022, the future is bright for the Rosebud Rooming House Project. Over winter, they ran day trips to the hot springs. And a community grant from the Mornington Peninsula Shire Council means they can now extend outreach to Hastings (Mornington Peninsula) in July.
The rising cost of living means that the needs of Rooming House residents are greater than before – yet the Rosebud Rooming House Project is committed to giving people hope – not just a means of survival, but the tools to create a better future.
An earlier version of this article incorrectly stated that The Salvation Army East Victoria partnered with The Salvation Army Homelessness Peninsula and Rosebud Corps to faciltate the Jab & Kebab event. This has been ammended to The Salvation Army Victoria East Homelessness.