Men's brunch event unites the generations in WA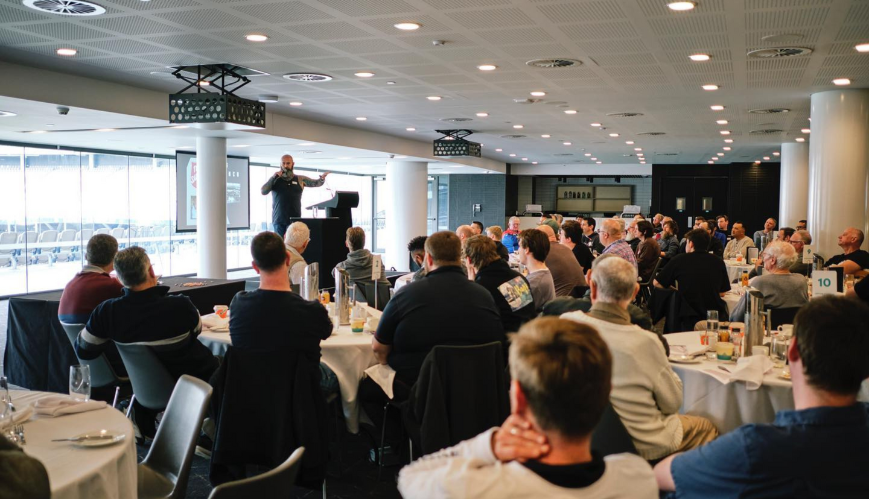 Men's brunch event unites the generations in WA
13 September 2022
Men across the Western Australia Division travelled to Optus Stadium for a Salvation Army Men's Brunch in August. Guest speaker Peter James-Lyndon's story resonated with guests and staff. Photo: Joel Gibson
By Jessica Morris 
God is doing a new thing in Western Australia, and a Men's Brunch is just the threshold of a developing intergenerational ministry emerging in the state.
In August, 84 men gathered at Optus Stadium in Perth for an event filled with intention. Participants aged 16 to 70+ came from corps as far away as Kalgoorlie and Bunbury to hear from guest speaker Peter Lyndon-James, founder of the Western Australia Shalom Group. And what came out of the event was more than a moment of inspiration – it was hope for the future.  
It was fun and games for all ages at the Men's Brunch! Captain Pete Brookshaw (with microphone) tries to wrangle the competitive spirit out of participants.
"We had a vision to put on a men's event that gives people hope. We wanted to bring the guys within The Salvation Army family together for good fellowship, food and to encourage them in their faith, with the flow-on effect that that would actually spur on local ministries," said Major Andrew Jarvey, Assistant to the Public Relations Secretary for WA. 
"Nothing we do is done in isolation. We are thinking about the next steps, so we're hoping that this event not only kicks off local men's initiatives but helps grow kingdom communities within our division." 
The 2022 Men's Brunch was a pivot from Western Australia's regular Divisional Men's Camp. However, post COVID-19, when so many people are seeking community, it was decided that the weekend would become a single brunch-based event – something that could appeal to people of all ages, keep safety protocol and suit the work and family schedules of a range of people.  
And with the support of a men's mission team who took the idea back to their local corps, they saw a diverse turnout. Youth, corps officers, staff, volunteers and community members all attended.
Guest speaker's impact
Peter Lyndon-James spoke powerfully on behalf of Shalom, where he is the CEO. Shalom House, established in Swan Valley in 2012, was born out of Peter's vision to bring holistic recovery to the lives of men, providing a long-term safe community for those pursuing a life free from addiction.
He told those gathered that he drew inspiration from his own life experience, recovering from a broken family and associated trauma.
The Holy Spirit spoke through Peter so that no one was left wondering about the transforming power of God – and that included the wait staff. After the presentation, a couple of men were approached by a staff member, which led to them praying with an employee, the Spirit revealing fruit from the occasion before dirty plates could even be removed from the tables! 
"For us, it wasn't just about how many were in the room; it was about who was in the room," said Major Dianne Jarvey, Mission Support Coordinator for WA. 
"When [people] go to these events, they reflect Jesus to everyone, which includes the staff. There is something amazing about going out and using other spaces and having the community [realise] 'Oh, The Salvation Army, they're a spiritual thing. It's not just a welfare thing.' Everything we do should resonate Jesus in what we do and should impact those around us." 
The WA Mission Department's vision extends beyond one event and beyond a single gender. A family fun day is coming up in October thanks to the Kids and Families team, while a women's event with guest speaker Penny Webb is scheduled at the Perth Zoo on 15 October.
Transforming lives
Meanwhile, the department is also utilising video content from the Men's Brunch and has plans to release resources this week based on Peter's talk. Peter spoke about how he had spent most of his life incarcerated, which led to a life of addiction and unhealthy choices.
God turned up in an undeniable way and transformed his life. He now lives with a passion to transform others whose lives have been impacted by addiction. The fact a handful of corps tuned in to the event through live stream also means the additional resources will be useful for discipleship across the state. 
"I'd like [people] to [see these] events as discipleship training," said Andrew. "This is actually helping to teach our men how to disciple. [At the brunch] we were able to engage with a young guy about discipleship, and then he saw it modelled in a practical way."  
As Salvationists in Western Australia navigate church and faith in a world with COVID-19, the Mission Department has a thrust of Spirit-propelled momentum as they sow seeds for an intergeneration ministry that flows from leadership to local corps.  
"We're very passionate about saying we need all generations so that we can all share together," says Dianne. "We need each other."