60 Second Verdict: Han Solo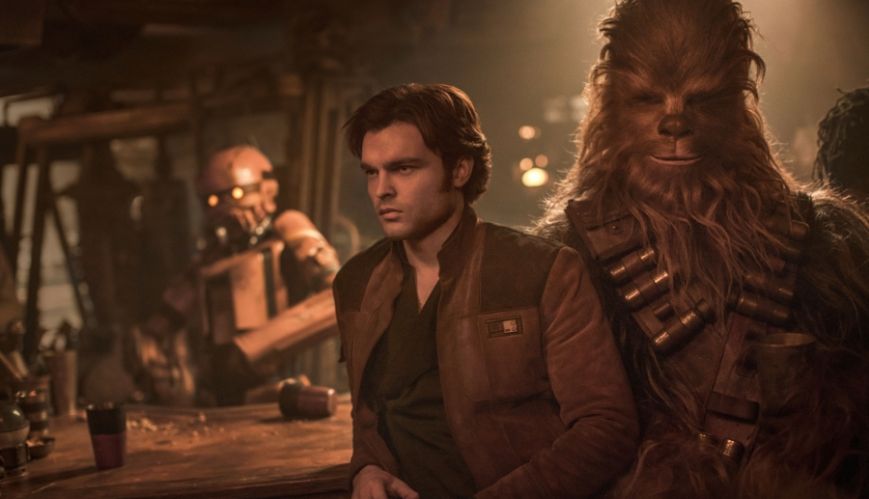 60 Second Verdict: Han Solo
2 June 2018


Han (Alden Ehrenreich) is a young thief trying to find a way off a dead-end planet. He eventually becomes part of a bigger universe of rogues, mercenaries, crime lords and rebel fighters. Along the way to trying to land a big score, Solo meets wookiee Chewbacca, learns how to pilot the Millennium Falcon and has his conscience tested by encountering oppressed people.



WHAT'S GOOD
In the Stars Wars universe, the character begging for their own origins movie is Jar Jar Binks, right? Relax. Relax. I'm kidding. Rogue pilot Han Solo tops most fan lists and, ta da, Solo: A Star Wars Story finally brings to cinemas a reasonable back story for the handsome scallywag. Han's blossoming bromance with Chewy is cool, and diehards should weep when they finally see the Kessel Run. Plus, there are colourful characters like Donald Glover as Lando Calrissian, and Paul Bettany is superb as the ruthless villain.

WHAT'S NOT
One of the most disappointing things about any spin-off movie is that its lead character doesn't prove to be the star of their own show. Sadly, that's what has happened here. Harrison Ford's original performances as Han Solo are a tough act to follow but emerging talent Alden Ehrenreich just can't ignite the cheeky charm or rugged complications of Solo. Plenty of one-liners clang and even as Ehrenreich warms up to being Solo, he lacks Ford's charisma and grit. Around Ehrenreich, the OK adventures of a young Han Solo are underwhelming and sorta awkward, thanks to a steady deficit of the fun and fire expected of Solo's first starring vehicle.

SPIRITUALLY SPEAKING
High-profile production issues have caused Solo to limp onto screens. Director Ron Howard came in to replace the original film-makers who objected to how those bankrolling Solo: A Star Wars Story wanted them to tell his story. And then there was the grumbling and hand-wringing of fans about Ehrenreich being a weaker version of Han Solo than what they expected. But all of those things going on don't quite explain the confusing moral lessons found at the heart of Solo. Somehow, we're meant to grasp that Han only does bad stuff because of how he was raised - yet he often confesses to choosing to be not that great a person. So, er, which is it? Was he made that way, or is he just that way? Nature or nurture? Apparently both, according to Solo. What do you think when it comes to understanding anyone's behaviour and who is responsible for it?