60 Second Verdict: Paul the Apostle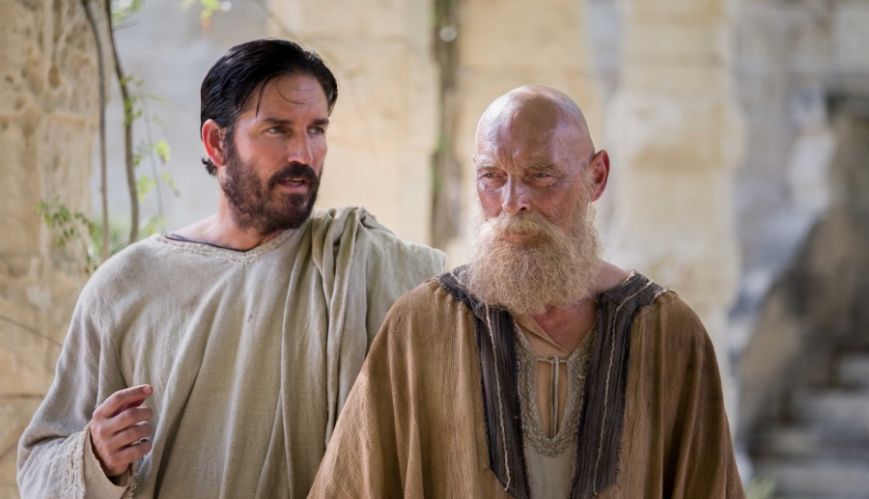 60 Second Verdict: Paul the Apostle
7 April 2018
In Rome during the late first century, Christian leader Paul (James Faulkner) is imprisoned. Friend and scribe Luke (Jim Caviezel) visits Paul and begins to write about some of Paul's experiences – to inspire his fellow believers. Meanwhile, Christians in Rome hide away from Roman persecution and a prison guard Mauritius (Olivier Martinez) is intrigued and angered by Paul's insights, hope and belief.
WHAT'S GOOD
Unlike the questionable Mary Magdalene - another new release about a New Testament figure - new drama Paul, Apostle of Christ intends to be faithful to Bible texts and teachings. Writer-director Andrew Hyatt has done a cool job of taking words from the apostle Paul's letters and placing them on the lips of this world-famous Christian figure. Casting James Faulkner (Game of Thrones) brings suitable gravitas to Paul, and the reconstruction of ancient times should be enough to transport you into the Bible's world.
WHAT'S NOT
I went into Paul, Apostle of Christ expecting it was going to be a movie version of the Book of Acts. Instead, it only involves a few segments from Acts (including Paul's unforgettable conversion on the Road to Damascus) and focuses more on three separate storylines which swirl around Paul. Giving some screen time to persecuted Christians makes sense given what was going on in the Roman Empire at the time of Paul's ministry, but attention steadily shifts to side characters in a distracting way. Also, the inclusion of fictional Roman officer Mauritius adds little to the story, apart from obvious opportunities to bring Christianity to a non-believing household. Somehow, given the incredible life Paul led, this biopic manages to be slow-moving and lacking in bite or incredible moments.
SPIRITUALLY SPEAKING
Yes, I struggled to stay awake and keep my interest in this worthy but plodding treatment of Paul's life. But even as I scratched my head about the story structure and injection of cheesy or unappealing characters, Paul, Apostle of Christ remains an undeniable success when it comes to its impressive aims. Writer-director Hyatt and his team have unashamedly attempted to be faithful to the Bible and brings more than its figures and stories to the big screen. They also have used scripture to create dialogue and scenes which point to the living hope found in Jesus, and how faith in him can soldier on – even in the face of persecution, doubt or other hardships. You might have to work hard to see out the whole movie but Christian viewers should certainly leave with the commendable message that Jesus is worth our allegiance, whatever circumstance we are in.
Paul the Apostle is rated M and is now screening.