Alice Through The Looking Glass
Alice Through The Looking Glass
31 May 2016
RATING: PG
RELEASE DATE: 26 May
Tim Burton, one of Hollywood's most eccentric directors, has returned to the works of Lewis Carroll for a second chapter in the life of Alice In Wonderland. However, the madness that enthuses his work may have affected the plot too deeply, suggesting that our devotion to friends is worth any sacrifice – including the sacrifice of everyone else.
Mia Wasikowska reprises her role as the befuddled but headstrong Alice, who finds herself testing the bounds of reality again when she pushes her way through a mirror and to herself in the much-neglected realm of Wonderland. Alan Rickman's caterpillar Absolem warns her that one of her most valued relationships is suffering and significant steps need taking: "You've been gone too long, Alice. There are matters that might benefit from your attention. Friends cannot be neglected."
It turns out Johnny Depp's Mad Hatter is dying of a broken heart. He believes his family, long presumed dead, are alive because of the appearance of a singular hat. Our heroine is determined to rise to the occasion and sets off to persuade Time (Sacha Baron Cohen) to lend her his chromosphere so that she can delve into the past and discover the truth about the Hatter family's fate. But Time is unmoved by her entreaties, so Alice decides to steal the time-altering device, putting her on a collision course with familiar villains like the Red Queen (Helena Bonham-Carter), and imperilling every single moment in history.
Burton's version of Through The Looking Glass will come as a disappointment to Carroll fans because of its distinct departure from the original novel. There's hardly a story element left intact save for the characters. Depp manages to lend the same lunacy he's brought to bear on previous incarnations like Willie Wonka and Captain Jack Sparrow, but for all his spark and the delightfully weird CGI scenery Burton imagines, Alice Through the Looking Glass still comes off as distinctly bland.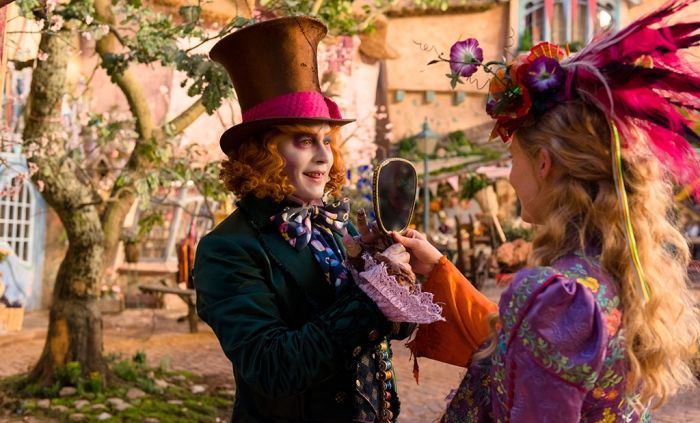 Part of the problem has to be what's driving the plot. Alice is risking everything for the sake of her truest friend, but there's a point where even this justification starts to seem as crazed as the Hatter's hair. Time warns Alice that she cannot hope to change the past, only learn from it. In fact, if she takes his chromosphere it will lead to the collapse of time itself and the non-existence of everything and everyone, including Alice. Yet our heroine's headstrong nature doesn't hesitate at the risk and so everyone else is held ransom to her decision.
If there's a positive point in the plot, it comes about when Alice realises that Time is not in fact her enemy: "I used to think time was a thief but you give before you take. Every second is precious."  The intimation is that every second represents a valuable opportunity worth taking advantage of. Many people have railed against God, similarly accusing him of stealing things away. But, like Alice, we might all do well to remember that whatever good we might have lost came from his hand in the first place: "Every good and perfect gift is from above, coming down from the Father of the heavenly lights, who does not change like shifting shadows," (James 1:17) – and so every good thing represents an opportunity to know him better. 
But honestly, that's a long bow even for the crazy tale that is Alice Through The Looking Glass. It lands instead on the idea that friendships are worth every sacrifice, including unwilling ones you have to compel from others. And that, I'm afraid, is as mad as the proverbial Hatter.