An inconvenient sequel: truth to power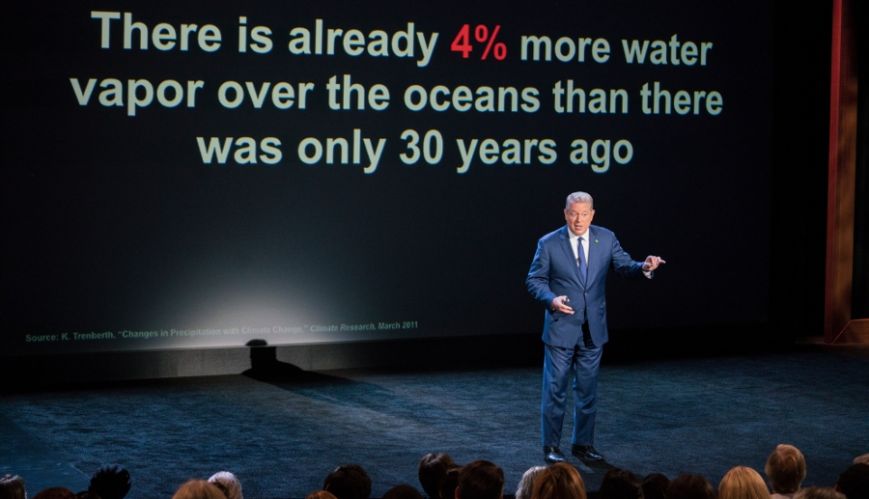 An inconvenient sequel: truth to power
9 August 2017
The documentary An Inconvenient Truth is probably one of the few that has entered the memory of modern, mainstream moviegoers.
Its power-point-and-newsfootage presentation lacked the human tragedy of Bowling for Columbine or the outraged comedy of Supersize Me. Yet its factual horror succeeded in galvanising international support in the battle against global warming that extended from playgrounds to political offices.
Al Gore was no longer a failed presidential candidate but a successful environmental warrior. An Inconvenient Sequel: Truth to Power continues the good work, but its tone has shifted subtly.
The faithful will see more of everything they liked in the first, but the cautious will detect a zeal that sounds less like a cause and more like a new religion.
An Inconvenient Sequel fills in the last 11 years of Al Gore's fight against global warming. The topic is clearly Gore's efforts to train up "an army of communicators" to harden our resolve in the battle ahead. But Gore shares as much about his emotional struggles as he does our environmental ones.
In fact, viewers could be forgiven for thinking they were watching a biopic. The documentary is also very American in its focus, addressing "this great nation" in a way that will make international audiences feel as though they're looking in on a discussion of their own problems. Yet for all this, its call to arms is as clear as ever.
An Inconvenient Sequel is more marketing exercise than documentary. Gore lists off disaster after disaster: unprecedented floods in Miami; two 500-year floods in Houston, followed by a 1000-year flood in the same year; an 800-year drought in the Mediterranean.
The debate is not couched in environmental terms, though, but in ethical ones. Let me put my cards on the table.
A combination of a career in journalism, shaped by my Christianity, has led me to become a climate change sceptic. I don't doubt the science involved. I sincerely believe that human beings are at the very least contributing to a global disaster that will negatively impact the lives of generations to come.
It is the role we assign ourselves in this crisis that has me concerned. An Inconvenient Sequel borrows heavily from the Bible to pitch this necessary debate in religious terms.
Surveying the tragedies of the last decade, Gore tells us, "Every night on the news is like a nature hike through the book of Revelations." And when he comes to our personal responsibility, he repurposes the book of Deuteronomy: "God said, 'I lay before you a choice between life and death. Therefore, choose life'."
Of course, the original verse called God's people to embrace him as their only source of life, but in Gore's hands it becomes a call to work out our own salvation. This is what worries me the most about the environmental movement.
Take away our responsibility to God to shepherd creation, and our reliance on him to do so, and we are left with a new religion that centres on serving ourselves. It is noble, certainly – we are preserving the earth for generations to come – but we are doing so because we think it is right. It becomes a moral debate in which we define right and wrong, separate of God. That is the very definition of sin.
Al Gore's An Inconvenient Sequel encourages us to place our faith in our ability to not only effect change but secure our future: "It is in the tradition of every moral movement to shape the future of humanity." That is what Al Gore is offering: a new hope, resting on the foundation of an environmental morality.
Now, I believe there is a great ecological challenge facing humanity, but I think it is masking an even greater spiritual one. There has to be a way of responding to the crisis An Inconvenient Truth identified, without worshipping the golden calf An Inconvenient Sequel sets up.
Rating: PG – mild themes
An Inconvenient Sequel opens tomorrow.