Book Review: Darkest Night Brightest Day by Marty Machowski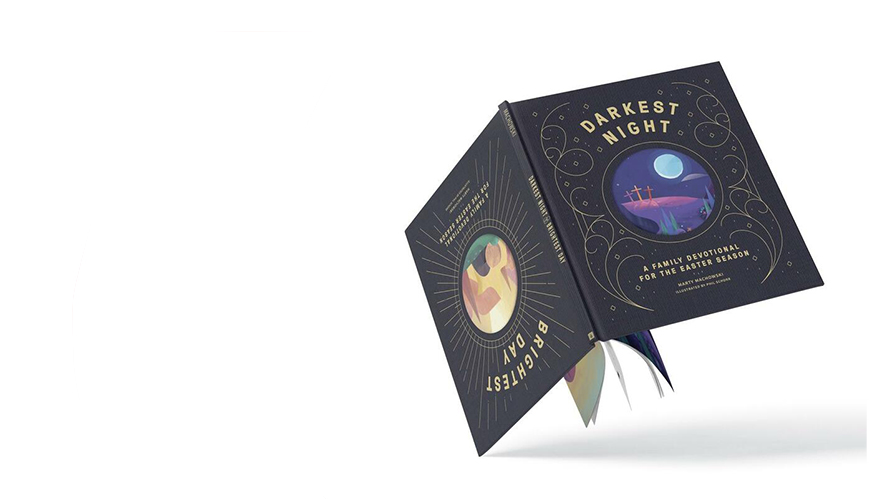 Book Review: Darkest Night Brightest Day by Marty Machowski
5 April 2022
This family devotional literally flips the cover between Christ's death and resurrection, inviting children to journey leave behind the 'darkest night' of the cross to enter the 'brightest day' of his ascension.
Reviewed by Jessica Morris
Easter is a sacred time for a Christian family, but engaging kids with the death and resurrection of Christ can be complex.
A stunning new devotional, Darkest Night Brightest Day, is a journey through the Easter narrative over 14 days and is suitable for children over eight.
The 'upside-down' book has seven stories that recount the events of Passion week ending with Christ's crucifixion and burial (Darkest Night). Flip the book over and continue reading seven more stories that progress from Christ's resurrection through Pentecost (Brightest Day). 
A wonderful Easter resource for parents and caregivers, the book is theologically sound, well written, and beautifully illustrated by Phil Schorr.
By compiling and condensing all four Gospel accounts of Christ's death and the 40 days after his resurrection, Marty Machowski simplifies the story for the reader. It's important to note that details aren't omitted – we still learn about Jesus turning tables, Peter denying Jesus, and the many women who mourned Jesus at the cross and the tomb.
But, instead of asking the reader to stick to one account or take the mental jump between each account, it is one easy-to-read story. This refreshed the story of our salvation for me, and I noticed new moments and encounters between Christ and his followers that I have often passed over.
This devotional is crafted for family engagement. The seven days before Christ's death are chronicled in the same time frame so that kids can take the journey to the cross with Jesus. In the same way, on resurrection morning, seven new entries begin, detailing Jesus revealing himself to the disciples, the ascension, and Pentecost.
A beautiful and sound devotional, Darkest Night Brightest Day will renew hearts and minds of all ages this Easter. Available at Koorong.