Book Review: Fire Another Folly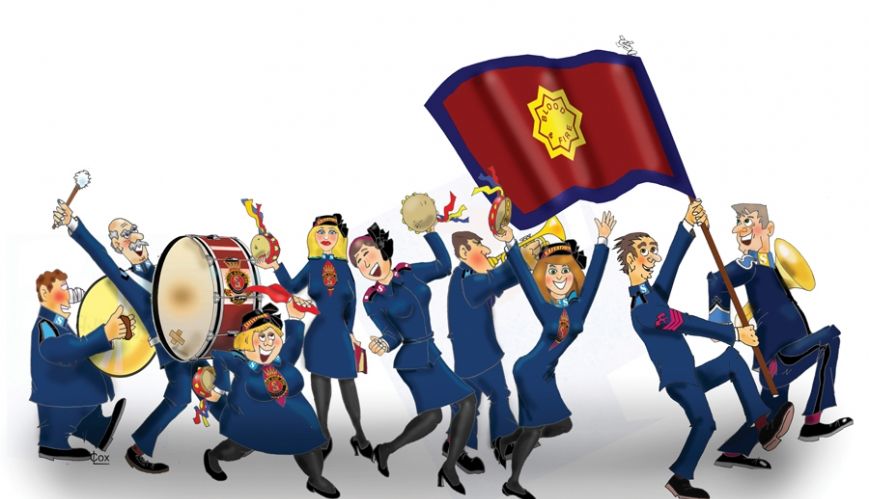 Book Review: Fire Another Folly
22 November 2016
Fire a Folly flew off the shelves last year and as a consequence its creators have decided to bring out a sequel in time for Christmas, simply called Fire Another Folly.
Lindsay Cox (pictured below) and Gordon Main again bring their artistic and poetic talents to the fray and poke a bit more loving fun at some of our Salvation Army practices, as well as educate us on aspects of our history and services. As National Assistant Editor-in-Chief, I have been involved in the production process for both books. When we began production of Fire a Folly last year, I had no idea that The Salvation Army flag went to the moon aboard Apollo 16. It was Lindsay, as the Australia Southern territorial archivist, who suggested that might be of interest.
The new edition will also cover some historic remembrances such as James Barker's Prison Gate ministry, and Hamodava tea/coffee. Of course, we couldn't miss the opportunity to look "Under the Gum Tree" where it all began, as this year marks the inauguration of Australia One.
Gowans and Larsson will feature, as well as a host of generals, old songs, Red Shield, congress, women in uniform and, of course, the band and timbrels. As we sat over lunch discussing the topics I could see the creative juices begin to flow, as did one-liners. I am amazed at the quality of the witty verse by Gordon. "The Altar Call" comes to mind immediately. I am in awe that he is able to home in on the crux of a topic, cover it extensively catching the nuances we experience and, as if this wasn't enough, is able to add one line at the end that brings a deep message of faith. They say a picture paints a thousand words and this is certainly true of Lindsay's caricatures – the king of innuendo. The little sideways glance of the bandsman in "The Open Air" at the very trim adjacent timbrelist brings back a few memories for all us I'm sure!
Fire Another Folly will be in Salvationist Supplies by the beginning of December at a cost of $7. Be sure to grab yourself a copy, sit down and have a good chuckle.
Captain June Knop National Assistant Editor-in-Chief and contributor to the production of Fire Another Folly.