Book review:For a new generation by Lee Kricher
Book review:For a new generation by Lee Kricher
11 November 2017
Reviewed by Mal Davies

In the late 1970s, Lee Kricher founded the non-denominational Pittsburgh East Full Gospel Church. He continued as senior pastor through the '80s before leaving in 1990 to work in leadership development and executive coaching.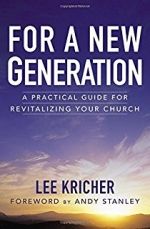 In early 2003, the leadership board of his former church invited him to return to the senior pastor role. By then, sadly, the church was in decline and its survival was questionable. Kricher discussed his possible return and warned the board that changes, big changes, would have to happen. They agreed, he was re-hired and this book captures the vision and action that revitalised the church.

Early in the book, Kricher explains that the main thing the church needed was an injection of youth or, rather, younger people than they had. He coined the term a "new generation church" as referring to a church: "with attendees whose average age is at least as young as the average age of the community in which the church exists."

This links to one of his core beliefs that while no Christian would deliberately aim to hide the teachings of Jesus from the next generation, we sometimes do simply because of the way we do church.

For A New Generation is about how to evaluate and change church to more effectively reach the next generation. The book explains five practical steps to take in effecting real change and – I was glad to see – the author says that clearly not everything that works at one church automatically works at another, so these steps are intended to be "provocative not prescriptive".

Kricher's main concern, and his motivation for writing, is that too many churches send a message to newcomers, consciously or subconsciously, that church revolves around Christians, not those seeking Christ. He says that these seekers will not send letters or protest out the front of church but will reply more simply and clearly – they won't come!

This is a thought-provoking book that doubles as a workbook – in fact each chapter concludes with scripture passages, discussion questions, an action point and a prayer – and is well worth a read by those involved in corps leadership roles. A helpful read.