Book Review: Inspiration For These Times by Project 614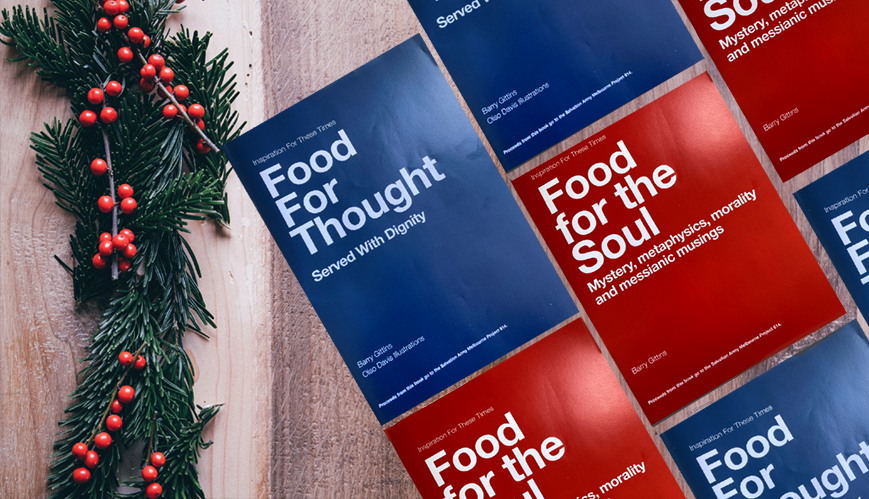 Book Review: Inspiration For These Times by Project 614
1 December 2020
The Salvation Army Melbourne Project 614 has released two magazines in the Inspiration for These Times collection, with all proceeds going towards the corps' work with Melbournians doing it tough in the CBD. Brochure PSD created by BiZkettE1 on freepik.
Reviewed by Jessica Morris
The days of picking up a magazine or literary journal may be fading – but that doesn't mean they are over. The team at The Salvation Army's Melbourne Project 614 mission expression have gifted us with Inspiration for These Times – a collection of two magazines to herald in the holiday season.
Images by accomplished illustrator Oslo Davis (The Age, New York Times, The Guardian) add a familiar and creative touch to these timely magazines. Pictured here is his illustration of Majors Brendan and Sandra Nottle.
Written by journalist and current 614 staff member Barry Gittins, and featuring illustrations by The Age's Oslo Davis, they are a timely and insightful offering as we enter 2021.
Fans of creative writing, social commentary and Army history will enjoy this two-magazine collection. In Food for the Soul, we are given a deep dive into "mystery, metaphysics, morality and messianic musings". Gittins uses his reflections serving at 614 as a basis for poetry that explores Advent, overcoming racism and xenophobia, serving the vulnerable and what it means to live like Christ.
On the other hand, the larger and news-style magazine Food For Thought is "served with dignity," a not-so-subtle nod to the 614's Magpie Nest Café on Bourke Street. And much like a small snack, or a full-size meal, you can pick this up and read it at your leisure.
People who have followed the development of 614 since Majors Brendan and Sandra Nottle were appointed to their roles as COs in 2003 will enjoy the story-telling arc of the publication. Both Brendan and Sandra are featured in their own stories, as is the development of Melbourne City Temple. Not to mention the impact COVID has had on their mission, and people sleeping rough.
Gittins also does a fantastic job of highlighting key figures who have, and are, shaping the Melbourne community through project 614 – the late General Eva Burrows, boxer Sam Soliman, member and volunteer extraordinaire George Ellis, and clients (or rather, family) like Harper, who shares how the Magpie Nest program helped her to leave a relationship fuelled by violence and addiction.
What I enjoyed the most about these magazines is their commitment to authenticity. Instead of whitewashing poverty or just focusing on the good work, it dares to tackle the nuance of poverty, societal inequality and stigma. We see it when Brendan talks about how his efforts to house someone did more harm than good. And when the team reflect on the loss of people like 'Mouse' Perry – the man who was brutally killed while sleeping under a bridge in 2014 – or thoughts on Bourke Street stalwart Sisto Malaspina's murder in 2018.
And by weaving in conversations, or commentaries, about collaboration with people like Eddie McGuire, Mick Gatto and former Chief Commissioner of Victoria Police Graham Leonard Ashton, we are reminded that God can, and will, use everyone for his Kingdom work. No matter what your occupation, belief system, or infamous media history.
Inspiration for these Times is available now for $20 and includes both magazines. All proceeds go towards the work of The Salvation Army at Melbourne Project 614. Email info614@salvationarmy.org.au with the number of copies you'd like and your address, and they will respond with payment information.
JESSICA MORRIS IS A STAFF WRITER FOR OTHERS.