Book Review: Please Don't Pray With Your Mouth Full by B. Swanson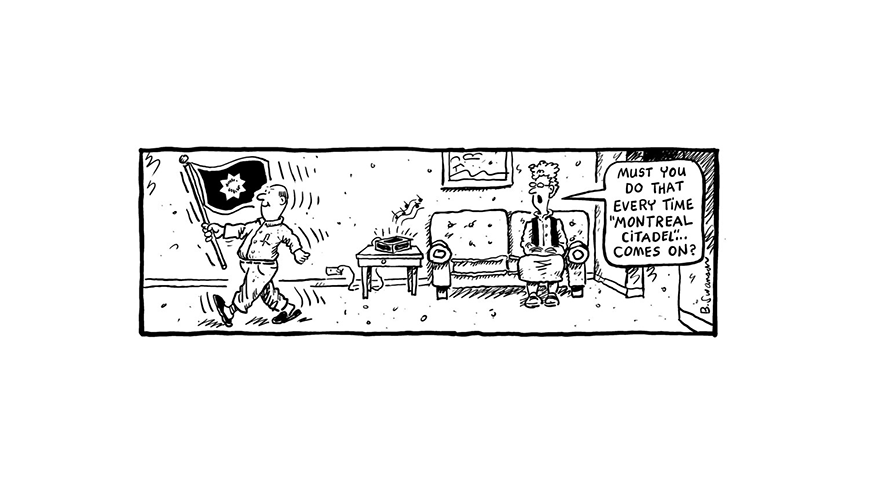 Book Review: Please Don't Pray With Your Mouth Full by B. Swanson
21 September 2021
Bob Swanson's cartoon strips depicting Salvation Army culture have appeared across multiple publications as Mustard Seed Comics. In Please Don't Pray With Your Mouth Full, he presents a collection of funny and timely illustrations perfect for 2021. Illustration from mustardseedscomics.com.
Reviewed by Garth R. Hentzschel
Please Don't Pray With Your Mouth Full is a humorous and insightful look at The Salvation Army's culture – and something lighter for these troubling times.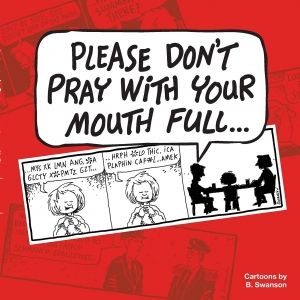 In times of stress, we need humour for our well-being. Robert E. (Bob) Swanson gives us things to laugh at in his collection of 'Mustard Seeds' cartoon strips. His cartoons have appeared in Salvation Army publications for the past 24 years, including The Officer magazine.
Bob is a professional graphic designer and lifelong Salvationist. These two characteristics clearly and creatively blend in this publication.
The cartoons cover Christian and Salvation Army themes in a light-hearted but non-denigrating manner. The graphics and fonts are clear, and the cartoons are up to date, with a number touching on the current impact COVID-19 is having on the Army.
Please Don't Pray With Your Mouth Full helps us laugh at human nature within the God-ordained movement of The Salvation Army. It would interest all who are engaged with the ministry of the Army and can see things from different points of view. Place it on your coffee table and look at it for a laugh when the world gets you down!
Please Don't Pray With Your Mouth Full is available from Amazon.com.au. A portion of all sales goes towards the work of The Salvation Army.
Garth R. Hentzschel is a Salvationist living in Brisbane and is Executive Editor of the Australasian Journal of Salvation Army History.