Book Review: Saved, Sanctified and Serving by Denis Metrustery
Book Review: Saved, Sanctified and Serving by Denis Metrustery
20 September 2016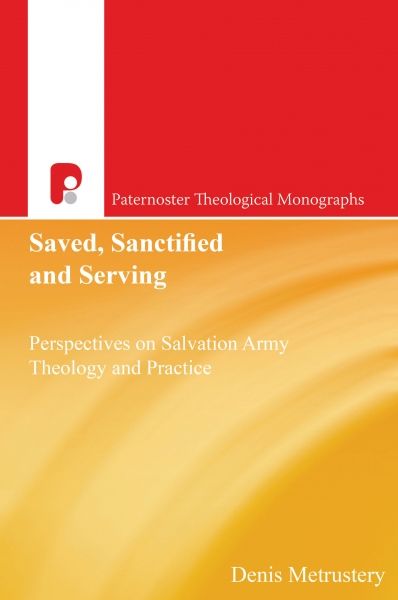 Saved, Sanctified and Serving is not necessarily an "authorised" account of Salvationist theology, but given the distinguished cast of contributors, including a retired General and a number of well-known Salvationist scholars, it is certainly an authoritative work. The tone is unapologetically academic, but skilful editing has ensured that each essay is presented in language that is accessible and free of jargon. It is a treasury of contemporary Salvationist scholarship rather than a textbook on doctrine.
Denis Metrustery's opening chapter seeks to contextualise the Army in the Church and the world. He has not only "read" the Army accurately, he has made its history and theology accessible to his intended Salvationist and non-salvationist readership.
As a series of essays rather than the systematic thinking of one author, there is inevitably some repetition. This centres mainly on accounts of the formulation of doctrine, a Salvationist understanding of sanctification, and the emergence of William Booth's broader understanding of salvation in Salvation for Both Worlds and Darkest England. This is not necessarily a disadvantage; it provides a variety of perspectives, helping the reader to look at Christian truth through different windows.
General Paul Rader's inspiring call to entire sanctification and James Pedlar's account of Frederick Coutts' understanding of the doctrine provide the reader with complementary perspectives on Salvationist experiential theology. Similarly, there is value in comparing Roger Green's understanding of "William Booth's ultimate eschatological goal – a goal that would embrace both spiritual and social redemption" with Metrustery's and Roberts' account of Booth's "postmillennial eschatology" engendering a sense of "optimism that the world could be conquered in Christ's name".
JoAnn Shade brings her own critical insights to the dissonance between the Army's historic theological claims on issues of gender and the movement's practice, both in her own North American context and in the wider Army world. Her anger is almost palpable. Readers might wonder if we have traded our heritage for a status quo that has little to do with our theology and everything to do with power, control and internal social conventions.
Aaron White shines a light on what is sometimes called "Primitive Salvationism". White describes a revolutionary movement, mainly led by younger Salvationists and officers, to rediscover the Army's early radicalism and reclaim it for the late 20th century. The apparent aim of Primitive Salvationism is to translate the rhetoric of our early history, including the use of the military metaphor, into current reality.
There is much to celebrate in Primitive Salvationism, but one might wonder if, given that every generation needs to experience its own revolution, perhaps we should now be looking for a new radicalism led by a new generation of prophets and pioneers.
A word of warning to Salvationist readers! This book is not written exclusively by Salvationists for Salvationists. It is about the Army, not for the Army alone, and it is all the more valuable for that.
Served, Sanctified and Serving can be purchased for $31.45 at amazon.com