Book Review: Skandar and the Unicorn Thief by A.F. Steadman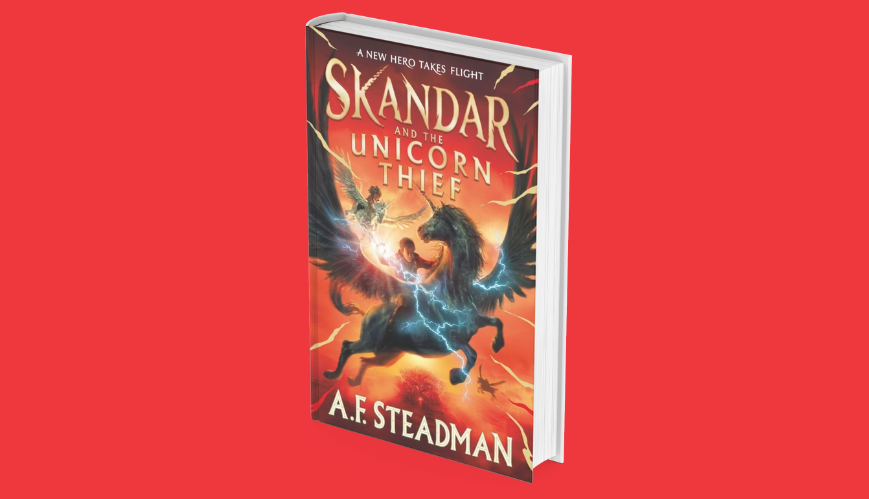 Book Review: Skandar and the Unicorn Thief by A.F. Steadman
2 July 2022
Fans of the Harry Potter and Percy Jackson children's book series will fall in love with Skandar and the Unicorn Thief, the first instalment in a series by A.F. Steadman.
Reviewed by Jessica Morris
What happens when you combine the schoolyard whimsy of Harry Potter with the mythology of Percy Jackson? You come out with a near perfectly-baked new superhero named Skandar Smith, a 13-year-old unicorn rider who could become the next big hero in children's fantasy books.
And while the title and cover bear too close a resemblance to Rick Riordan's debut Percy Jackson and the Lightning Thief, the complexity of Skandar's world where every 13-year-old must find out if they have been paired with a magical unicorn and then train accordingly, stands on its own two feet – or should I say four hooves?
Much of this book – the first in the series – is based around the 'what if' of Skandar's identity. What if he is a unicorn rider? What if he can reclaim his family's pride after his dad sunk into depression following the death of his mum and his older sister flunked out on the unicorn exam? And what if there is something bigger going on that thwarts him from taking his unicorn test so he can fulfil his destiny?
What unravels is a clever plot, combining generational magic and a school for unicorn trainers who utilise fire, water, earth and air. Yet through Skandar's unusual orientation, he must learn to wield a mysterious fifth element so that he and his mischievous unicorn (named Rascal's Chance) can hide their true gift, lest they be destroyed like all the spirit wielders of the previous generation.
A kid's fantasy novel is nothing without a villain, and by putting Skandar against The Weaver – a super-powerful unicorn rider who has managed to bond with the destructive wild unicorns in a bid to take over the mainland – we are initiated into a compelling and complex world. Filled with intrigue and twists that will keep the pages turning, A.F. Steadman will make you a tried and true fan of a young unicorn rider who never quite fits in.
Available at major bookstores.